"As far as sci-fi and fantasy, I love that genre because there are so many things you can do, like rip someone's tongue out of their throat and get away with it and rape beautiful women."
This statement by Jason Momoa, who plays Khal Drogo in the television drama Game of Thrones, in 2011 Comic-Con was severely condemned on the internet which was circulated post allegations on Harvey Weinstein accusing him of sexual assault. Momoa who plays the feared warrior leader of the Dothraki tribe of horsemen was depicted as a highly masculinised, powerful being who raped his "acquired" wife, Daenerys, in the series.
What is the problem with this seemingly natural comment which the actor drew from his character? Everything. When you construct jokes out of traumatizing events, treat them as ingredients to further your recipe of humour, you are making a conscious decision to normalise the vocabulary of violence, of fear, of subordination. Momoa, in the mid of this year, apologized for his heavily ignorant comment.
Rape jokes. Rape. Jokes.
Doesn't uttering these individual words to make a sentence appear discomforting to your ears and thought? Look at the word "feminazi" for instance. Feminism + Nazism. Two ideologies that stretch as far as possible are combined to result in a word that has no resemblance with any of these. But the comfort of a normalised "slang" it has layered itself with, makes not just anti-feminists utter it but anyone for whom the notion of equality among all sounds ridiculous.
We need to deepen our understanding of what makes 'rape jokes' a growing 'trend'. How is it used comfortably to hide the hurt the volatile structure of patriarchy received, to remind the user of their vulnerability that their gender automatically attaches with them. Daniel Tosh's joke resulting from a response of a woman "heckler" who called him out on his rape joke explains the warped notion of using the "boys will be boys because they are entitled to everything and can get away with committing violence because boys will be boys" loop, perfectly. He says,
"Wouldn't it be funny if that girl got raped by like, 5 guys right now? Like right now? What if a bunch of guys just raped her…"
Did that generate laughs? If yes, how? How has the notion of such a severe crime against women be a tool for comedy? Tosh didn't crack that joke because he wanted laughs. He made a deliberate choice to explain his dominance over that woman who did not agree with his brand of humour. It was an aware decision of suggesting her weakness in front of him or any man because they are entitled to violate women's bodies as per their likes.
Last year, Salman Khan made a similar comment in his description of the rigorous physical schedule he had to follow for one of his films where he played the role of a wrestler. He said,
"When I used to walk out of that ring, it used to be actually like a raped woman walking out."
What alarmed me was the justifying support he received from some of his fans.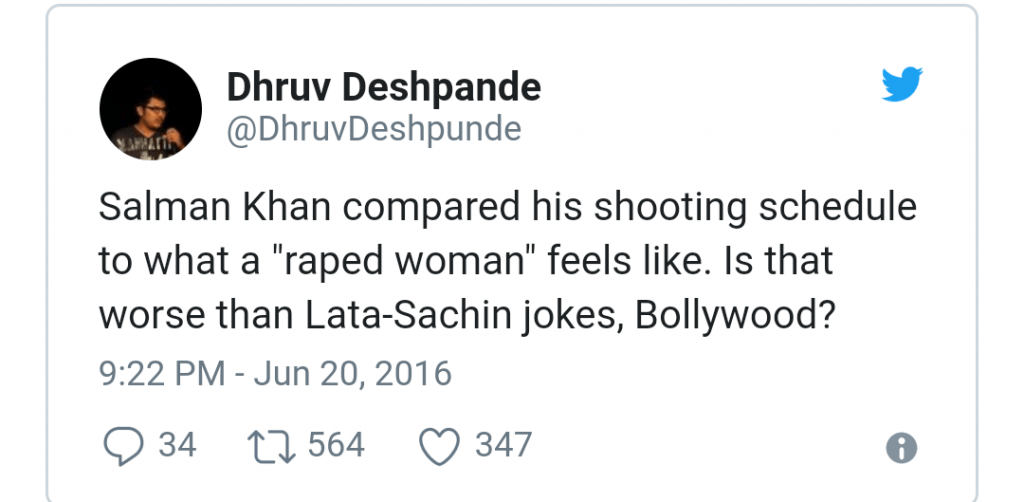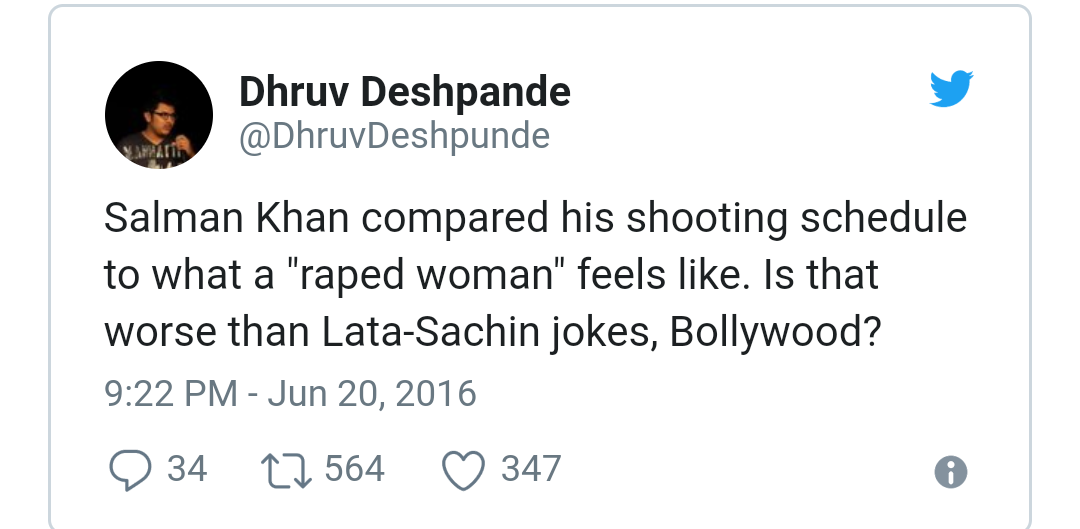 This instance cannot be understood in isolation of the larger evolution of language. Every year words that are popularised by masses (mostly on internet) are added to dictionaries. Language is dynamic, and any that isn't, doesn't remain in practice for long. The dynamism is dependent on its users. So, if you make jokes about rape persistently, terms like "rape jokes" become available for practice. Rape jokes become jokes, then.
In the Indian context, where abuses have been built with denigrating women's bodies, using them as sites of violence, providing validity to terms like 'rape joke' only adds to the lesser, almost invisible status of respect for women as citizens of this world. Your bad day at work doesn't have to end with 'you being raped' by it, an exhausting gym workout doesn't imply 'you were raped' by the routine. Indian team won against Pakistan? #IndiaRapesPak springs up in no time. Don't claim the word for a meaning it doesn't imply.
Few months ago, Taapsee Pannu did a podcast with East India Comedy where the panelists made a rape joke about their domestic maid. "Sex with the maid?" was uttered jokingly which was followed by Shiney Ahuja's case as an example. Ahuja was accused of raping his domestic maid. Under the garb of progression, of comedy, these privileged humans conveniently ignored the many oppressions domestic maids suffer. They also obscured the gravity of rape by making light of it.
Rape jokes are not jokes. Whoever says so has yet to get hit by the impact of what it means to string two repelling words in one ignorant field of thought. Calling out on people who commit the "humour" of making a joke out of rape or any kind of violence needs more efforts. Let yourself be labelled as a "killjoy", as someone who can't take a joke, because these are not funny at all.
Also read: The Joke's On You? Let Me Laugh: On Being A Feminist Killjoy
---
Featured Image Credit: memegenerator.net