In 1930 Kolkata, 16-year-old Maitreyi Devi met and fell in love with a 23-year-old Romanian youth, Mircea Eliade, who came to stay with her family; to study Sanskrit and Philosophy from her father. Their liaison was discovered, and the boy was sent packing. At the age of 20, she was married off to a man almost twice her age. Many decades later the duo met again in another country only to rekindle their relationship. This is their story.
Early Life
Maitreyi Devi was the daughter of a noted Sanskrit scholar-philosopher Dr Surendranath Dasgupta. She was a protégée of Tagore, who was close to her family, especially her father.
Growing up in an intellectual ambience, she began writing poetry early in her life. Her love interest was Mircea Eliade, who later gained fame and recognition as an academic, author and philosopher across Europe.
Following her and Eliade's separation, Maitreyi Devi led a low profile life, completed her graduation, from Jogamaya College, Calcutta University. According to her parents' wish, she married Dr Manmohan Sen, chief chemist at a cinchona factory in Mungpu (North Bengal).
She was 20, he 34. But his social (family) status matched hers, so all objections were swept away. Maitreyi soon after settled down in her domestic life. Besides bringing up her two children, she devoted herself to writing books and memoirs.
The pivot point of her literary works was her mentor Tagore. As a distraught teenager, she had given Tagore some inkling about her failed affair and her emotional turmoil. Tagore comforted her by writing heart-warming letters – advising her to bear adversities with stoic calm. Their correspondence continued even after her marriage.
Tagore had been the Sens' house guest at Mungpu a couple of times. For Maitreyi, those visits were memorable. She captured them in her book titled Mungpute Rabindranath (Tagore in Mungpu). Her other works on Tagore include Rabindranath: Grihe o Vishwe (Tagore at Home & the World), and Swarger Kachhakachhi (Close to Paradise). The last is an anthology of letters exchanged between Tagore, her father and herself.
An echo from the past
Years passed. Maitreyi's children had grown up, married and raised families of their own. In 1972, Maitreyi was 58 years old and had relocated to Kolkata a few years earlier. One day, an acquaintance took her to meet a foreign guest, by the name of Sergei al-George, a fellow Romanian and close friend of Mircea Eliade.
She was astounded to learn that Eliade had penned a novel titled Maitreyi: La Nuit Bengali, wherein he had given elaborate details on their passionate affair, highlighting her sexual exploits. Maitreyi had heard from her father who visited Europe in the late 1930s about Eliade's novel dedicated to her. But she was too busy with her life to pay any attention.
Later, while in Europe during the 1950's, she met a few Romanians, who claimed she was a familiar figure to them. Though slightly flummoxed, she brushed the matter aside. However, Sergei's revelation was the proverbial last straw. As the book was in French, she managed to get hold of a translation and was appalled by what she read.
Maitreyi Devi's response
Deeply hurt and wounded, she determined to give a fitting reply and expose the truth about her first love before the entire world. She discovered that Eliade had, meanwhile, migrated to the United States and had got associated with Chicago University.
She resolved to meet him personally and demand an explanation for his misdemeanour. Maitreyi confessed to her husband about the incident. He listened sympathetically without being judgemental. He even agreed to travel abroad with her.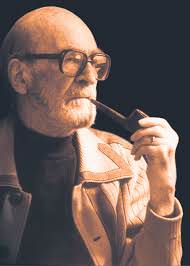 In 1973, the Sen couple travelled all the way to the USA. Before leaving, Maitreyi had acquired Eliade's current address from academic circles. A few locals guided her to his university apartment.
As they stood in a spacious library-cum-office, Maitreyi came to the point directly. Why had he slandered her before the entire world? Eliade replied, there was no falsehood in what he had written. He had blended fantasy with imagination to glorify their romance and pay a tribute to her. She had been depicted, the way he always regarded her – enigmatic and inscrutable.
Maitreyi wondered loudly if it was too late to rediscover their dormant feelings. Suddenly, she noticed Eliade had not been facing her while their conversation was on. Upon her request, when he finally turned towards her – she was horrified to see his eyesight was gone. Following this dramatic meeting, the ill-fated lovers parted, promising each other, a future meeting.
Her reply to Eliade
In 1974, Devi's semi-autobiographical novel in Bengali albeit with a Sanskrit title Na Hanyate was published. The title means: It does not die. The novel took the literary circles by storm.
It catapulted her to fame and soon after, bagged her the prestigious Sahitya Akademi award. What startled the readers was Maitreyi's bold, unabashed, portrayal of her love. She depicted in a vivid, lucid manner many of their unforgettable moments.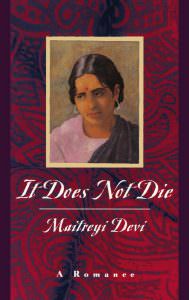 But unlike Eliade, she endeavoured to prove that no lust or sexual passion was involved. Their love, she claimed, was unblemished. Though the readers wondered how an elderly lady could divulge such details about an incident that took place so long ago, yet Maitreyi Devi's sincerity, truthfulness and courage of conviction, merely enhanced their esteem for her.
Maitreyi Devi in 1990 and Mircea Eliade died in 1986, leaving behind a legacy of literary masterpieces.
Also Read: Founder Of India's First Women's Organisation – Sarala Devi Chaudhurani | #IndianWomenInHistory
---