It's that time of the year again – time to look back and reflect on what we've achieved this year and what we could have done better. 2017 was a year where FII expanded from being a team of only one full-time member to having a core team of three full-time members and two part-time members.
With our added staff came the added capacity to write, share and publish more content about issues we cared about. Our daily rate of publishing went up, and from a total of 750 stories published in 2016, 2017 saw us produce a whopping 1800 stories over the course of the year!
We also started making videos profiling the lives of #IndianWomenInHistory, like Phoolan Devi and Amrita Sher-Gil, making comprehensive explainer videos about issues like abortion and mental health stigma, and finally, a 4-part video series on the experiences of different communities of women on the internet for our campaign #DigitalHifazat.
We ran 5 targeted campaigns, both partnered and solo, on issues such as online safety (#DigitalHifazat), sustainable menstruation (#ThePadEffect), forgotten women in Indian history (#IndianWomenInHistory) and comprehensive sexuality education (#WhyCSE), to enable a focussed approach to a single issue to create more social impact.
Our monthly Wikipedia Editathons took off in full force, where we ensured a meet-up at least once a month to edit and create Wikipedia pages of deserving Indian women. We also started doing workshops on various topics, like media reportage of gender-based violence, online safety, and gender sensitisation.
We'd like to thank every single one of you that has read, shared, contributed and supported our work. FII is a crowd-sourced platform, and it would not exist if not for our wonderful community. Below is a look at how 2017 was for Feminism In India. Here's wishing you a very Happy New Year, and hope 2017 will be a bigger, better and more intersectional movement with YOU.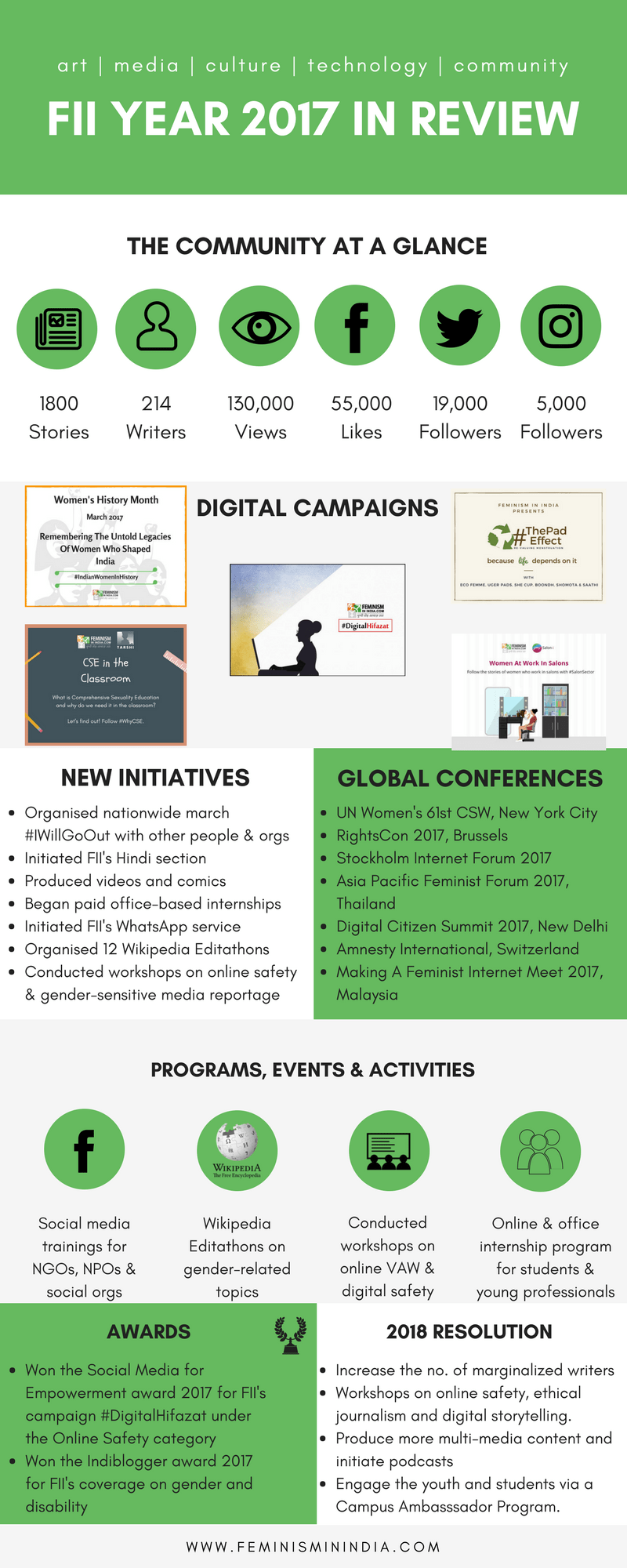 Best,
Team FII.