"Dear is the Casuarina to my soul:
Beneath it we have played; though years may roll,
O sweet companions, loved with love intense,
For your sakes, shall the tree be ever dear."
– Our Casuarina Tree by Toru Dutt
In recent years Our Casuarina Tree has become a part and parcel of English syllabus in many schools across India. The poetic soul behind it was a young woman from Bengal.
Toru Dutt is often considered the first Indian poetess to write verses in French and in English. Prior to her, Michael Madhusudan Dutta, another Indian poet from Bengal had tried his hand in writing prose and poetry in English. However, in the colonial era that was an almost impossible feat since Indian writers were subject to grinding criticism from English literary pundits. Yet at a time like that, Toru Dutt attained much recognition for her compositions. Her work went on to being reviewed favourably enough to get republished. Yet she would not live very long to see any of it.
Early Life

Tarulata Dutt, also known as Toru, was born to a Bengali family on March 4, 1856 in Rambagan, Manicktollah Street, in erstwhile Calcutta. She came from a liberal family where education, art and linguistics were encouraged. Her ancestor Nilmoni Dutt had settled in Calcutta leaving his hometown in Ajapur, Burdwan some decades before. Nilmoni Dutt, though a pious Hindu loved conversing to people from different spheres of life. As a result the family was well acquainted with many Christian missionaries and European settlers, which was a sign of affluence in those days.
Her father, Govind Chunder Dutt, an esteemed employee of the Government of India, was a linguist himself. He had published some poems sporadically over his life time. His wife Kshetramoni Mitter, who loved Hindu mythology, translated an English book, The Blood of Christ, to Bengali. Hence art and literature were ingrained in the young Toru since she started gaining senses. Owing to her father's employment the family traveled frequently. In 1862, after the death of his older brother Kishen, Govind Chunder Dutt and his family embraced Christianity.
However, the young Toru was captivated by the lore and characters in Hindu mythology that she knew through her mother. This had an enormous impact in her compositions in later life.
The early death of her older brother Abju at the age of fourteen profoundly affected her father who became quite protective of his two daughters. Toru and her older sister Aru were never left alone and accompanied their father wherever he went.
In 1869, the family moved to France. Govind Dutt was determined to give his daughters the best possible education. Since female literacy was at its inception in Britain, the family took advantage of the French system where Toru and Aru received lessons in language, history and art. They were also well instructed in music, especially the piano. Both sisters were avid readers of books and showed a great deal of proficiency in the French language. They were fed on a literary diet of well known writers such as the Bronte sisters as well as Victor Hugo.
Sometime later the family moved to Britain where, Toru pursued her education in Cambridge along with her continued French lessons. There she began corresponding with a new friend Mary Martin, who would later become a source of information on her life. In 1873 the family returned to Bengal.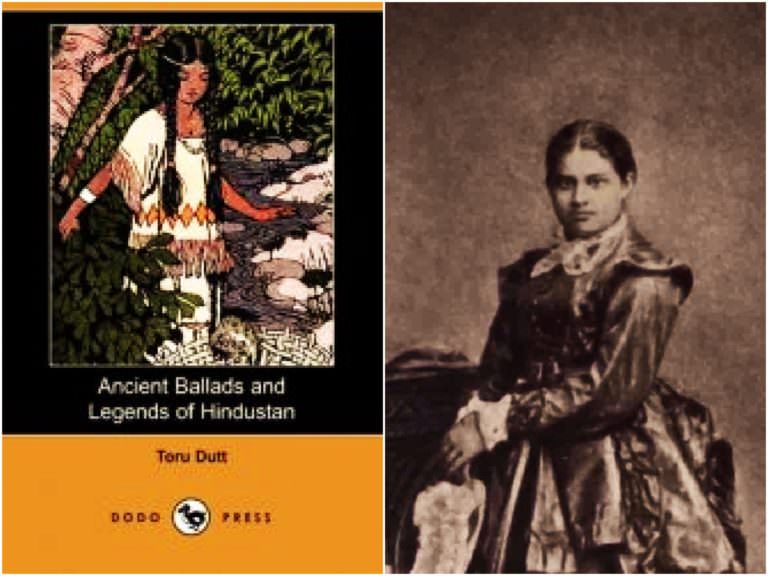 Later Life and Works

Toru Dutt was well versed in Bengali, French and English. She soon began to write poems in the latter two languages. Upon returning to India, she dedicated herself to studying Sanskrit and getting back to her roots. Her first publication was when she was only eighteen, in the Bengal Magazine. She had written an essay on French poet Leconte de Lisle followed by a second on another French poet Joséphin Soulary. Though interesting, both works gave her little acclaim. It was still the foothold she needed to break into solitary publishing.
Sometime shortly afterwards she wrote her first book The Diary of Mlle. D'Arvers (also known as The Romance of Mlle. D'Arvers). Her sister Aru, who was distinguished for her painter's hand was supposed to have made the illustrations for the book. However, in 1874 Aru fell into a series of health troubles and passed away. The book did not see the light of day until about 1881. Highlighting her sense of loss at her sister's death, Toru composed the poem Our Casuarina Tree which became a symbol of her happy childhood memories. She personified the Casuarina tree with the essence of her dead siblings thus hoping to preserve their memories through her poem.
In 1876, the first edition of her book A Sheaf Gleaned in French Fields was published by the Saptahik Sambad Press, Bhowanipore. It was a compilation of translated French poems that she had been working on with her late sister, along with personal observations and anecdotes. Dedicated to her father, the book contained no preface and was poorly printed in bad quality paper. Thus it did not gain any significant notice right then. In India many did not believe it to be a work of an Indian woman. It was passed off as the work of an Anglo-Indian person trying to disguise himself to gain fame. The condition in which the book appeared also contributed to its lack of appeal to the French and English audience.
Fortunately the book caught the attention of M. Andre Theuriet who gave it a positive review. In 1877, the book fell into the hands of Professor W. Minto who was the editor at the Examiner. At this time his employee Edmund Gosse was lamenting the lack of good literary work to critic and Prof. Minto thrust the book into his hand. Though having contemplated throwing it away due to its appearance and inconspicuous source of publishing, Mr. Gosse was soon enchanted by the contents of the book. He subsequently praised A Sheaf Gleaned in French Fields and sought to reach out to Toru Dutt.
Sadly, she had fallen quite ill by this time. It was clear she would soon follow her siblings to the grave. While looking to translate the work of French author Clarisse Bader on women in ancient India, she realized she could no longer write and had taken to bed. She continued to read and wrote her last letter to Bader. At the age of twenty one years and six months Toru Dutt passed away in Calcutta just as she was starting to gain her deserved fame. She was buried in what is known today as South Park Street Cemetery in Kolkata.
Published Works
Most of her works were published posthumously. Following her death her father started going through her papers and began the task of popularizing them. A Sheaf Gleaned in French Fields was edited and published a second and a third times in later years.
Her poems were released successfully in a compilation named Ancient Ballads and Legends of Hindusthan. According to Gosse, more than her lyrical writings, the compelling feature of her work was the fact that it came from an Indian woman in the nineteenth century. He admired the fact that Dutt had a remarkable knowledge of languages that she was not native to. He also denoted the fact that she maintained her personal sweet disposition in her works, communicating her emotions effectively while never indulging in melodrama.
Outside her work, much of what we know of Toru Dutt comes from her letters to her cousin Arun Chunder Dutt and her friend Mary Martin. In early twentieth century author Harihar Das came across her poem Buttoo in an examination text-book. He was so captivated by the beauty of its verses that he set out to search for more information on her. Yet all he came across was an old photograph of Dutt. Years later he found her book A Sheaf Gleaned in French Fields in his father's library. Das decided to write her biography and started collecting her works. He later got in touch with her remaining family along with Mary Martin herself who provided with all the correspondences sent by Toru Dutt. He published all of it paraphrasing all the information he had on the poetess immortalizing her in his book Life and Letters of Toru Dutt. She remains an exemplary persona in Indian and international literature till date.
Also Read: 8 Excerpts By Indian Women Poets That Prove "Poetry is Not a Luxury"