On 12th of January 2018, the FII team conducted a workshop on 'Online Violence Against Women' and 'Digital Security for Young Women', under our campaign #DigitalHifazat at IP College for Women, University of Delhi. 
The team consisted of our Founder-Director Japleen Pasricha and Intern Sahima Gupta who conducted the workshop at the beautiful campus of Indraprastha College for Women, Delhi.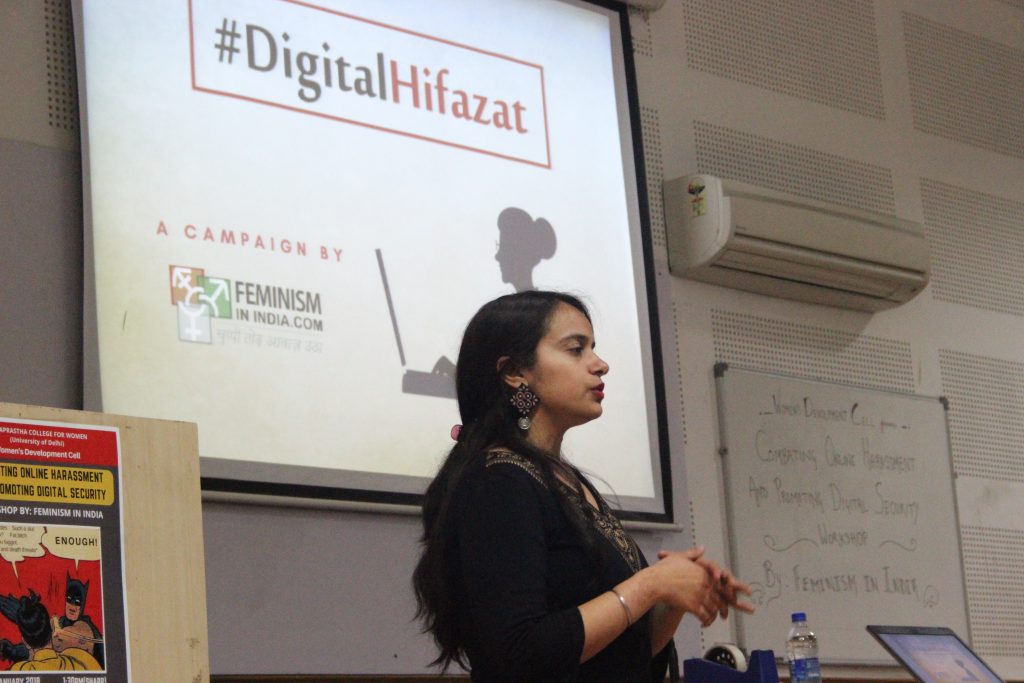 The workshop covered a vast number of themes such as what is online VAW (violence against women), types of online VAW and ways to combat it. The session began with a warm up activity to energize the students. Next, they were asked to introduce themselves and share their personal experiences on social media. The anecdotes that they shared were extremely distressing and shocking. We then distributed two brochures, one was an organizational brochure and the other was a campaign brochure. The second one covered all the points that were going to be discussed in the workshop.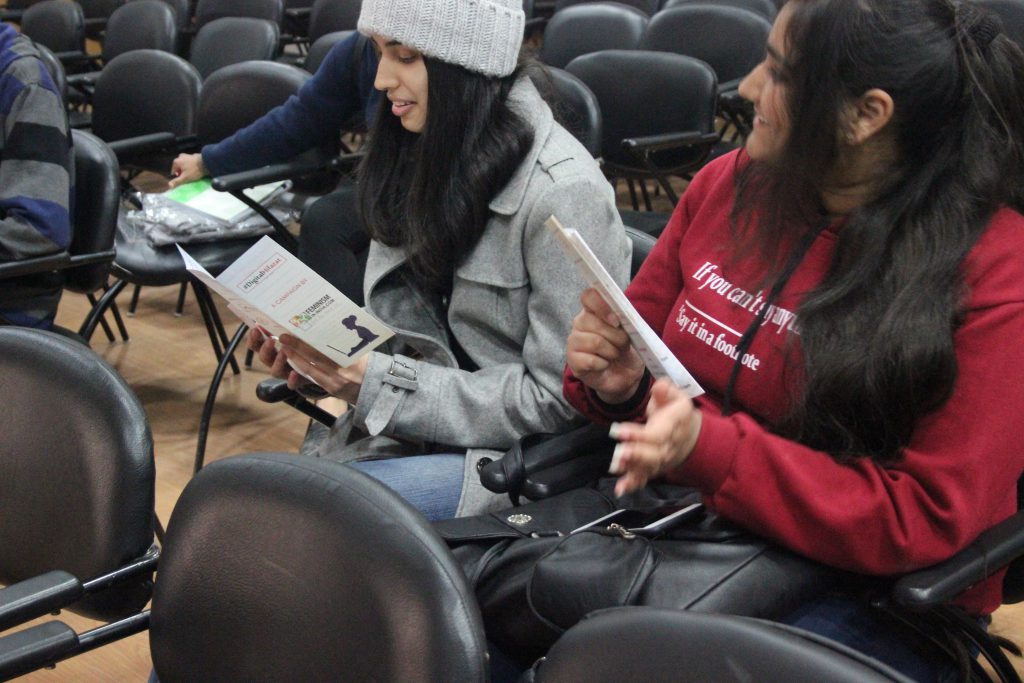 After this, our founder-director discussed a few startling findings and research on social media violence. We then began with our second activity and divided the students into pairs, and provided them with a piece of paper and pen. They had to list down the various types of online social harassments.
Next, we discussed a few examples of online violence against women such as online stalking, impersonation, voyeurism, and doxxing. The students were not familiar with many of them and were surprised to know that so many types of online VAW existed. This activity further lead to the discussion of the reason why women are objectified, the concept of the male gaze and rigid gender roles.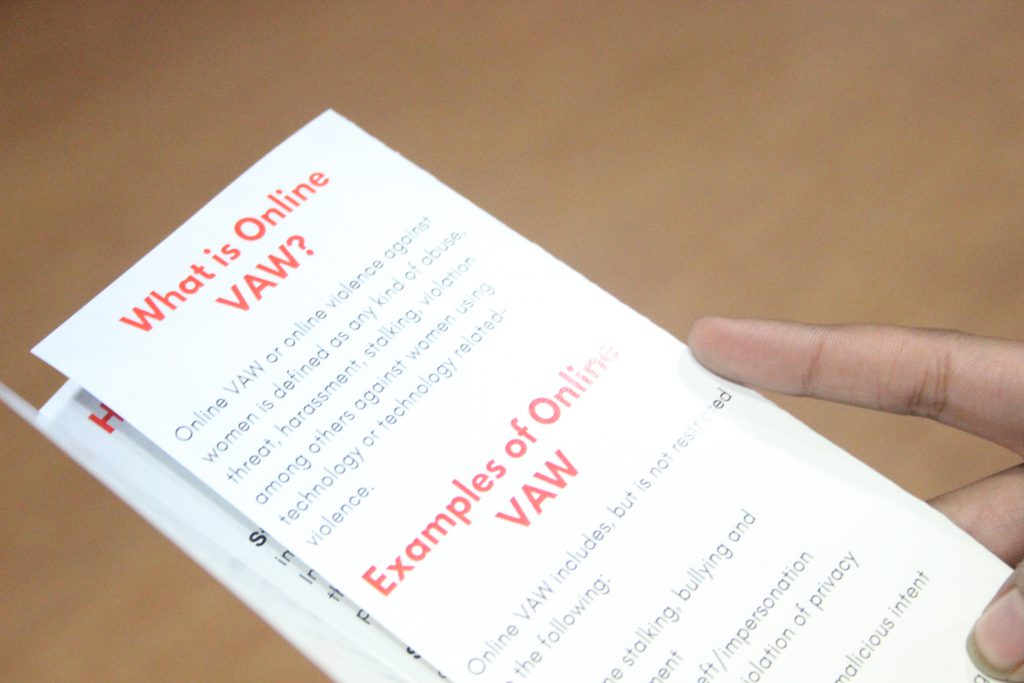 Before heading for the third activity, the FII team shared a few of their online personal harassment experiences along with the 'Nipple Story'. For the third activity, the students were divided into five larger groups and were required to brainstorm and come up with non-legal ways to combat online violence against women. They were given around 15 minutes to work with their groups and write down the points on a chart paper.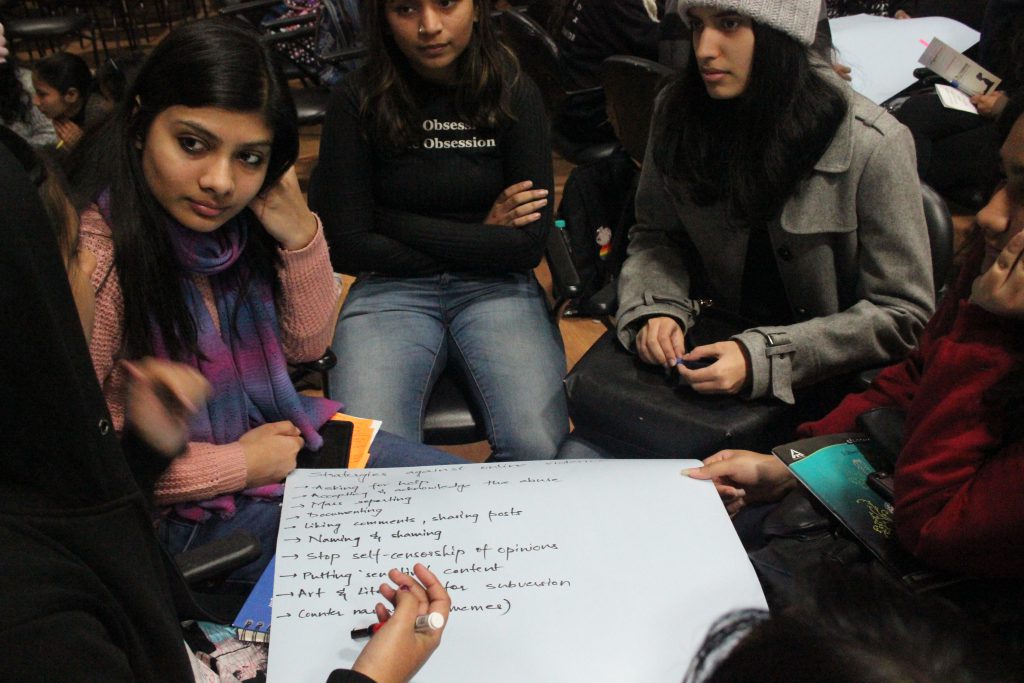 Later, they gave a presentation and elaborated on each point. The interactive students came up with brilliant ideas! We also discussed various online apps like Signal, Confide and Telegram that can be used for secure sexting and chatting.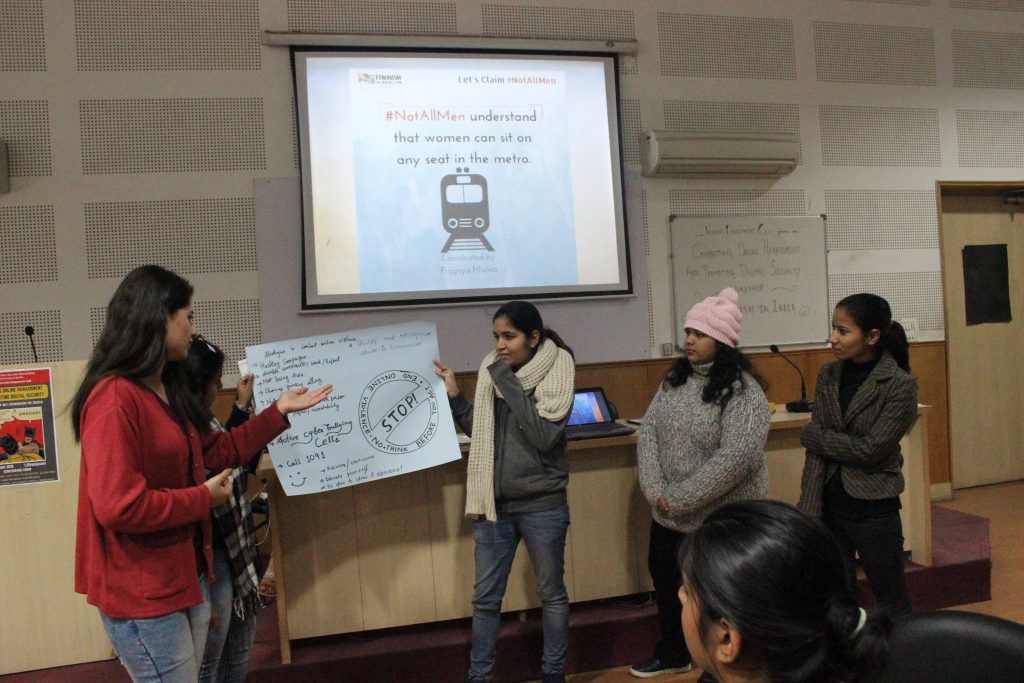 For the last activity, the students were asked to stand up and make a horizontal line. The participants were posed with certain points such as 'if your password is something related to your birth date or name then' or 'if your password is related to your favorite food or place then'. Accordingly, they were asked to take a step forward or backward. This activity was conducted to make the students understand the importance of having a secure password and the danger of having a similar one across all social media platforms.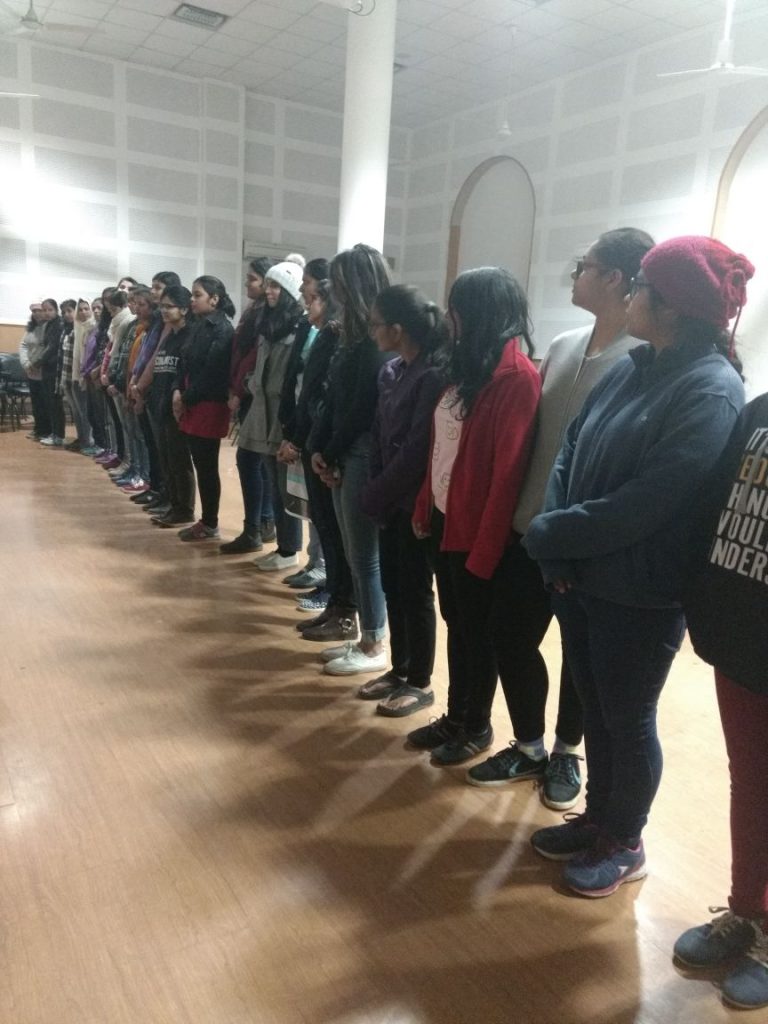 The workshop ended with an interactive session of Q&A from the wonderful students of IP College. We are grateful to the coordinators at Indraprastha College for providing us with this wonderful opportunity. We are also grateful to the interactive students who made the workshop extremely worthwhile.
Siddhi Jain, one of the participants and the President of the Women's Development Cell of IP College for Women said, "Attending FII's digital security workshop made me rethink little things concerning a safe online experience that slip my mind usually, but are imperative. The experimental learning part, where we came up with community-led, non-legal ways to counter online hate, was my favourite. Simple tools like making powerful hashtags trend, can really make a big difference."
Also read: A Participant's Learnings From Our Workshop On Combatting Online Violence
---
If you want us to conduct a similar workshop at your college, please email us at info@feminisminindia.com.
All images courtesy Diksha Goel