Posted by Yashna Kumar
They say that the charm of the night is unparalleled. The sun's disappearance brings about a new glow. People come back home from their jobs, relax with their family, pursue a hobby and go out with friends. The night is indeed special.
But for millions of girls out there, the night signifies a patriarchal cage that is held up by archaic thoughts. A cage that keeps them at home, hinders them and stops them from going outside at night.
Maya, from Patlipura in Patna district in Bihar, too felt this caged existence and decided to break away by demanding her fundamental rights through Samvidhan Live! The Jagrik Project.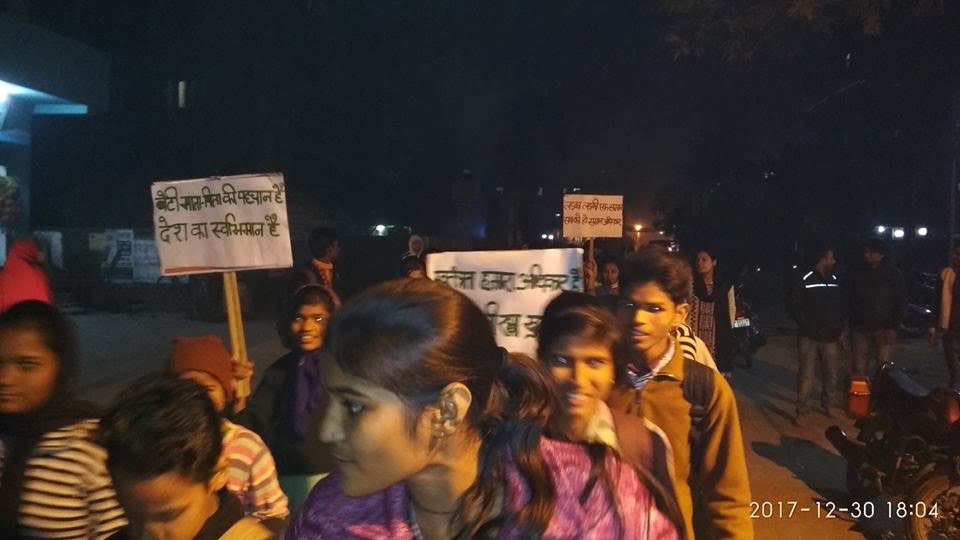 Samvidhan LIVE! The Jagrik Project is a nationwide initiative designed and anchored by ComMutiny – The Youth Collective (CYC), in collaboration with 22 organizations in 14 states. They engage with more than 600 young adults and adolescents by making them live the Constitution for 5 weeks through various social action tasks.
Diksha Foundation, a partner organization of CYC that works with marginalized communities and offers education to economically vulnerable children and young adults, is running this public initiative from the ground. Their jagriks (active citizens) recently took to the streets of Patna (Bihar) through a night rally on 30th December 2017 after 6 PM.
70 young people participated in this night rally which was led by girls. More than half of them were girls. They marched from Poonam Gas Godown, near Jagdevpat and ended at Jagdevpat Chouraha. This attempt of stepping out in the dark aimed at bringing attention to the Right to Freedom and standing up for gender equality.
Also Read: Pinjra Tod: Stop Caging Women Behind College Hostel Bars
Maya, who led the night rally along with another jagrik Nisha Bharat, shared her experience. She said that joining this campaign has helped her in developing herself and increased her confidence when it comes to engaging with people. Talking about the rally, she said, "We wanted our community members to know that it is not wrong for us, girls to move out of the house at night. If our brothers can do that, why can't we?"
Maya and her team also got a good response from the police who completely supported the initiative.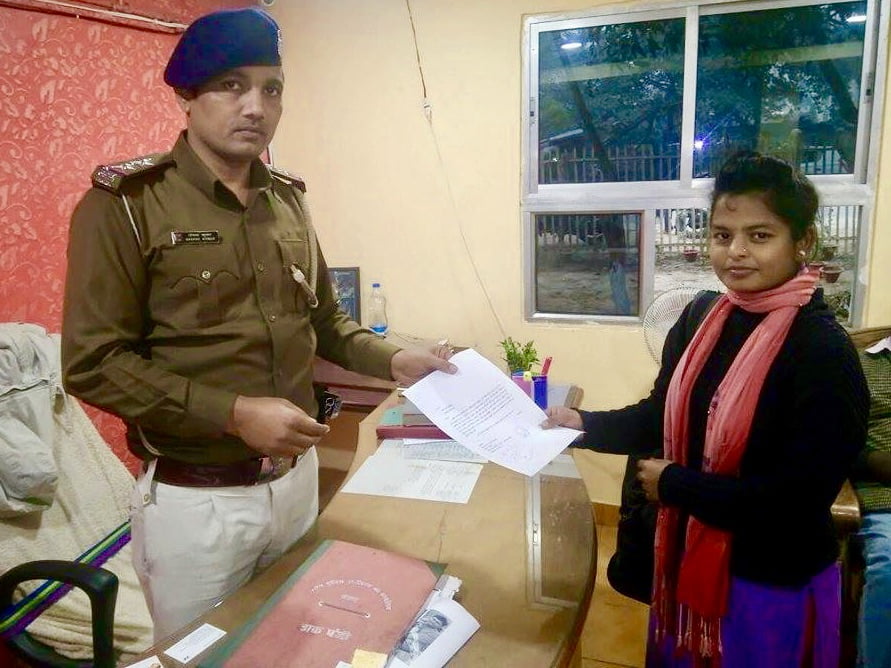 As discrimination against women is a pervasive and a long-running phenomenon, it takes immense determination to stand out, break away from the archaic thoughts of your community, speak up for your rights and perform these social action tasks like a night rally. Though the initiative is small, the thought process behind this has done wonders, especially for young people like Maya.
It is crucial to spread the word about our constitutional rights because only then will people be able to exercise their rights and duties just as these jagriks.
In a society where 'girls are not meant to go out at night', The Jagrik Project continues in its endeavour to engage with young people – to take them on the journey of becoming responsible citizens of this country, fighting for freedom and liberty for all.
Also Read: Why Women In India Are Marching On January 21? #IWillGoOut
---
Yashna Kumar works at The Optimist Citizen. Yashna has written this piece on behalf of ComMutiny – The Youth Collective. If you'd like to get the latest updates on Samvidhan LIVE! The Jagrik Project, follow ComMutiny – The Youth Collective on Facebook and Twitter.