Geeta Dutt had a melodious voice like that of a skylark. This lilting voice enthralled hundreds of thousands of music lovers (read: cine-goers). She is the legendary playback singer who had carved a niche for herself during the 1940s and 1950s. Hers was a chequered life – one with a meteoric rise in her career, success and ultimately a tragic death.
Early Years
She was born on 23rd November 1930 as Geeta Ghosh Roy Chowdhary, one of ten children in a zamindar family based in Faridpur, Bangladesh. As fate had something else in store for her, little Geeta focused more on singing rather than academics. Recognizing her talent, her parents arranged for her to learn singing under the tutelage of Shri Harendranath Nandi, a relative of theirs.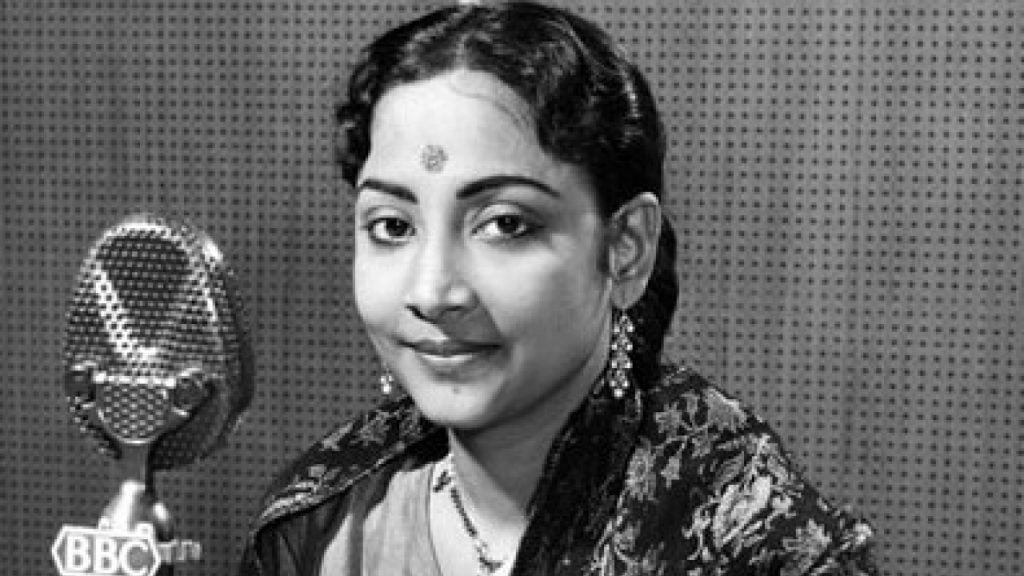 An eventful chapter in Mumbai
In 1942, the family relocated to Mumbai where Geeta was enrolled in the Bengali High School. In the absence of a music tutor, she continued to practice on her own. One day, noted composer/music director K Hanuman Prasad heard her singing while passing by her modest home in Dadar, Mumbai.
Highly impressed, he offered her a chance to sing in the mythological film Bhakta Prahlad. History was made. Later in the year, Geeta sang for two more of Hanuman Prasad's films Raseeli and Nai Maa.
In 1947, Sachin Dev Burman who heard her sing in Bhakta Prahlad contacted her and asked her to sing for his upcoming film Do Bhai. The song "mera sundar sapna beet gaya" rendered by Geeta became an instant hit! The sale of the music album was phenomenal. 
She won countrywide acclaim. The teenager reached the highest echelons of playback singing during the year 1948-1949, managing to overshadow Shamshad Begum and Raj Kumari – the famous voices of that era.
Forging ahead in the face of tough competition
Geeta discovered a formidable rival in Lata Mangeshkar who has a string of successes in 1949 with the tracks, 'Mahal,' 'Andaz' and 'Barsaat". As her popularity soared, Geeta was relegated to second position. But she continued to work relentlessly.
The year 1950 turned out to be memorable and a highly productive one for her. She churned out milestones in the film Jogan e.g. Mat jaa mat jaa jogi,' 'Main to Giridhar ke ghar jaaoon,' 'Eri main to prem diwani' and 'Ghunghat ke pat khol'. Their devotional touch enhanced their appeal to the public.
She began working with the music stalwarts of that time – from OP Nayyar to Hemant Kumar to Khyyam – the list is endless. She sang duets with other renowned singers like Rafi in Bombay Meri Jaan (1956), 'Udhar tum haseen ho' in Mr & Mrs 55 and Talat Mahmood in 'Kaise Roko Ge Aise Toofan Ko' from Anandmath (1952).
Personal Life
Geeta sang for Dev Anand's Baazi (1951). It was Guru Dutt's maiden directorial venture. They fell in love and tied the knot in May 1953. The initial years were blissful and they became proud parents of two sons.
So the story goes, Dutt's entry into Geeta's life was a blessing and a curse as well. Her career blossomed and her most famous songs – including those sung for Dutt's films – happened during this period. Her numbers viz 'Ye lo main haari piya', 'Jaa jaa jaa bewafa' and 'Babu ji dheere chalna' became chartbusters.
Geeta's singing possessed an other-worldly charm; it was the spontaneous outpouring of her heart. At one moment, she would sing a catchy 'Mera naam chin chin chu', and then switch to a seductive number, 'Tadbir se bigdi hui taqdeer bana de'. Versatility was her middle name.
Also Read: Sitara Devi: Introducing Bollywood To Kathak | #IndianWomenInHistory
Foray into Bengali Films
During the 1950s and 1960s, Geeta Dutt sang for several renowned Bengali music directors like Hemant Kumar, Nachiketa Ghosh among others. Some of her famous numbers e.g 'Ei Sundar Swarnali Sandhyay' (Hospital, 1960), 'Tumi Je Amar' (Harano Sur, 1958), 'Nishiraat Banka Chand Aakashe' (Prithibi Amare Chaay, 1957), Jhanak Jhanak Kanak Kankan Baaje' and 'Nir chhoto khoti nei' (both from Indrani, 1958) have become immortal.
Plummeting into hard times
Both Geeta and Guru were temperamental, sensitive and emotionally fragile. Geeta earned more than Guru Dutt, who was struggling to make his mark as a director. Grapevines said Dutt had married Geeta for money. Deeply wounded, Dutt ordered her to sing only for his movies.
She refused point blank. To make matters worse, although Dutt was a strict disciplinarian on the sets, yet in his private life, he was a chain smoker and an alcoholic. The duo began to drift apart. The last straw that broke the camel's back was Dutt's introduction of newcomer Waheeda Rehman in his movie C.I.D. in 1956.
Rumour mills hinted at a Dutt-Waheeda affair. Deeply shocked, Geeta Dutt began neglecting rehearsals, recordings, riyaz and took to drinking heavily. At this juncture, Dutt's career too went on a downslide. His Kaagaz Ke Phool bombed at the box office, creating a mega financial crisis.
In this turbulent situation their third child, a daughter, was born in 1962. On October 10, 1964, Guru Dutt allegedly committed suicide. Soon after, Geeta Dutt suffered a nervous breakdown.
The last years
When she recovered six months later, she found herself in dire straits. As the sole breadwinner for her family of four, she tried to resume singing again, cutting discs during Durga Puja every year, besides doing stage shows.
In fact, she even appeared in Bengali film Badhu Bharan (1967) as the female protagonist. However, alcoholism played havoc with her career. In spite of her efforts, it went into a tailspin, never to recover.
Sheer compulsion led her to sing in Basu Bhattacharya's Anubhav (1971). She sang three memorable songs 'Meri jaan mujhe jaan na kaho', 'Koi chupke se aake' and 'Mera dil jo mera hota'. The public realised that trouble notwithstanding, the verve and cadence of her voice was intact.
A week before her death she informed the studios that her ill-health would not permit her to work. She was soon hospitalised. On 20th July 1972, the skylark's voice was hushed forever.
Her legacy lives on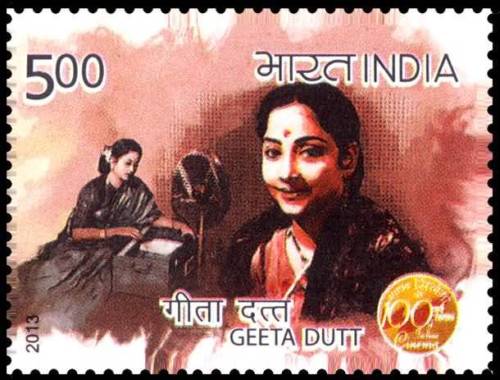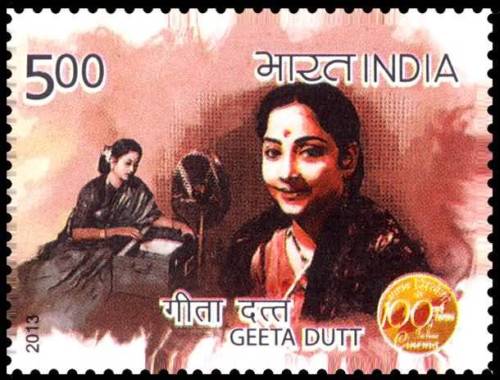 Indeed 66 years after her demise, Geeta Dutt and her mellifluous voice continue to delight millions. The Indian Postal Department released a stamp in her honour her on 3rd May 2013.
Also Read: Rasoolan Bai And The Lost Art Of Thumri | #IndianWomenInHistory
---