The number of feminist haters hugely outnumber the individuals who identify as feminists. What is surprising is that many women who live 'feminist' lives, don't identify as feminists. These are women who have the options of making choices not overpowered by social, cultural or familial considerations. When speaking to some feminist non-identifiers, we came across some varied and interesting opinions.
Prerna is a 36-year-old divorcee who occupies a middle management post in a software company and decided to remain single after coming out of an incompatible marriage in her late twenties. While doing really well in her career, she also found a passion for travelling. In the last 8 years, she has travelled to more than 20 countries and plans to start her own travel company in a few years.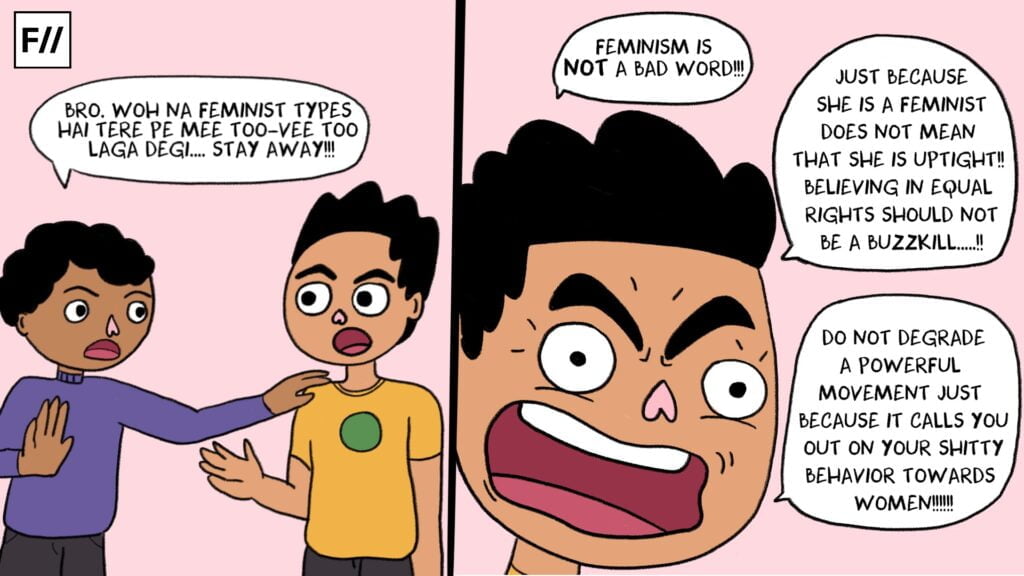 When asked about her reason for not identifying with feminism, she said, "I am in fact a hardcore feminist inside, but the thing is I come from a traditional family which believes in core patriarchal values. So at home, I suppress my feminist views to avoid conflict. In office, I feel the need to keep my feminist identity under wraps cause it could affect my career. I sometimes even overlook or laugh off blatantly sexist remarks while raging inside, since I feel fighting them would put me in a very isolated situation. Maybe you could call me a closet feminist but am not that proud of it".
Pallavi, a 28-year-old architect says she fears judgement from both feminists and non-feminists. "I am definitely a feminist, but I am also a person of convenience. While I wouldn't want non-feminists to stigmatize me, I would also be worried if feminists could be judging some of my personal choices, which don't sound feminist to them.
"I suppress my feminist views to avoid conflict."
So I avoid the tag, for I wouldn't want to explain my life to anyone, be it feminists or non-feminists. In fact, I notice by not calling myself a feminist, I stand a much better chance of convincing people I talk to on the need for gender equality. But the moment I say am a feminist, their defences go up and they don't give my points a fair hearing".
Like the above women, Jenny has chosen not to identify with feminism for practical reasons. Jenny is a 30-year-old software engineer and the financial provider for her family comprising her husband and 2-year-old daughter. She gladly volunteered to take up the provider's role to support her husband's writing dream. Rahul, her husband, takes care of most parenting duties since he is currently the stay at home parent.
When asked as to why she has problems with identifying as feminist, when her life choices are non-stereotypical and indicate courage, this is what Jenny had to say: "I feel it would be a big responsibility to own up to an identity of that magnitude. I see injustices happening to women all around me, which I currently overlook for practical reasons. But owning up to the feminist tag would make me feel guilty and hypocritical if I don't step in and talk about it. I also think that identifying as a feminist would mean examining each and every life choice of mine under the lens of feminism, which I think would be too hard to live by".
Also Read: Why Call It Feminism, As Opposed To Humanism Or Egalitarianism?
These women are not alone, for fear of judgment is a major factor that prevents many fiercely independent women from taking up the feminist tag. While the women spoken to admit there is a huge negative stigma attached to the word 'feminism', they don't really think the stigma is justified.
Maggie is a 39-year-old physiotherapist and currently, a stay at home mom, who expressed her distaste for the feminist tag, "Feminism as a concept is a no-brainer to me. Who can dispute that every individual has the right to do what they want to do with their life, irrespective of gender? The problem I have with feminism is more to do with the ones practising feminism. They are unnecessarily aggressive and easily inflammable. I wouldn't want to be bracketed with women like that".
She also added that she feels judged by feminists for taking a break from her career to spend more time with her child in his formative years. When asked how many feminists does she personally know who made her feel that way, she could just think of one distant second cousin. Her views were more clouded by the perception of feminists by society rather than her own experience with feminists.
"By not calling myself a feminist, I stand a much better chance of convincing people I talk to on the need for gender equality."
Susan, 34-years-old and a successful jewellery brand owner, narrates how she initially had problems in identifying with feminism for the same reasons as Maggie. The kind of stringent political correctness associated with feminism and the man-hating image of feminists kept her away from adopting the feminist tag, though she has made many feminist choices in her life. Not just with career and personal life, but she has also been vocal about her choices.
"I didn't bother to try and look beyond what were the commonly floated views on feminism and feminists," says Susan. "However, Chimamanda Adichie's speech 'We all should be feminists' was an eye-opener. After which I exposed myself to more feminist thought and decided that it would be hypocrisy to not call myself a feminist when I believed and lived like a feminist."
On speaking to the above women, what was clear was that none of these women have a problem with the core aspects of feminism, which is the equality of rights in political, social and personal spheres. They had a problem with taking up the feminist tag. While in some cases, it was to facilitate their navigation through rigid patriarchal structures without much struggle. In some cases, it was the fear of judgement from feminists themselves.
This calls for an introspection among feminists who believe feminism is a monolithic theory that involves no scope for dialogues or differences. While feminists should inspire the essence of their ideology in others, they should not resort to judging choices which stand contrary to feminist principles. Feminism is a social and political movement that evolved to fight patriarchal structures and should not be used as a tool by some misguided feminists to fight individual choices, irrespective of whether or not they are the products of those structures.
Also Read: Analysing 'Women Are Women's Worst Enemies' Or Patriarchal Bargain
---
Names have been changed to protect privacy.