You must have come across the cartoon by Swathi Vadlamudi wherein she significantly and tellingly illustrates, by using the mythical figures of Ram and Sita, issues of abduction, rape and the blatant patronage by 'nationalists' towards the perpetrators of these crimes. Graphic satires are a powerful medium to resist, narrate and destabilize authority, especially when it comes to resisting a rape-epidemic sort of situation.
On 16th April, the Network of Women in the Media released a statement in support of Swathi Vadlamudi – a senior journalist based in Hyderabad who has an FIR lodged against her as well as Ahmad Shabbir of Times Now for sharing her tweet.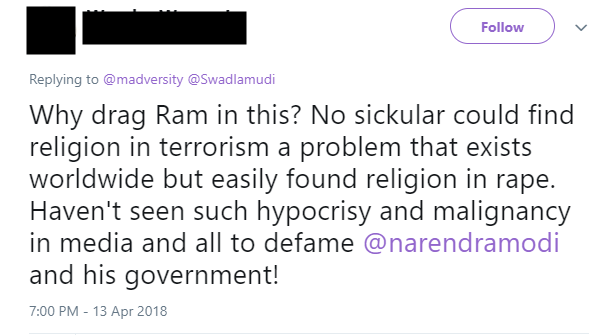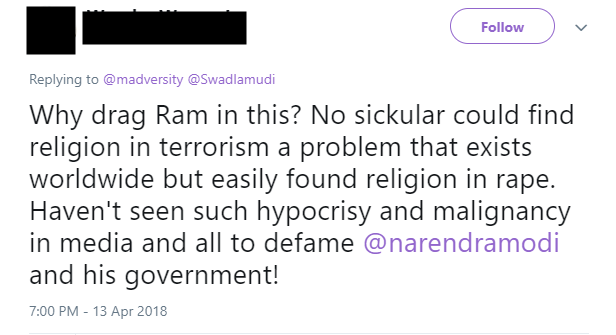 The FIR has been filed under Section 295 (a) of the IPC (deliberate and malicious acts, intended to outrage religious feelings of any class by insulting its religion or religious beliefs) by Hindu Sangathan – an appendage of the ultra Hindu right-wing group on 14th April. She posted the image on her Facebook page and it resonated with a lot of people, getting more than five thousand shares.
But the irony that we live in today is that criticizing rapes and abduction will lead to more rape and death threats by the toxic masculinity of the Hindu Brigade. The cartoon was made in the wake of the right-wing outfit called Hindu Ekta Manch demanding the release of the main accused, Deepak Khajuria, in the Kathua case. She has drawn many cartoons but what has caught the attention of the case is the usage of the mythical figures of Rama and Sita.
Swathi is trying to highlight the terrible crisis that the country is going through when rapists are being 'defended' by authority figures. She is making us think of how the distance between fact and fiction has blurred, with the use of mythological figures.
Also Read: Why Is Asifa Bano Not Allowed To Be 'India's Daughter'?
What is "outrageous" about this post then is not the portrayal of the figures of Ram and Sita in a "derogatory" manner but the reality that she is trying to picture through this piece. What is outrageous is not Sita's 'choice' of her abduction at the hands of Ravan than the sanghis of Ram, but Asifa's brutal abduction and gangrape. What is outrageous is not Sita's agency of her desires, but Asifa's name trending on porn sites!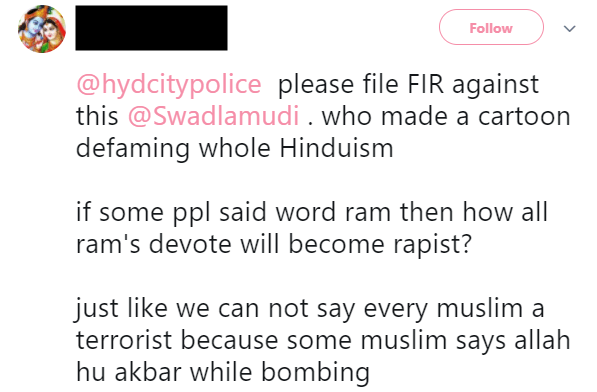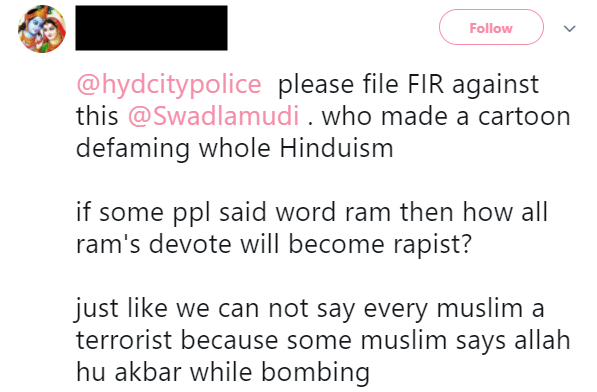 This piece is also a reflection of the anger and torment that women are facing all over India. The angst of Sita then is a metaphor for the countless women whose bodies are violated and raped on an everyday basis. Why can't we use the image of Sita to illustrate this feeling of rage? Why are only a few bhakts the sole custodians of our mythologies?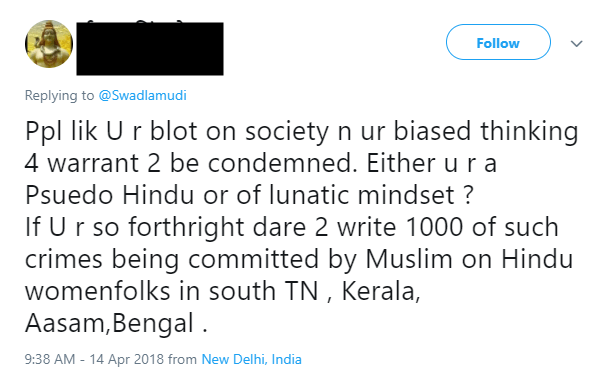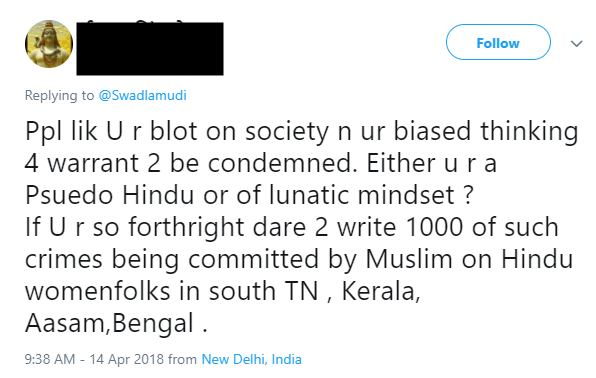 Swathi Vadlamudi is not the only person against whom an FIR has been filed, there have been many other cartoonists who were sent behind bars for "hurting public sentiment" – the arrest of G Bala by the Tamil Nadu Government is a recent case. It is then not just her right to freedom of speech and expression that has been taken away by the state, but also the right to rage through the medium that is best known to her.
We are in solidarity with journalist and cartoonist Swathi Vadlamudi and want her FIR to be withdrawn.
Also Read: No, We Can't Stop Communalizing Asifa Bano's Rape. Here's Why.
---
Featured Image Credit: Swathi Vadlamudi