Her life was the epitome of Indian cultural traditions and heritage. Indeed Rukmini Devi Arundale was one of the leading best exponents of Indian classical dances. Throughout her long illustrious life she toiled at refurbishing the tarnished façades of classical dances (especially Bharatanatyam), and showcased their renewed splendour before the entire world. More than three decades after her death she remains immortalised in the sphere of performing arts.
Early Life
She was born on 29th February 1904 in Madurai, Tamil Nadu, into a Tamil Brahmin family with seven siblings. The father Neelakanta Sastri, though an engineer by profession, was a Sanskrit scholar and a historian as well. Since her mother Seshammal was a music enthusiast, Rukmini Devi was exposed to dance, music, and culture within the precincts of her home. Nilakanta Sastri was very closely associated with Theosophical Society based in Madras (now Chennai). Quite naturally, she was influenced by liberal, humanistic ideas of the society.
Besides the influence of her father, another individual who greatly impacted her ideology and thoughts was none other than Dr. Annie Besant, the British co-founder and president of the Society. Little did Rukmini Devi know that the Theosophical Society would eventually become the fundamental truth of her life.
The first signs became palpable when in the year 1920, aged barely 16, she stunned her family and society by tying the knot with 42 year old Dr George Arundale, a British Theosophist and Dr Besant's Man Friday. Their conjugal life was by and large peaceful. Arundale eventually became his youthful spouse's mentor, friend philosopher, and guide.
Travel, Experiences, Career
After their wedding, the Arundales travelled extensively across the globe interacting and exchanging views with other theosophists. During this phase she came in contact with numerous famous personalities like educationist Maria Montessori, and poet James Cousins. Owing to her deep involvement in theosophical activities, she became the President of the All-India Federation of Young Theosophists in 1923, and President of the World Federation of Theosophist in 1925.
Though a late beginner, she managed to master the dance form by through her devotion and dedication.
Soon there came another milestone in Rukmini Devi's life. In 1928, she met the world renowned Russian dancer Anna Pavlova who had visited Bombay in connection with a performance. Thereafter they travelled on the same ship to Australia. A lifelong friendship was forged during this voyage. Motivated by Pavlova, Rukmini Devi took up ballet dancing seriously under the tutelage of the Finnish maestro Cleo Nordi. However later Pavlova urged Rukmini Devi to try and discover her roots – he traditional dance forms of her native land.
Accordingly, Rukmini Devi began learning Bharatanatyam initially under Myalapore Gowri Amma followed by Pandanallur Meenaksi Sundaram Pillai. Though a late beginner – she was almost 30 – she managed to master the dance form by through her devotion and dedication. At that point of time classical music and dances were limited to Devadasis – women (superficially) wedded and consecrated to Hindu male deities, whom lustful temple priests used as objects of sexual gratification.
Also read: Balasaraswati: The Dancer Who Popularised Bharatnatyam To The World | #IndianWomenInHistory
Rukmini Devi resolved to erase the stigma and social stereotypes connected with the dance. She realised that to do so, certain innovations and renovation would be required. Plunging headlong into action, she infused motley hues and designs into dancers' costumes, introduced violin paying, stage lights , props, customized jewellery and majestic statues of Nataraja (King of Dance, who is equal to Lord Shiva) which were worshipped by the dancers before their recitals commenced.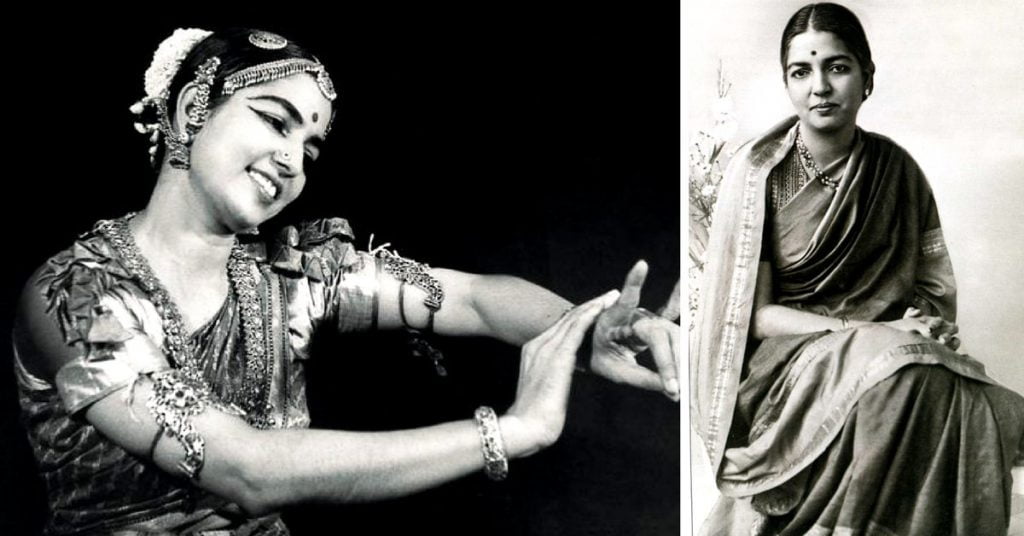 She collaborated with several contemporary classical musicians, artists, and Gurus of divergent dance forms, to create some landmark dance dramas based on mythology, epics and scriptures. These include Sri Rama Vanagamanam, Sabari Moksham, Kumara Sambhavam and many more. Through her hard labour, she succeeded in garnering for Bharatnatyam, the popularity which it richly deserved.
She was the first Indian woman to be nominated in Rajya Sabha.
In 1935 her first public appearance coincided with the Diamond Jubilee Convention of the Theosophical Society. She was the first non-devdasi to perform in public! In 1935 the Arundales' brainchild Kalakshetra was born. Situated in the vicinity of Chennai, and modelled on the Gurukul system of ancient India the establishment comprised a high school, a senior secondary school, and an s academy for music and dance. Its salient feature was having open-air classrooms – thus ushering in an eco-friendly ambience where everyone could enjoy proximity with nature.
Awards And Accolades
A late bloomer, Rukmini Devi achieved success at a tremendous pace. By 1960s, she had reached the pinnacle of fame and glory, emerging as India's Prima Donna and a revivalist of classical dances. In 1956, she won the Padma Bhushan, India's second highest civilian award. This was followed by the Sangeet Natak Akademi Award in 1967. She served two stints as a member of the Rajya Sabha during the 1950s. She was the first Indian woman to be nominated in Rajya Sabha. She had the signal honour of becoming the first woman member of the Upper House.
Animal Activistism
Rukmini Devi was an embodiment of kindness and compassions for all living creatures that she came across in her day to day life. She played a major role in getting the Prevention of Cruelty to Animals Act passed in 1952. She spearheaded the establishment of the Animal Welfare Board of India in 1962. For more than three decades she remained the Vice-president of the International Vegetarian Union. She was conferred the Prani Mitra award in 1968 for her contributions as an animal rights activist.
No To Politics
Rukmini Devi was an artistic soul passionately devoted to dance. This coupled with her philosophical bent of mind, propelled her to live a simple life and maintain a low profile. No wonder, after President Fakhruddin Ali Ahmed's demise in 1977, when she was offered Presidentship of the Indian Union, Rukmini Devi gracefully turned down the offer, choosing to only focus on her passion.
The Last Years
The doyen of Bharatnatyam spend the last years of her life at the institution which she had devoted her entire life, imparting her knowledge to scores of students who carried forward the art for posterity. She quietly died of old age on 24th February 1986, in Chennai, days before turning 83!
Also read: Mrinalini Sarabhai: The Dancer Whose Feet Wrought Change | #IndianWomenInHistory
Lasting memory
In 1987, India's Postal department issued a 60 Paise commemorative stamp in honour of the great dancer. Later in 2009 it released a definitive stamp of Rs 5 in her memory. Her legacy Kalakshetra still flourishes as a fountainhead of the country's classical dance and musical heritage. Its world famous alumni include Sanjukta Panigrahi, C V Chandrasekhar, Yamini Krishnamurthy, Leela Samson among many others.
Reference
1. The Famous People
2. The Better India
3. Livemint
---