Besides being born to the family of renowned Brahmo reformer Durga Mohan Das and marrying to the famous Indian scientist Sir Jagadish Chandra Bose, Abala Bose deserves a special place in the great history for her pioneering work and life long devotion to the social causes. She was an early feminist, who worked her entire life to provide education to women and for the better treatment of widows in the Indian society.
Early Life & Work
Abala Bose was born on August 8, 1865 at Barisal, a major city that lies on the bank of Kirtankhola River in South-Central Bangladesh. 
She belonged to the famous Das family of Telirbagh, Dhaka. Her parents were people of conviction. While her father was the recognised hero, known for his commendable job for women rights, her mother Brahmamoyee is never mentioned. She had unparalleled sympathies for young widows who faced social oppression, so she helped them with education and shelter. However, she died when Abala was only 10.
Abala went to Bangla Mahila Vidyalaya and Bethune School, to complete her schooling. Despite being born in the times when education was a big no-no for girls, with the help of her father, she decided to take medicine as a career. She passed her entrance exam with a scholarship in 1881, and then went to Madras to study. She cleared her final examination but returned due to her ailing health. 
At the age of 23, she was married to Jagadish Chandra Bose, famously known as father of radio science. She accompanied him to all of his tours, and gained knowledge about the methodology followed by them, while imparting education to girls. In the year 1910, she was elected as the Secretary for the Bahmo Balika Shikshalaya, and held the post for 26 years.
She was profoundly interested in bettering the lives of women and was able to set thousand wheels in motion, by asking Sister Nivedita to train the teachers at the kindergarten level. The school saw a revolution in the entire education system when girls were being trained in self-defence and older girls were even taken to visit different places of their interest. Understanding the geographical restrictions while reforming the education system in Bengal, she took her goal of empowering young girls through education on a mass level, by launching Nari Shakti Samiti, with the help of her friends and brothers.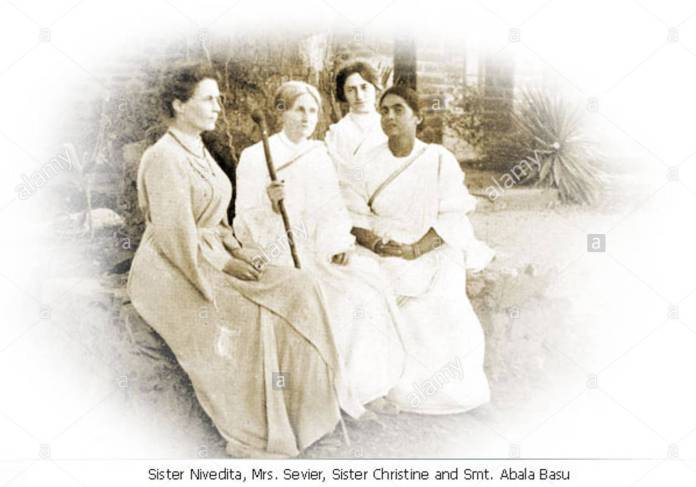 Nari Shakti Samiti
The perseverance and commitment for women rights and their upliftment was so ingrained in Abala Bose that for the initial thirty five years, all the work done by the Organisation was out of it's own resources. Setting up a social welfare organisation back then was a big task in itself as people were partly opposed to the idea and the supporters couldn't contribute anything financially. The organisation established plethora of schools for primary education.
However, Abala soon realised that building a school in itself wouldn't be the torchbearer of revolution, the number of teachers catering to different students were disproportionate and were not trained themselves.
Also read: Leela Roy: Bengal's Only Woman In The Constituent Assembly | #IndianWomenInHistory
Having inherited a deep sympathy for widows in the community, who have been condemned to a miserable life due to superstitions and ignorance, she decided to establish the Vidyasagar Bani Bhavan in 1925. It aimed at solving the two fold problem by providing education and teacher training to widows, who would then go on to be employed in the primary schools established by Nari Shakti Samiti. 
Mahila Shilpa Bhavan
The branches of Nari Shakti spread out to help young unmarried girls, housewives and widows by teaching them embroidery, sewing, etc. to supplement the family income. To help women achieve financial independence, Women's Industrial Cooperative Home was set up in 1935.
Final Days
After the death of her husband, she donated Rs. 10,00,000 to set up Sister Nivedita Adult Education Fund, which provided for literacy classes, first aid, home gardening, and many more to women in rural areas. She also built Sadhana Ashram, a day before she died, and handed it over to Brahmo Samaj.
What We Must Remember
She dedicated her entire life to the cause of women's education, by focusing on the areas, where the progress rate was really low. She emphasised on educating the purdah women, instead of waiting for them to break the shackles of the system holding them back and seek for education on their own. She understood that Brahmin Pundits had to be replaced with female teachers to make young girls comfortable.
The intention behind all the initiatives started/sponsored by Bose was to impart the rudiments of literacy, but above all teach the elements of hygiene and sanitation as these problems were widespread in those times.
The schools set up by Bose aimed at physically training girls and eradicating prevalent casteism in the villages. Her ways of imparting education were innovative and thus inspired a lot of people to initiate the cause, of their own accord. One such example is Saroj Nalini Dutt, who realised that village reform was a great idea and the only thing holding progress back was orthodoxy and thus she advocated for awareness of the families of secluded women.
Also read: Irawati Karve: A Pioneer of Indian Sociology | #IndianWomenInHistory
Reference
1. Veethi
2. Maamathi Manush
3. Social Welfare edited by Prabha Rai