Benzy, a 25 year old musician, sings her heart out, not letting being affected by autism and partial paralysis come in her way. In spite of her inability to converse at all, she has released ten audio CDs which has been recognised by musical legends such as Lata Mangeshkar and Asha Bhosle. She has also won three National Awards and holds two Limca Book of Awards for her talent.
Autism is a lifelong disability which affects the person's conditions relating to social skills, repetitive behaviors, speech and nonverbal communication. It is a developmental disorder which results in deficits in communication and social skills, and restricted or repetitive behaviors. More than 10 million children in India are affected by autism. People with autism have special needs as they require constant support and help for everyday things. However, they possess the same emotional cognition as any other individual. Like with all kinds of disabilities, here is stigma attached to it due to lack of awareness and research.
Also read: Employees Of Special Schools In Kerala Fight For Better Aids From The Government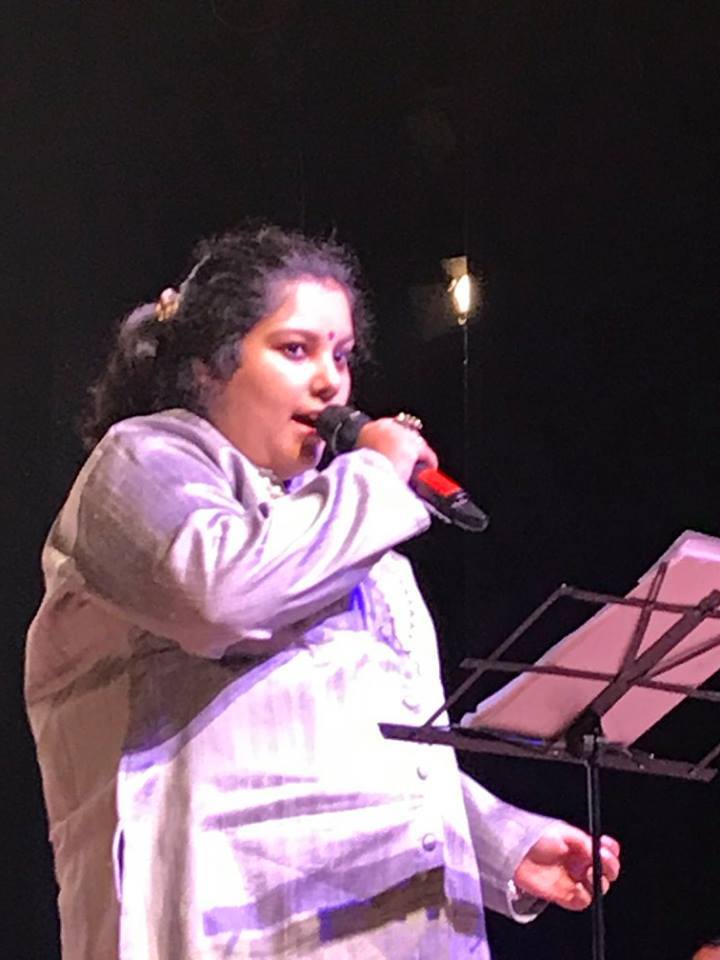 When Benzy was born, she went through a rigorous treatment for meningitis for forty days. Even after the treatment, her parents realised that she was not as responsive as a typical one month old baby. She was declared bed-ridden for life when consulted by the doctors. However, her mother, Kavita Kumar, found that she was positively responding to the music playing on her tape recorder. Since then, music has became a very significant part of Benzy's life.

In spite of her inability to converse at all, she has released ten audio CDs. She has also won three national awards and holds two Limca Book of Awards for her talent.
Kavita used to play Indian classical raagas and gayatri mantra for Benzy when she went to sleep and after she woke up. The music had a healing effect on her behavior as Kavita recollects, "Playing raagas for Benzy calmed her aggressiveness and frustration; they were healing her." Thus her parents adopted music therapy for Benzy's betterment. She started memorising and singing the music played during her therapy.
At the age of 5, her mother decided to train Benzy in Indian classical music. Her vocal mentor just sat with her and recited the basic notes and raagas, and Benzy memorised them, solely by listening to them. Soon after that, Benzy started singing and playing the raagas on the keyboard on her own.
Work and Achievements
Only two years later, Benzy gave her first ever stage show and performed a beautiful rendition of Raaga Yemen which left the audience in awe of the talented young girl. She was awarded a medal for her performance but she threw it away, not realising its importance. At the mere age of 9, she released her first audio cassette titled Basic Raagas. From then on, there was no stopping Benzy.
Until now, she has released 10 audio CDs, with a mix of both her vocals and her instrumental performances. They have garnered her much recognition and many awards, which Kavita terms as "a miracle". Benzy's talent has been appreciated by famous artists like Shubha Mudgal, Lata Mangeshkar, Asha Bhosle, Alka Yagnik, Adnan Sami, Hritik Roshan, Shah Rukh Khan, and many more. She received her first National Award at the age of 10 (2004) for her second album Koshish, by the Ministry of Social Justice and Empowerment.
She received another National Award in 2006 where she was the only nominee who was disabled. In 2014, she received her third National Award for being the Best Creative Adult in India. She has been felicitated with the National Karamveer Puraskar among other awards. She is also the holder of two Limca Book of Records.
Benzy is the only artist from India whose song was featured in the international audio CD titled 'Songs of the Disabled, Underground Vol. 3' Moreover, she is also the brand ambassador of the Dhoon Foundation, an initiative by Kavita to work for children with autism.
Awards and medals have always been meaningless to Benzy. According to Kavita, "She feels happier when she gets applauded, more than when she receives an award." However she also states that, "Benzy prefers bouquets more than applause." On asking how she responds to her fans worldwide, Kavita states "Benzy loves her fans and she also expects applause and hugs from them after her performances."
The Unstoppable Mother-Daughter Duo
None of her achievements could overpower her sorrow when Benzy's father passed away in 2010 due to a long and fatal illness, which led her to completely give up music for two years. This did not let Kavita down and she re-introduced music in Benzy's life as a healing mechanism for her grief.
Being an autistic child, Benzy had trouble with adjusting to new things and situations. It takes patience and repetition of certain actions for an autistic child to be comfortable with them. Benzy was initially uncomfortable with wearing headphones while recording her songs in the studio and it was a new concept for her to sing on a backing track. But Benzy became comfortable with those new concepts through Kavita's patient efforts.

Kavita founded the Dhoon Foundation in 2007 with the motto "to help disabled children get established as artists in the society so that they feel highlighted and motivated."
When Kavita witnessed the healing power of music on Benzy, she made it her goal to help other children from impoverished background with similar challenges though music therapy. For that cause, she founded the Dhoon Foundation in 2007 with the motto "to help disabled children get established as artists in the society so that they feel highlighted and motivated."
Also read: The Rights Of Persons With Disabilities Bill, 2014 Is Now An Act – How Far Have We Come Since 1995?
With Benzy's talent and Kavita's conviction, the mother-daughter duo is an inspiration for people who feel hopeless and let down by certain circumstances in life. They proved that no hardships could stop them from achieving their dreams.
---
Featured image credits: Benzy Facebook Page