Vettiver Collective is a Chennai based group established in 2006 with a focus on environmental justice and human rights issues. I chose to interview Vettiver for specifically its values related to ecofeminism. We often think of the environment as 'Mother Earth'. We expect it to nurture and care for us, but continue to exploit, oppress, and toil it to our benefit and as convenient, much like we do with women. Just as feminism is requisite to human flourishing, so is the environment. I spoke with Shweta Narayan to tell me a little about Vettiver.
Chandrika Manjunath: What is the meaning of Vettiver? Why was it selected to represent the work you do?
Shweta Narayan: We deliberated on our name for many years because it was kind of impossible to put together our interests and what the purpose of the Collective was, in some sort of acronym or name. So the easiest was to call ourselves the Collective, but this wasn't appealing to everyone. Eventually, after some annual retreats, we agreed upon Vettiver which means collective. It is also an aromatic grass – the idea was that we see ourselves as the grass that spreads around and cools things. This was symbolic in the sense that Vettiver was an ecologically friendly natural sort of thing.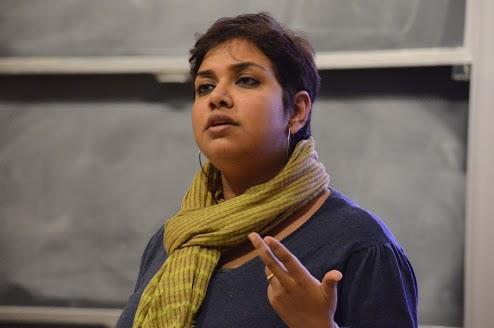 The Collective is an informal space for like-minded people, especially young people, to understand environmental justice, human rights, and cultural issues. It is a space that is safe for them to debate and discuss –where together we can contribute something to issues in a meaningful way. It is a space for people to explore, develop ideas, contacts, and resources to gain deeper understandings, with the ability to also pursue something independently or with the Collective.
CM: How was Vettiver incepted? What do you hope to accomplish?
SN: We wanted this to be both a personal and a collective space where you could discuss, debate, fight, and take up issues close to your heart that bother you, in addition to your professional obligations. Vettiver was conceptualised as a space outside of those thematic programs. All of us have different interests and skills that we bring.
We wanted this to be both a personal and a collective space where you could discuss, debate, fight, and take up issues close to your heart.
Nitty was very keen to also bring in and have young people have a space where they could talk about political issues in a manner where you're not branding or labeling people – just a place to clarify doubts and strengthen your views on certain issues, just filling a void of engagement in justice outside of professional work spaces.
Our focus is on environmental justice and other human rights issues. We also do solidarity work and support work for communities that are facing either government repression or corporation created environmental problems. It's an association and we recognise each other as members of the Collective. It's very fluid – that is the beauty of it because it doesn't make you feel like you're tied down to it. It's a space you can come in and out of. The purpose of the space is that whatever you learn adds value to you now or in the future.
The one form of work promoted by the Collective that has really picked up and has become very appealing to younger generations is art and music.
CM: Why do you think art + social activism work so well together?
SN: Art has worked well because it's not in-your-face or confrontational. It's a very different medium of creating social awareness. It doesn't polarise you. It's not super aggressive, where you're screaming at the top of your voice which pisses people off or puts people off. Art has a certain tenderness but gets the message across. For instance, the Kodaikonal Won't video – it worked so well because it had a striking message but expressed it via music. If we'd done it, as say a lecture, people would have probably lost interest.
CM: Describe the word Poromboke and its reclamation. What is the power of reclamation?
SN: Poromboke (Tamil) means 'common land', but over the years it has degenerated into a cuss word which means 'waste'. Poromboke has a very interesting history. It was classified in the British colonial times. The British saw land in terms of revenue. So whichever non-revenue land they couldn't get, was classified as wasteland. Poromboke was a response that was put together after the 2015 Chennai floods and the openly illegal encroachment of ecologically sensitive farmland in the industrial belts of northern Chennai and other nearby parts.
We also do solidarity work and support work for communities that are facing either government repression or corporation created environmental problems.
One of the reasons the Chennai floods became so dangerous was because of the invasion of Poromboke areas and natural draining areas – there was no place for the water to drain out into the ocean. There was an urgent need to introspect where we were going as a city and what was in store for us in future. So there was a need to raise awareness and the medium we chose was through Carnatic music and with TM Krishna.
This encroachment and plans for development continues and it's a big challenge. But communities are coming together, with fishing communities at the forefront because it's their livelihood directly at risk. So when a proposal comes up to build an IT park for example, in an area classified as wasteland, politicians, and others who want to justify this project, say "Look we are going to bring in some revenue from this wasteland, so this is good." So it's a good project for economy but not for ecology.
So it's important to take back the original purpose and meaning. Poromboke is seen as a bad word and reclaiming the word is working – it will take time, but now everyone who hears and sees the word is associating it with Carnatic music and the video and its purpose. It does need to be more popularised, but I feel it's working, and people are bothering to look it up.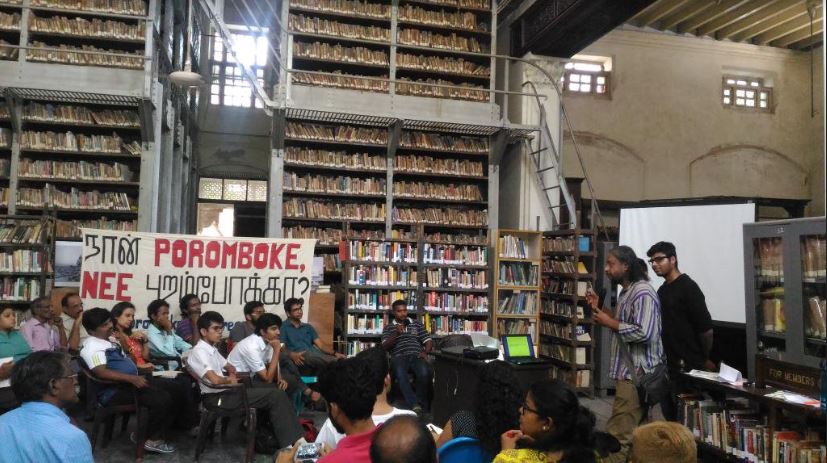 This becomes an avenue of engagement – you use a word like Poromboke, and people will say "hey, this is a bad word", but actually it's not! And it is then that you get engagement. It's a means of engaging with the general public.
CM: How do you feel your work intersects with feminism? Does feminism necessitate environmental justice? Should we consider feminism and women when doing environmental justice work?
SN: A gender justice element is an inherent part of our worldview and work. So it automatically comes into the Collective's perspective. It brings in a different kind of challenge and consciousness, like we make sure that there is women representation in panels or discussions and ensure they are representatives of the Collective because invariably when interacting with media usually attention is given to only men. The intersection of feminism and gender justice is very important, not just in terms of dialogue but also when you reach out to communities. We're always trying to actively ensure that sort of imbalance or negligence is not meted out to the women in the group or in the community.
CM: What methods of spreading awareness have been most effective? Why have they worked so well? How should people who want to get involved in environmental justice do so? How should we motivate those that don't care? What can we do on an individual level?
SN: An important strategy was to take to social media and use the means that was not boring and non-confrontational. All of this clicked with the Kodaikonal Won't video. All of this brought the attention of the mainstream media – within days of the music video going viral, and for a couple of months, we were covered by NYT, Washington Post, Indian news channels. This was the whole point – making the invisible, visible. Once people saw this, we saw them attacking Unilever brands for what they're doing no matter how much 'good' they talked about and cute sentiments they show in their ads.
This prompted backlash, and compelled Unilever to come forward and negotiate with the workers. Something they weren't willing to do for 11 years. The case was filed in 2006, and this happened in 2015. They finally came around and talked and things worked out for the workers. The social media campaign did elevate to a point that forced the company to negotiate with the workers.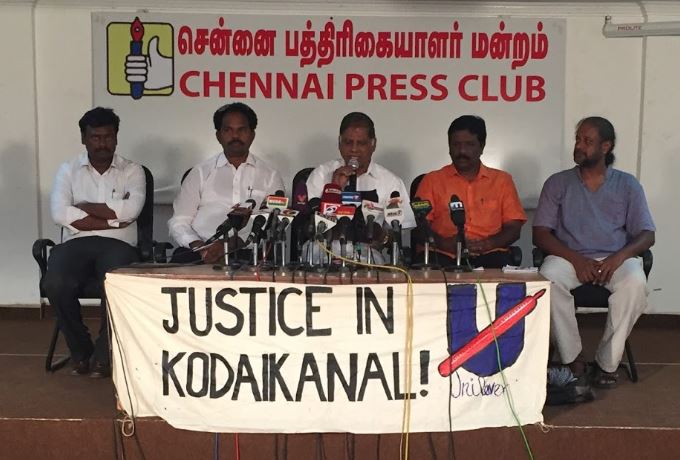 Now the situation is such that though the workers are still getting compensated, the factory site is still owned by Unilever and they are still leaching mercury and now they're trying to squeeze out of the responsibility of cleaning up the site to international standards. Our job now is to get them to do this and ensure no harm to environment.
People need to look organisations up – we invite people to look us up and participate in activities and find common interests. Talking to interested communities, young people, lecture series, photo exhibitions, and concerts, remain tools of our choice. It's also about demanding accountability from regulatory agencies and government, because that's what democracy is all about. Just saying "Oh I'll bike to work today" while important, isn't enough. It's also asking for policy changes and a sense of accountability from our policy makers and regulatory agencies.
Do you think the environment still has a chance?
SN: Human beings don't have a chance (*nervous laughter*). But in all seriousness, it has to have a chance otherwise what's the point?
Also read: Meet Priyadharsini: Filmmaker And Founder Of The Blue Club
---
FII thanks Shweta Narayan for taking out time to do the interview. Follow Vettiver Collective on Twitter and Facebook.
Photography Credits: Vettiver Collective