It was at the August Kranti Maidan (Gowalia Tank) that Gandhi made the famous 'Quit India' speech in 1942. About 77 years later, Mumbai's first Pride march after the historic Section 377 judgement began from this very location. Section 377, an archaic law from the colonial British era, imposed a blanket ban on 'unnatural sex'.
Around 15,000 people attended the Queer Azaadi March on February 2, 2019. Organisers said this was the highest number of attendees the Mumbai Pride march had witnessed in its 14 years of existence. "The Supreme Court verdict on Section 377 is just the beginning. There is a lot more to be done. Basic acceptance by loved ones is still difficult for a lot of us. My family has no idea that I am here. If they knew, they would disown me," said one of the marchers. While social awareness has increased to a great extent, there are many who refuse to accept and engage in dialogue about existence of alternate sexualities. Many queer people face stigma and social ostracism on a daily basis.
Cries of 'I am gay, that's ok', and 'Tharo mharo same chhe, prem chhe, prem chhe' (My love is the same as your love) rung through the crowd, with infectious nasik dhol percussionists keeping the energy alive. The theme for this year, 'Pride for All,' intended to emphasise on intersectionality in the demand for LGBTQIA+ rights.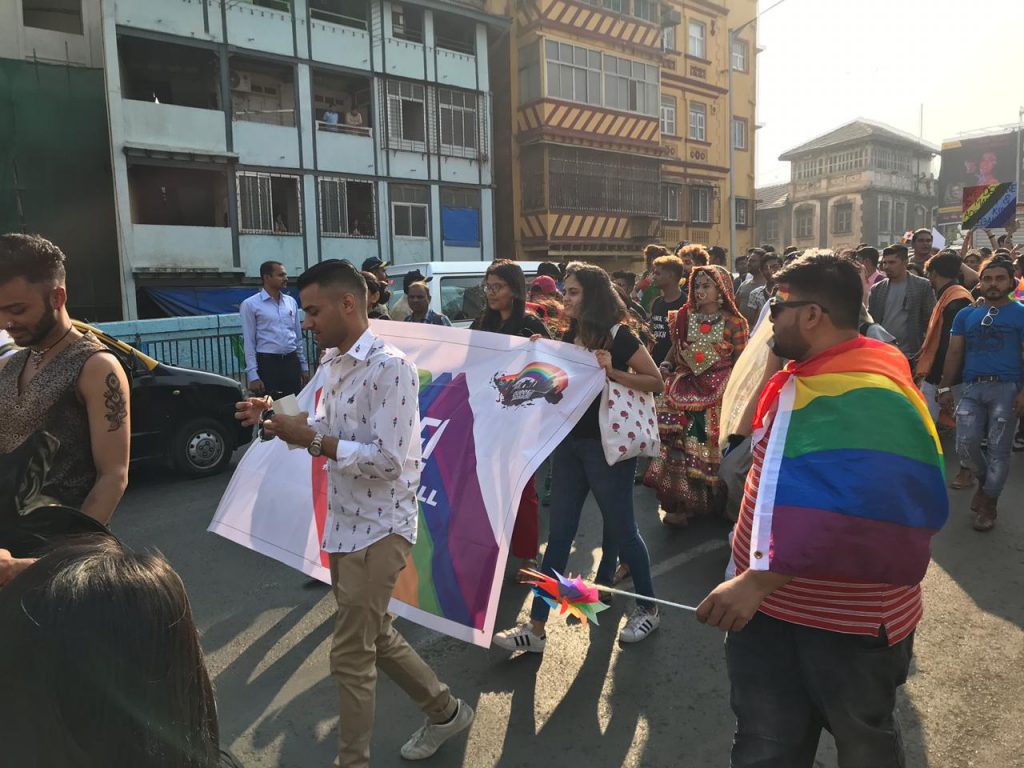 The striking down of Section 377 had been a consistent demand in the previous marches. With that goal having been achieved, this year saw demands for equal marriage and adoption rights, and inclusion of Dalit, Muslim, and other minorities in the mainstream dialogue, among others. Many events are organised for the LGBTQIA+ community in Mumbai throughout the year. But the Pride, which is the largest queer event on Mumbai's calendar, has the greatest scope for being inclusive, due to its public nature.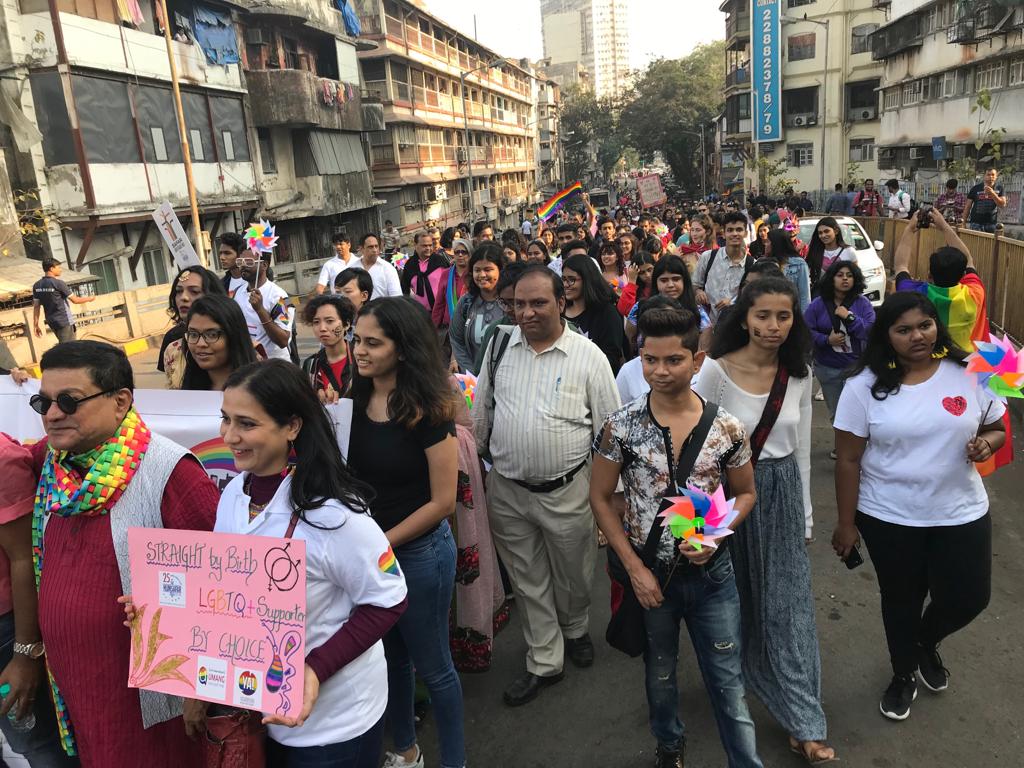 The Mumbai Pride began at 4 pm on a pleasant Saturday afternoon. It was full of colours as people in vibrant costumes and compelling signs walked from August Kranti Maidan to Opera House, Kennedy Bridge, and back to August Kranti Maidan. The organisers and the Mumbai police made sure that the march went about smoothly and efficiently, even as curious crowds collected to watch queer Mumbai in its glory.
"I am straight, and for a long time, I too believed that homosexuality was wrong. I have read up a lot, and educated myself. This is my first Pride march, and I have brought along a couple of friends as well. The energy is here is simply amazing. I am also happy to see some people with their children here. They should learn that such people exist and it is normal," said Anjula, who attended the march.
The Supreme Court struck down the ban on consensual homosexual acts in 2018, whilst stating the arbitrariness of this act and its unconstitutional nature. It is interesting to note that there were flyers of the ruling party, BJP, around the stage prepared for the Pride march, in preparation for a rally that was happening the following day. The political party has made no statement of its official stance of LGBTQIA+ rights. Party MPs such as Subramanian Swamy have even made statements saying homosexuality is a disease. The BJP, as well as the previous ruling party, the Congress, have repeatedly failed to take action to secure gay rights in the country.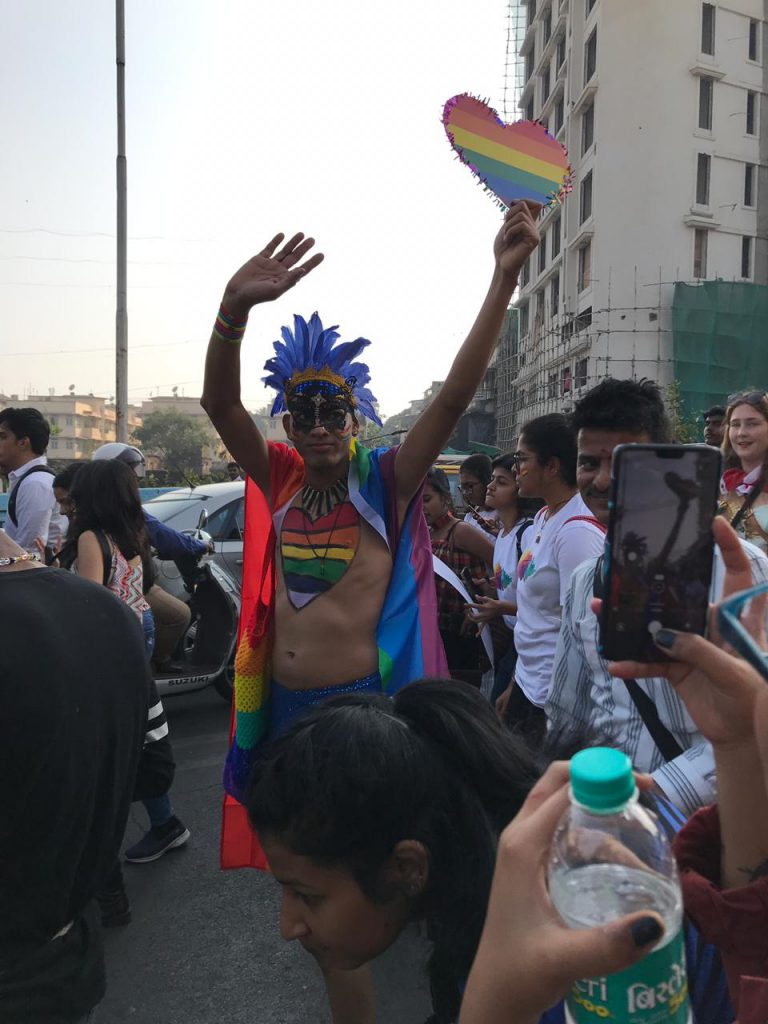 Also read: In Photos: Delhi Bursts With Pride After 377 Judgment – Delhi Queer Pride 2018
---
Photography credits: Tanika Godbole