This article is a part of the #IndianWomenInHistory campaign for Women's History Month to remember the untold legacies of women who shaped India, especially India's various feminist movements.
---
January proved to be perhaps one of the most embarrassing moments for the Indian scientific community in the recent past. The Indian Science Congress hosted by Lovely Professional University, Jallandhar, in January became a platform for making ridiculous pseudo-scientific claims. It resulted in widespread condemnation from both scientists as well as ordinary persons interested in science. This is the second time in the past four years where unscientific claims have been made. Scientists across the country took to the streets to protest for an end to presentations at the Indian Science Congress that promote unscientific personal beliefs.
A Brief Introduction to the Indian Science Congress
Indian Science Congress Association (ISCA) is a premier scientific organisation of India with headquarters at Kolkata, West Bengal. The association started in the year 1914 in Kolkata and it meets annually in the first week of January. It has a membership of more than 30,000 scientists. The association was initiated by two British chemists, namely Professor J.L. Simonesen and Professor P.S. MacMahon, who were of the belief that the spirit of scientific enquiry could be roused among the Indian people if there were to be an annual meeting of scientific researchers.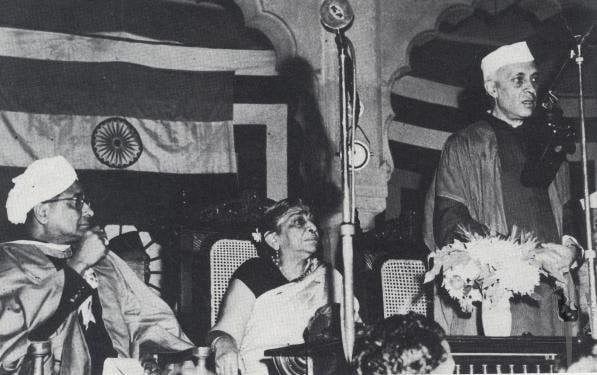 The first meeting was held in January 1914 in the Asiatic Society, Calcutta. The 34th Indian Science Congress in 1947 was graces with the presence of Jawaharlal Nehru. Pandit Nehru's personal interest in the Science Congress continued and there was hardly any session which he did not attend. He immensely enriched the activities of the Congress by his sustained interest in the development of scientific atmosphere in the country, particularly among young generations. Since its inception, there has been an annual meeting every year unfailingly since.
Anand J. Bodas and his co-presenter Ameya Jadhav, claimed that aircraft more advanced than today's versions existed in ancient India and claimed that such aircraft were huge and could fly to other planets.
In its 102th edition in 2015, a similar claim to the ones made in 2019 had been made. Anand J. Bodas and his co-presenter Ameya Jadhav claimed that aircrafts more advanced than today's versions existed in ancient India, would be allowed to speak at the Indian Science Congress and present a paper on aviation in the Vedic age. During an interview, scientists claimed that such aircrafts were huge and could fly to other planets. Scientists also claimed that those planes could fly backwards, left or right, contrary to modern aircraft that can fly only forward. "At the 103rd Science Congress in Mysore, one paper said if you sit on a tiger skin and do Yoga, you don't grow old or can reverse the process of ageing."
106th Edition of the Indian Science Congress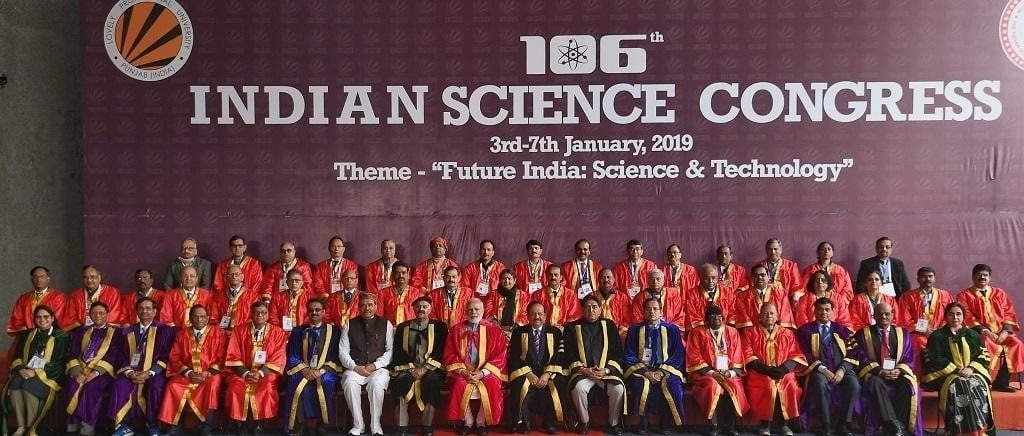 The 106th edition of the ISC was held in January 2019. It was inaugurated by Prime Minister Narendra Modi himself and was praised for hosting scientists from across the world, and in various fields, including Nobel laureates.
Amongst a plethora of papers being presented at this conference, two distinct papers stood as a shocking contrast to the rest. They were those made by Andhra University's Vice-Chancellor, a professor of inorganic chemistry, C. Nageshwar Rao and Kanan Jegathala Krishnan, a senior research scientist at the World Community Service Centre, Chennai. Rao presented the view that the Kauravas in the Mahabharat were born as a product of stem-cell research and in-vitro fertilisation (IVF). Rao said, "It happened a few thousand years ago. This was science in this country. Mahabharata says, 100 eggs were fertilised, and put to 100 earthen pots. Are they not test-tube babies? Stem cell research in this country was present thousands of years ago".
He went on to say that Ravana, from the Ramayan possessed aircrafts of over twenty-four different kinds and that Sri Lanka had airports. He also challenged the Darwinian theory of 'evolution' claiming that Vishnu's 'dashavatar' or 10-incarnations provided a better and more accurate understanding of human evolution. What was perhaps most troubling about these statements was the fact that they were made at the 'Meet the Children' programme of the Children's Science Congress. The audience consisted mainly of the impressionable young minds of teachers and students.
The other supposed scientist, K.J. Krishnan went a step further denouncing scientists such as Isaac Newton and Albert Einstein, claiming that they knew extraordinarily little about physics and had misled the world with their theories. "The present understanding of physics will be destroyed once my theories are proved," said Krishnan. He claimed that his own theories on gravitational phenomena will be proved and eventually be accepted. What had previously been known as gravitational waves would now be called "Narendra Modi Waves" and the gravitational lensing would be known as "Harsh Vardhan's Effect".
Also read: 10 Women In STEM Whose Innovation In 2018 Deserves Your Attention
"Space is heavier than the sun and every other planet and hence compresses all the planets. Equal pressure is applied to them, which is why they are moving," Krishnan said. "The quality of space is self-compressive, which is something that Newton and Einstein could not understand. Einstein did not guide the world in the correct way." Recent editions of the Indian Science Congress have witnessed similarly unfounded claims. But this time, the irrationality has "gone beyond all limits", said Prajval Shastri, a retired professor from the Indian Institute of Astrophysics.
These statements diminish the growing reputation of Indian research and tarnish efforts to decolonise science and extract actual historical knowledge from ancient texts.
The Indian Science Congress does not have particularly exacting standards, said Shastri, explaining that "high quality" scientists from within India tend to shun it. She recalled that Nobel winner Venkatraman Ramakrishnan had called the forum a "circus". But it continues to be a high-profile event because it has the government's endorsement and funding, she said. Well-known scientists and Indian patrons barely participated in the Congress despite the inclusion of three Nobel laureates this year: Duncan Haldane, Thomas Südhof and Avram Hershko.
The Aftermath and Backlash
Scientists in Kolkata and five other cities held placards and carried on silent demonstrations in protest of allowing such unfounded pseudoscientific claims to be made at a national forum for the perusal of international audiences. Soumitro Banerjee, a physics professor and general secretary of non-profit Breakthrough Science Society, told Reuters the comments lent respectability to absurd theories.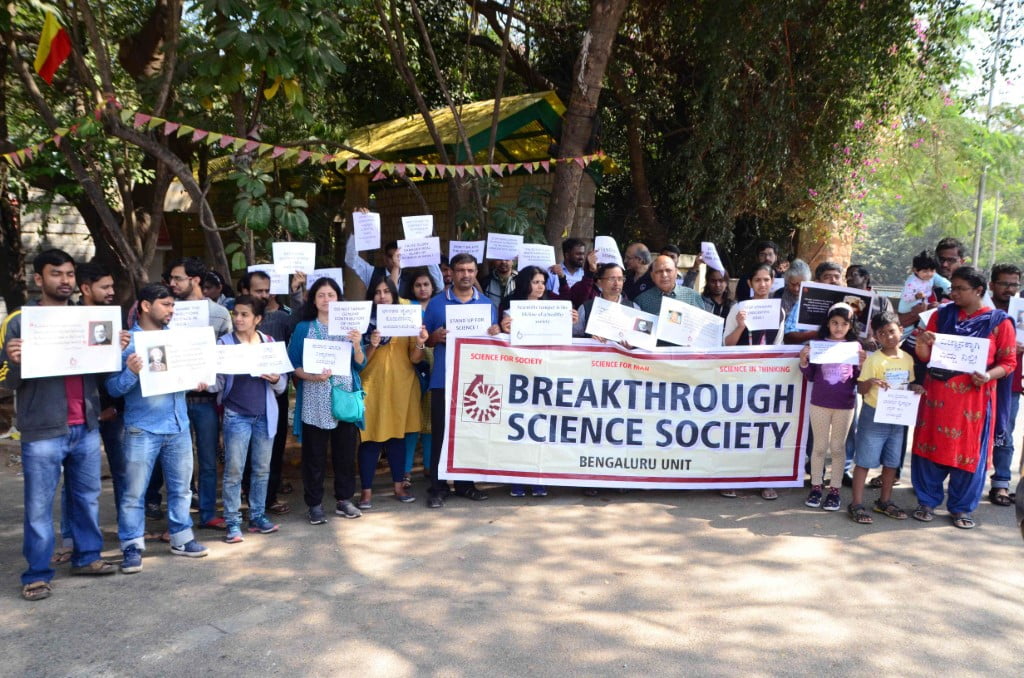 Reputed Indian scientists decried claims about ancient Indian inventions at such an eminent platform. In a statement, Breakthrough Science Society also said: "…A hallowed assembly of scientists has been misused to make false and chauvinistic claims about ancient India tarnishing the genuine contributions of the great science personalities of yore and that too, in front of young and impressionable minds."
Protests outside the Indian Institute of Science experienced the participation of not only scientists but IT Professionals, students, and teachers as well. The protest was jointly organised by Breakthrough Science Society, All India Peoples Science Network, Akhila Karnataka Vicharavadigala Vedike and others.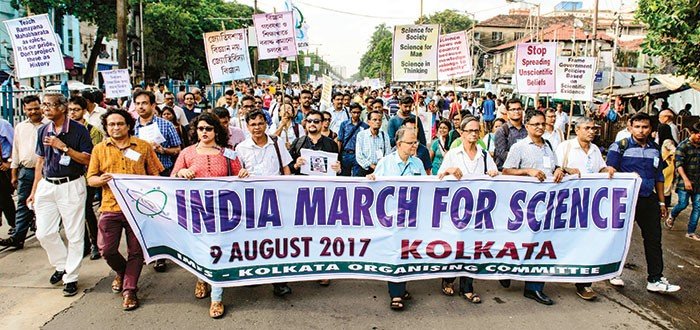 The Indian Science Congress Association has said that it was deeply shocked to learn of unscientific claims made at an event for children during a gathering of scientists in Punjab. Dr. Manoj Kumar Chakrabarti, the General Secretary of the Indian Science Congress Association expressed his immense displeasure with the Vice-Chancellor, C. Nageshwar Rao making such claims in front of children. The Congress has promised to make changes in the system of selection and processing of speakers at the event. They will henceforth determine the relevance and contribution of a speaker based on a prior submission of an abstract and a summary, and also employ a 'moderator' to ensure that the speakers don't deviate from the proposed abstract presented.
The Meta-Question
Why does this happen? Perhaps a more complex question is what incentive scientists must have to make claims that are a scientific impossibility; a complex and contradictory relationship that science and religion have in India? Often science and confirmation-bias operate simultaneously. With the current trends and political narrative, anything Indian is stamped with approval to instil pride in ancient India.
Also read: On Protesting Against Fascism And The Legend Of Urban Naxals
Trying to provide historical legitimacy to unfounded scientific claims from a variety of sources including mythologies. These statements also diminish the growing reputation of Indian research and tarnish efforts to decolonise science and extract actual historical knowledge from ancient texts.
References
1. Economic Times
2. News Click
3. Indian Scroll.iin events will have their talks vetted, says association
4. The Print
5. Washington Post
6. Scroll.in
7. Nature
8. Times Of India
---
Featured Image Source: Scroll.in