Editor's Note: This is an article written as a part of a partnered campaign between Feminism in India and Human Circle about the Young India Challenge that seeks out youth leaders to work on sustainable living and the climate crisis.
---
Before founding Human Circle, Kamal Seth worked as a recruiter for large organisations like Nestle, Philips, Mindvalley, AIESEC etc and ended up doing over 2,000 interviews in 8-10 years. Interacting with people across different age groups, he found a very disturbing pattern – he realised that they were doing something that they didn't love. In many cases, they were unproductive, unhappy and not content with their career and life in general. The idea for the #DoWhatYouLove movement took shape in Kamal's head during his college years in 2005-08 at Delhi University. He noticed that a lot of his friends were studying what they were, not because they were passionate about those subjects, but chiefly because they had managed to clear the cut-offs. This also meant that after graduation, they did a job or an MBA to get a good salary and not because they would truly enjoy what they would do. In 2014, Kamal Seth and Wioleta Burdzy founded Human Circle to 'connect enlightened minds' and drive the #DoWhatYouLove movement.
Young India Challenge (YIC) is a two day experiential national event for the top creative young minds to engage in innovative programs that will broaden their mindset and move them closer to what they love doing. Participants are selected from across the country. Every year thousands of people apply for YIC and when asked what makes them apply for Young India Challenge, they say that YIC's theme of #DoWhatYouLove connects with them on a deeper level. It is an opportunity for the selected youth to learn, grow and connect with the top industry leaders, authors and game-changing entrepreneurs to gain leverage to grow their network and career. Selected participants meet incredible people and understand how to turn their passion into a successful career and get paid.
Human Circle is a community of people driving the #DoWhatYouLove and #YouthforSustainability movements. Artists, freelancers, entrepreneurs, corporate professionals, authors, speakers, coaches, mentors and everybody else who is a part of the community believes that the only way to be truly successful and happy in life is by doing what they love and making a positive contribution in the world.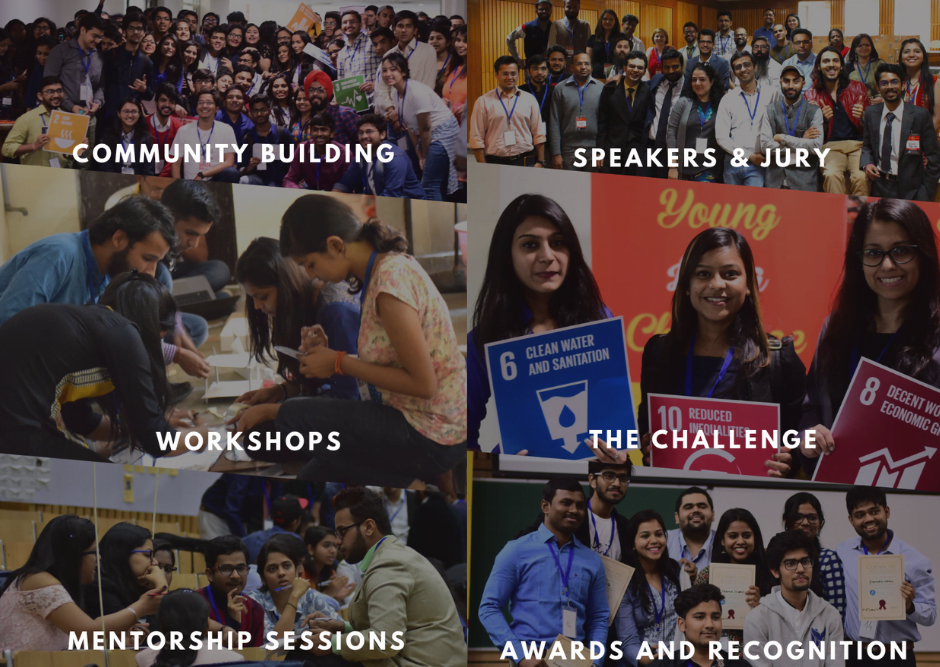 The 10th Edition of Young India Challenge will take place in New Delhi on 12th and 13th October with the theme of Sustainable Living, Youth For Sustainability and #DoWhatYouLove.
The two day event will see 500+ youth and young professionals from different parts of the country gathering in one place to work in teams on the UN Sustainable Development Goals and find solutions to the real national problems we face in India. Out of the 17 Goals, SDG 12 – Responsible Consumption and Production and SDG 13 – Climate Action, will be the two goals that the delegates at Young India Challenge will get to work on. To help the teams with their respective challenges and work on the solutions, the event will have 50+ mentors who are actively working in the field of sustainability to provide guidance.
Apart from this, the event will also include lots of inspiring speaker sessions and a workshop to hack your brain to turn your passion into your career conducted by the founders of Human Circle, Kamal Seth and Wioleta Burdzy.
Human Circle engages the youth of the country to inspire and encourage them to have a meaningful career that combines their passion and social impact. A career that contributes to nation building and also towards overcoming the key global challenges of our times. The movement has already connected with more than 1 million young people in India and is growing at a fast pace through their social media and offline initiatives.
And guess what! For the first time, each of the 5 winning teams will get a seed funding of Rs. 1 lakh and 6 months of mentorship and career growth opportunities to work on the challenge.
Some amazing organizations have already come onboard as partners for this YIC – Global Shapers Community New Delhi (born out of the World Economic Forum), The Climate Reality Project (founded by ex US Vice President and Nobel prize winner, Al Gore), Centre for Responsible Business, Roundtable on Sustainable Palm Oil and many others.
Applications are open for the 10th Young India Challenge, here's your chance to be a part of this community of changemakers.