On 11th November 2019, thousands of students gathered outside the AICTE auditorium, the venue for JNU's convocation ceremony, to protest against the steep fee hike in the university hostel fees. To disperse the protesters, the police ambushed them with water cannons and lathi-charged them. Many students were left injured in this police repression.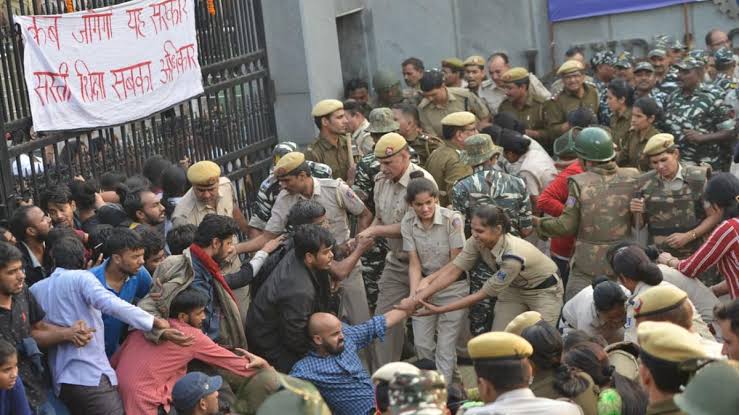 The students have been agitating against the JNU fee hike for more than two weeks, demanding the withdrawal of the draft hostel manual approved by the inter-hall administration. The initial hostel manual proposed an increase in the following charges:
| | | |
| --- | --- | --- |
| Particulars | Existing Charges | Revised charges |
| Establishment Charges | Rs 1,100 per semester | Rs 1,100 per semester |
| Crockery, Utensils | Rs 250 per year | Rs 250 per year |
| Newspaper | Rs 50 per year | Rs 50 per year |
| Room rent – single seater | Rs 20 per month | Rs 600 per month |
| Room rent – double seater | Rs 10 per month | Rs 300 per month |
| Service Charges | Nil | Rs 1,700 per month (estimate, but to be charges as per acrtual) |
| One time mess security (refundable) | Rs 5,500 | Rs 12,000 |
This is nearly a 300% hike in the monthly hostel fee, rendering the hostel unaffordable to almost 40% of its students, of which majority are SC, ST and OBC students. The JNUSU told The Hindu, "More than 40% of students belong to families with annual income below ₹1.44 lakh, the poverty cut-off line, as suggested by the annual reports of JNU. Bachelors and Masters students are dependent on the Merit Cum Means Scholarships, which is ₹2,000 per month, and MPhil and PhD students are dependent on the UGC Non Net Scholarship, which is ₹5,000 per month. How will students survive and pay the amount that is more than their scholarships?"
In response to the 16 day agitation by students, the JNU Executive Committee announced a 'major' roll back of the fee hike. However, the students and the JNUTA asserted that such announcements are misleading and an attempt to create a false narrative; the Committee announced a 50% reduction in the fee hike for economically weaker students, but despite this, the effective hike remains to be 150%.
News agencies like Zee News reported the issue with utmost apathy, with reporters mocking protesters and expressing disbelief at the idea that the JNU fee hike could be an issue for students. Critics took to Twitter with the hashtag #ShutDownJNU, rallying to shut down the university for being 'anti-national' and a 'waste of tax-payer money'. One of the top tweets under this hashtag reads:
Critics also include JNU professors like Makarand R. Paranjape, who told The Print, "The argument that some students are too poor to pay the increased fees is contra-factual, if not mischievous. Every student enrolled in JNU is almost sure to get a loan if he or she is unable to pay the fees…. On the ruckus over fee hike, students are clearly mistaken. Bogus socialism combined with a sorry sense of entitlement do not qualify as a legitimate basis for protest."
Each of these criticisms reveal the apathy of the privileged classes that is characteristic of a neoliberal society. Reporters mocking the demands of students for affordable higher education in public universities, only shows the deep-rootedness of the neoliberal ideology that sees education as a commodity and not as a right.
Makarand Paranjape's statement, "The argument that some students are too poor to pay the increased fees is contra-factual" comes from this inability of the privileged to imagine the poor as a part of these leading educational institutions. But the fact remains that many students from the most marginalised backgrounds have outperformed their privileged counterparts and secured seats in JNU, because the subsidised fees allowed such access to the university.
neoliberal ideology sees education as a commodity and not a right.
The idea that students can and should take loans to fund their higher education is a neoliberal bug that we must fight against. This stems from the belief that higher education is an investment, not a necessary good. Public universities were instituted for the purpose of making education accessible to all and to serve as a space that cultivates free thinking and new ideas. The anxiety of student debts hinders ones ability to think freely. A student told NDTV, "My father sells goods on a bicycle. He earns Rs. 200-300 per day, and the days when he doesn't go out to sell things, there's no income. My family lives in a one room apartment, for which rent has to be paid, and there are so many other expenses.. I honestly don't know how he sends money to me but he does.. If the JNU hostel fee hike comes through, I'll have to leave the university. I have no other option."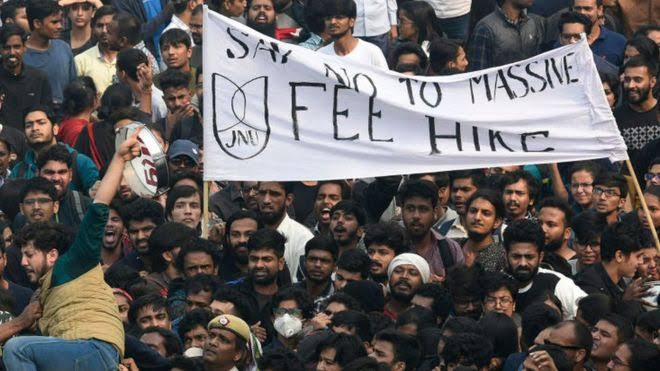 Also read: Recommendations On Draft New Education Policy 2019 From A Gender And Sexuality Lens
To overlook questions of accessibility or to take accessibility to education for granted, shows the critics' blatant ignorance about the structural inequalities towards access to education and utter disregard towards the problems of the marginalised communities. Rs. 300 per month may be an insignificant sum to someone from the upper-middle class sections of society. However, to someone whose family earnings are less than Rs. 27,000 per annum (BPL), the JNU hostel fee hike will definitely be a massive cost. Moreover, given the patriarchal bias against educated women in Indian society, a rise in education costs can serve as an incentive to discourage women from pursuing education. Queer individuals, who are estranged from their families because of their identity and have to find alternative ways of funding their education, might become more vulnerable to economic exploitation or may be deprived of access to education all together.
Public universities were instituted for the purpose of making education accessible to all and to serve as a space that cultivates free thinking
The arguments of the right-wing twitterati that assert that funding universities like JNU, where students only talk politics and study courses like Gender Studies, is a waste of tax-payer money follows a neoliberal rationality that de-prioritises production of ideas and emphasises on production of good workers, good entrepreneurs or good consumers. It is an attempt to take away the vocabulary to critique power, thereby obscuring power's visibility itself, which is essential for the smooth functioning of an exploitative system.
Also read: Discrimination Faced By Muslim JNU Professor Hints Rising Islamophobia
In a democratic society, higher education should be a constitutional right and not a privilege for the few. The issue of fee hikes is not exclusive to JNU, it's happening across institutions; in September, the council of IITs announced a fee hike of 900% for M.Tech courses. Fee hikes, institutional autonomy, and institutes of 'eminence' are all pre-requisite steps towards privatisation of public education, which threaten the inclusive, diverse, and egalitarian character of these spaces. We all must collectively resist such homogenising and exclusionary diktats.
---
Featured Image Source: Sushil Kumar Verma