By: Naresh Kumar Mishra
Chitter-chatter of children fills the air as one enters the premises of Brijpur Police Station located 29 km from district headquarters Panna. Step inside and you might see the station in charge himself mentoring students when they aren't in self-study,
The brainchild of Sub-Inspector Bakhat Singh Thakur, Vidyadaan is a free coaching institute-cum-library located on the old police station premises of the tribal-dominated village. As part of the community policing initiative, this and several other measures to bring down crimes, ensure women and family welfare and much more have earned it the recognition of being the first ISO-certified police station in the Bundelkhand region a year ago.
It all began in 2021 when Brijpur station got a new building and Thakur joined there. Figuring out a new purpose for the old station located just a few metres away, Thakur took steps to launch Vidyadaan which has been beneficial to over 350 students so far.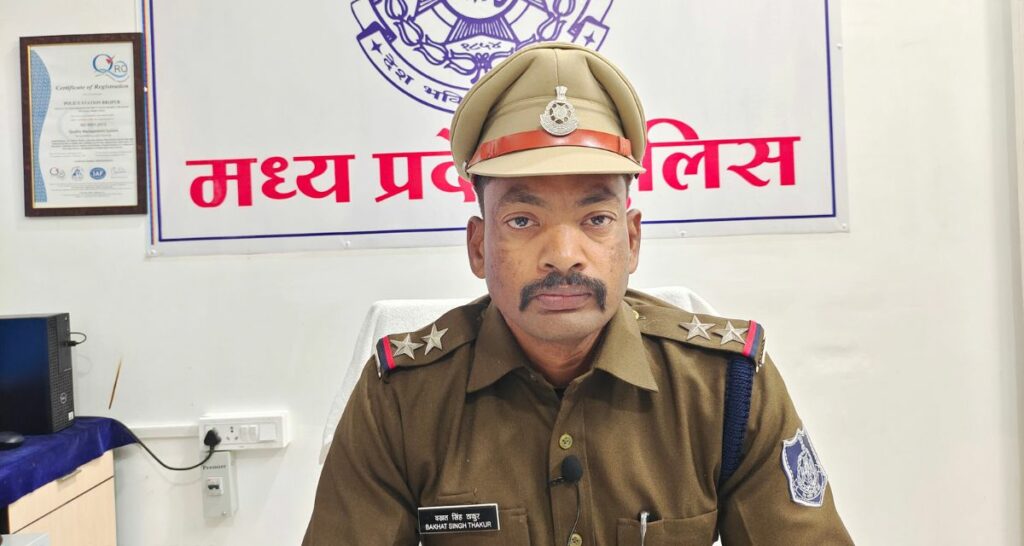 After school, children attend free services at the coaching centre and make use of the library. Though Thakur volunteers during his free time, students are generally encouraged to study on their own, read books and work together as a group. They also get information and reading material on competitive exams such as Jawahar Navodaya Vidyalaya Entrance Exam, Patwari Selection Test, MP Police Constable and Civil Services among others.
"We receive good books, study material and guidance from Thakur sir. Due to this, I was able to crack the Navodaya entrance test," student Avni Trivedi told 101Reporters. Incidentally, four students of the coaching centre got selected last year to attend Navodaya Vidyalaya, a chain of residential schools for gifted rural students.
Anshul Ahirwar said he learnt about several new courses and improved his general knowledge by utilising the books at the library. Naman Vishwakarma claimed that preparation for exams has become easy.
Also Read: Police Seal Red Light Area In Nagpur: Addressing The Rehabilitation Of Sex Workers
Seeing the positive effect of the library on children, social workers and residents voluntarily donated cash, books, pens, study material and chairs for students. Thakur himself incurs the extra expenses.
Thakur is no accidental teacher. Before joining the police force in 2013, he worked at Bedri Primary School in the Chhatarpur district from 2001 to 2004. He became the village head of Shivrajpur in 2004 and returned to teaching after completing his term in 2009.
With the coaching centre becoming a hit among students, further efforts were made to ensure their overall development by turning nearby vacant lands more productive. There are about two hectares of open land in the police station premises, where sports activities, gardening, agriculture etc. are encouraged.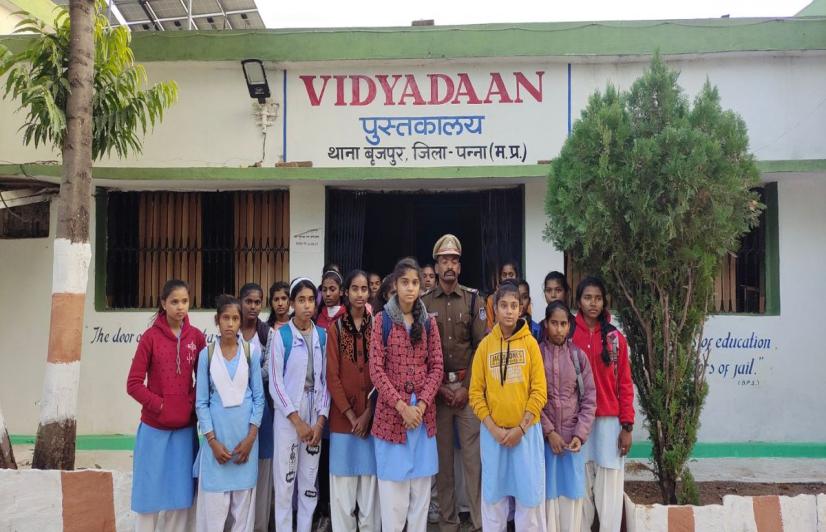 Such activities not only hone the sports skills of students but also keep them away from anti-social activities. A meditation centre also functions here. Class 10 student Namrata Patel claimed both intellectual development and sporting excellence were possible now.
"We take a stroll here every morning and evening and collectively participate in sporting activities. It feels great," said villager Pankaj Gupta, who is all praise for Thakur's initiatives.
Thakur also ensures that children who pass through the library become aware of addiction, crimes in society, gender sensitivity, moral values, sanitation and hygiene among others.
Special care for the needy
Offering visitors a pleasant experience is a priority at the new building police station. The child welfare officer's room has an assortment of goodies, including biscuits, chocolates and milk, to make interaction with minors easier.
"Each and every visitor is like our family. We are always ready to listen to them and provide the necessary guidance. Our aim is to prevent crimes against children," said Assistant Sub-Inspector Rakesh Singh Baghel, who looks into matters related to child welfare.
This room doubles up as a help desk for women. "The idea is to provide an encouraging and comfortable atmosphere for women to voice their issues. We listen respectfully and give them legal education. This has earned us the trust of the local women and more of them come to lodge complaints or seek advice now," said Constable Shikha Shukla, who works at the women's help desk.
Also Read: How The Indian Policing System Suppresses Women Police Officers
Women also get valuable information about their rights and the government-run welfare schemes aimed at them. The station is a non-smoking area with seating arrangements and a drinking water facility made available for visitors. There is a senior citizen's room where the elderly can voice their grievances.
The direct result of building trust and community policing is the reduction in the crime rate in Brijpur station limits. As many as 45 villages come under the station with around 1,000 people residing in each village. In 2020, 324 criminal cases were reported, which dropped to 206 in 2021 and 185 in 2022, as per the data provided by the officers.
Focus areas of the police
Alcohol abuse, missing kids and road accidents were the biggest issues in the station limits. Thakur himself went pedalling a bicycle to villages to create awareness about the ill effects of alcohol. A public awareness campaign is also being run in the station area as police believe that even a slight reduction in alcoholism can result in a corresponding reduction in the crime rate.
To prevent the trafficking of minor girls (about 25-30 such crimes would be reported annually at the station, which has now decreased to 12-15 each year), the police launched an initiative to interact with vulnerable tribal communities where girls are at a high risk of being trafficked or cheated. After analysing such instances and figuring out the communities in which its occurrence was prevalent, the police team held a series of interactions with the community members.
A traffic awareness campaign was launched to tackle the challenge posed by road accidents, and eye tests were conducted for drivers. A helmet bank opened at the police station to provide protective gear to villagers against a small security deposit. Once the helmet is returned, the deposit is refunded. It also serves the police officers on their beats.
Despite their busy schedule, police personnel also find time to nurture a community garden on the station premises by employing organic farming methods. While police families are the main consumers of the vegetables and fruits produced, any surplus yield is distributed among the residents.
"This police station has become a matter of pride for us. It is so peaceful to visit here and experience moments of joy among the trees and plants," said Rahul Jain, a villager.
---