By Safeena Wani
When many of his age would lament over the transportation hassles, blockades on NH-44 and the sluggish market that held Kashmiri apple hostage at the peak of last year's harvest season, Adnan Ali Khan (38) decided to do something out of the box. An apple grower and entrepreneur from South Kashmir's Shopian district, he set out experimenting with apples to make chips!
Three months later, Adnan's unique product is awaiting market entry next month under the brand name Tufa Apple Chips. "The annual harvest from our 7.5-acre ancestral orchard is around 5,000 boxes of apples. Of these, 400 boxes (6,700 kg) are of B and C grades. We usually feed them to cows, and sometimes sell them to street vendors for a minimal price."
In a bid to plug the loss, the management graduate launched a startup and purchased a dehydrating machine with a loading capacity of 90 kg at one cycle. "It takes 15 to 19 hours to dry apple slices," he says.
However, what hurt Adnan's venture the most was the lack of product testing expertise in Kashmir. He had to take his product to places like Delhi to get the certificate of food testing, nutritional values of chips and legal proof. The process was both time-consuming and costlier.
Though a National Accreditation Board for Testing and Calibration Laboratories (NABL)-accredited government lab functions in Jammu city, it is preoccupied with products from that region. Even if samples from Kashmir are accepted, in some cases, they are not able to fulfil the accreditation parameters that food business operators (FBOs) demand.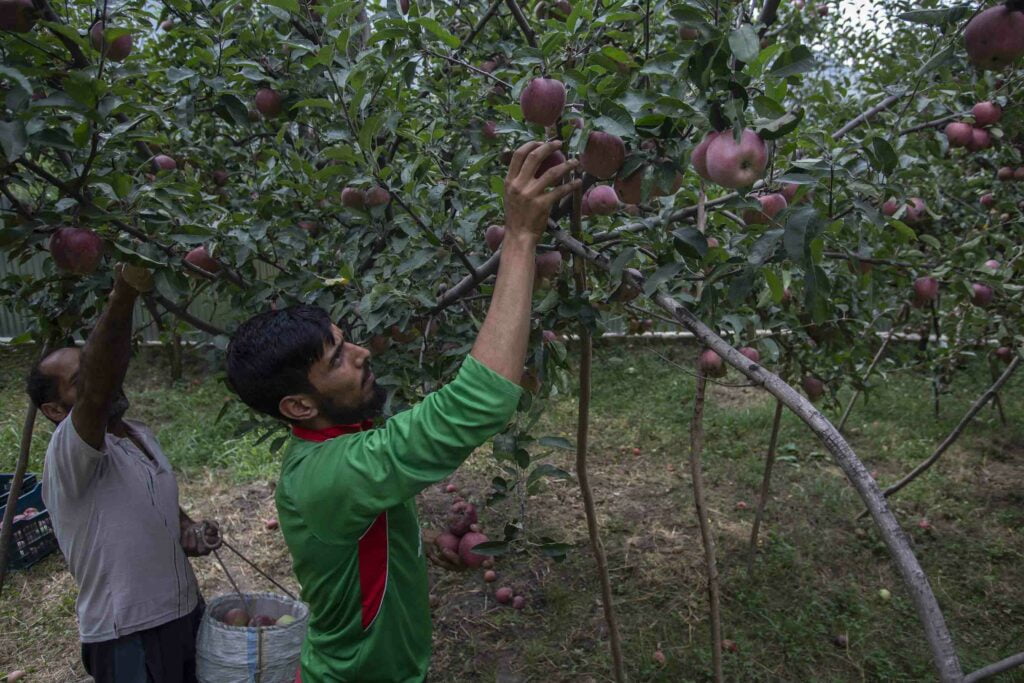 "We have two NABL-accredited food processing labs in Kashmir, but with a limited capacity and accreditation. The one at the Islamic University of Science and Technology checks spices alone, and the other at Dalgate checks the quality of honey and a few other products," Professor Haroon Naik, Director of Planning, Sher-e-Kashmir University of Agricultural Sciences and Technology (SKUAST), tells 101Reporters.
The valley's premier institute, SKUAST is setting up a third lab, but its NABL accreditation is still a work in progress. "We will try to get accreditation for fruits, vegetables and meat," he says.
An official at the Food Testing Laboratory in Dalgate says they do accept samples from FBOs, though the Food Safety and Standards Authority of India guidelines state that the FBOs should either set up an in-house laboratory or send samples to a private NABL lab for testing. "However, many times, we do not have the means of testing or accreditation for the parameters they require for their products."
Hurdles on the way
Shakeela Bano, another aspiring entrepreneur, had a hard time with the dehydrating machine she got on subsidy from the horticulture department. With no training and technical support, she tried her hand at operating the machine and ended up with charred chips.
"Kashmir lacks industrial expertise. I had to request other entrepreneurs who are making chips for training and product inspection," says Bano. Her product is ready, but she does not know how to sell it. "I do not have any contacts of middlemen who will buy."
Tanveer-Ul-Haq (35), who runs his apple pulp brand Frutin Agro in Lassipora of Pulwama district, says, "We compete in the open market to send a consignment outside Kashmir, with middlemen with trucks deciding the rates. During the peak harvest season, I have to pay Rs 20 to 25 as a freight charge for one kg of pulp. In the off-season, I pay Rs 7."
Citing how he recently lost an order for apple pulp from Hyderabad owing to high freight rates, Tanveer says the government should provide subsidies on freight charges of processed foods.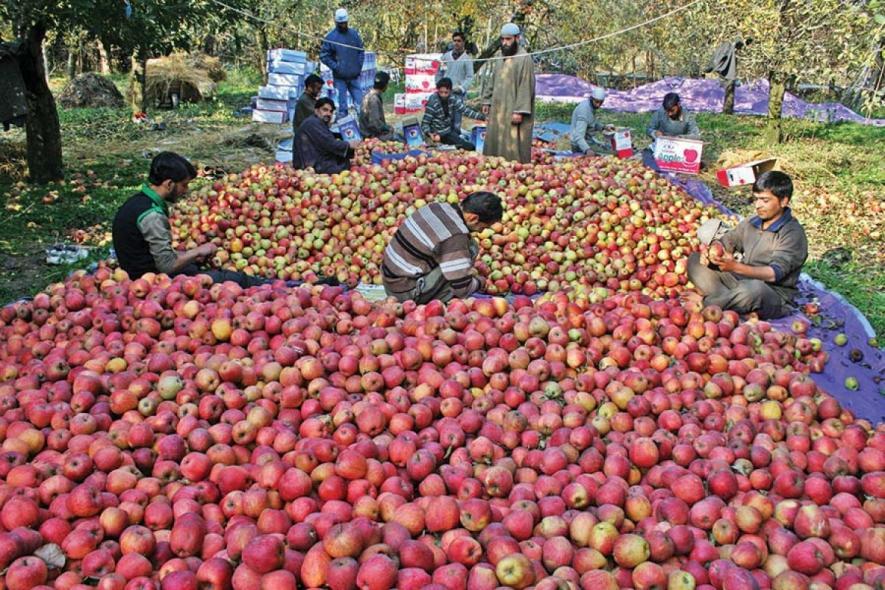 However, Zahoor Ahmad Bhat, Joint Director of Horticulture in Kashmir, tells 101Reporters that the Union Territory does not have a market intervention scheme in place. "In Himachal Pradesh, the government pays Rs 10 per kg of C grade apples to farmers, then gives those apples at cheaper prices to juice factories and lifts juice from factories as well."
Also, gaining a market for locally-processed apple products is difficult due to Chinese dominance. "Except raw material, we have to import every other item, including packaging material and machinery. Freight charges are also high," says Prof Naik.
"China controls the global market, so we cannot just rely on local markets for our apple-processing foods. We are working on an export promotion policy, identifying countries where we can sell our products with GI tagging, much like what we achieved for saffron," he says, adding that the J&K administration has already set aside Rs 875 crore for processing units.
How processing helps
The 295-km NH-44 is the primary road link that connects Kashmir Valley to Jammu and the rest of India. However, landslides, shooting stones, movement of military convoys and heavy civilian traffic affect the transportation of apples.
India is the fifth largest apple producer in the world, with Jammu and Kashmir and Himachal Pradesh providing a major share, according to a study published in the International Journal for Innovative Research in Multidisciplinary Field, 2020. It states production is growing every year, with the share of Jammu and Kashmir in the national production rising from 63.5% in 2006 to 77.2% in 2010.
Also Read: Reviving The Dying Papier Mache In Kashmir: Inspiring Story Of Masrat Jan
An official document from Kashmir's horticulture department says around 3.5 million people are directly or indirectly associated with the apple industry which generates a revenue of Rs 10,000 crore annually. Its contribution to the Union Territory's GDP is nearly 10%. In 2022-2023, around 20,24,672 metric tonnes (MTs) of fresh apples were produced in Kashmir against the 19,95,101 MTs in 2019-2020.
All these data point to the increased area under apple cultivation and the higher yield, which also suggests the need to equip the fledgling apple processing sector with proper infrastructure and support system. According to the Agricultural and Processed Food Products Export Development Authority (APEDA), Jammu and Kashmir provide 70.54% of the total apples in India.
"Right now, the projects are scattered and are in the infancy stage. Government intervention is needed at multiple levels. With the right support, small entrepreneurs will be able to establish a new sector in the Valley. Considering the volume of apple production, the processed food business will be a big enterprise for locals," says Adnan.
Mushtaq Ahmad, who owns a 25-acre orchard in the Sopore district, says the processing units will benefit people like him. "Farmers spend equally on all three grades of apple. Around 25% of C-grade apples are free fallen, not equal in size and colour. Right now, C-grade apples go to waste. Some farmers also bring disrepute to the industry by packaging C-grade apples along with A-grade under the latter's label."
"If the processing of C-grade apples is possible, it will improve the finances of farmers, while also helping to keep the quality and brand image of the Kashmiri apple intact," he adds. Tanveer could not agree more when he says, "I use C grade and free fall apples. It creates value addition for the farmer."
According to Prof Naik, out of over 20 lakh MT annual production, six lakh metric tonnes are available for processing. However, only 40,000 tonnes are processed currently. A 2021 study published in the Indian Journal of Agricultural Economics says nearly 30% of the total apple produce goes to waste due to pre-harvest drop, making the total annual quantum of such fruit about 0.25 million MT.
Also Read: Dr Raihana Kanth, The Force Behind Paddy Cultivation In Kashmir
Meanwhile, Kashmir's former horticulture director Sarwar Naqash tells 101Reporters that the Central government has taken many steps to promote food processing industries in Kashmir, including under the Prime Minister's Reconstruction Programme which includes training and assistance to entrepreneurs.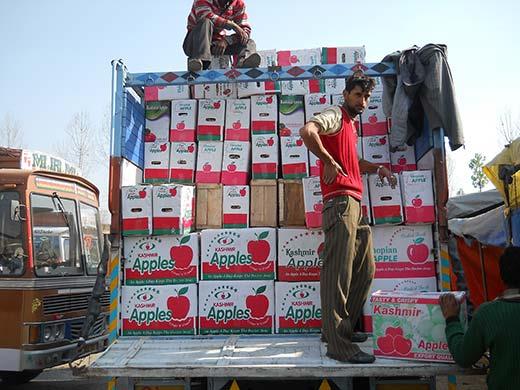 In another project, the Jammu and Kashmir government had in 2014 signed a memorandum of understanding with the Ministry of Food Processing Industries to provide a 50% subsidy for establishing a food processing unit.
"Our post-harvest losses are between 20 and 25%, but only 2 to 3% of apples undergo processing. There is a huge scope for processing apples into jam, jelly, juices, pickles and chips," says a senior horticulture official on condition of anonymity.
An employee Shamim Ahmad of Srinagar-based FIL Industries, which owns one of the biggest fruit processing units in the country, says over 1,500 people find direct employment with the company. The numbers increase manifold if associated services such as transportation, harvesting and labour are taken into account.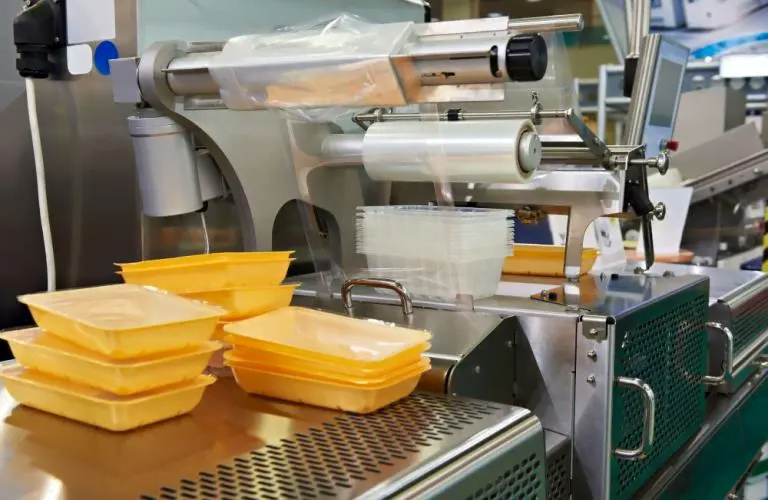 Adnan says an emerging entrepreneur can employ at least five to 10 people directly. However, the scale of employment would increase only once the processing units remain functional and widen its base.
An entrepreneur from Pulwama, Javaid Khan believes the processed food sector would boost secondary industries around it, including packaging and transportation. At the same time, there is no doubt that the establishment of sample testing laboratories would employ skilled youth with degrees in food technology and allied fields.
Also Read: A Tale Of Courage: Sabreena Khaliq And Her Inspiring Story For Women Across Kashmir
Amid all the challenges, Adnan is busy these days researching how to sell his chips on Amazon and Flipkart. "The retail packets of my apple chips are already available on IndiaMart, but my aim is to go far beyond. I want to free Kashmiri apple from the highway hassles and market mess. I want to globalise our principal fruit," he says.
---
Safeena Wani is a Kashmir-based journalist and a member of 101Reporters, a pan-India network of grassroots reporters.