Wazas are known for their culinary expertise and their signature dishes that have been passed down from generation to generation. For centuries, they have been the masters of Kashmiri cuisine, preparing mouth-watering delicacies for both locals and tourists alike. However, until recently, this field was considered to be a male-dominated profession.
Wazas are traditional Kashmiri chefs who are highly skilled in the art of cooking a variety of delicacies that are unique to the region. The term "Waza" is believed to be derived from the Persian word "Vasta" which means "master of the kitchen". The Wazas are highly respected in Kashmiri society and are often invited to cook for special occasions such as weddings, festivals, and other celebrations.
The Wazwan is a multi-course meal that consists of several dishes, including rice, meat, and vegetables. The dishes are served on a large copper plate called a "Trami," and the guests are seated on the floor around the Trami. The Wazas serve the food to the guests, and it is considered a sign of respect to eating with your hands.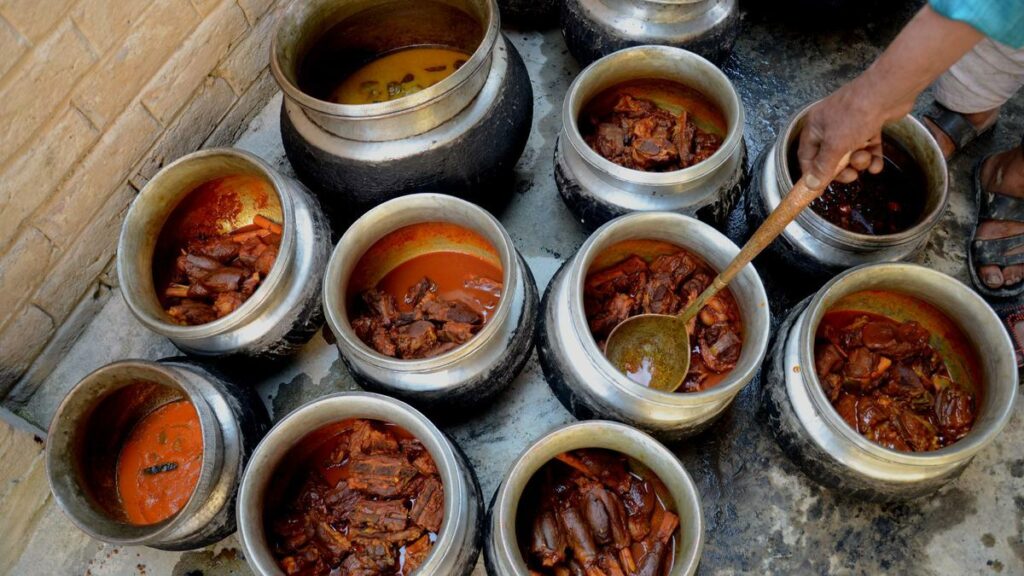 The Waza profession is passed down from generation to generation, and it is considered a family trade. Sons are trained by their fathers and grandfathers in the art of cooking, and this tradition is followed for centuries. The Wazas use traditional techniques and utensils to cook the food, and the cooking is done over a wood fire which adds a unique flavour to the food.
The Waza's kitchen is called "Wazwan," and it is a highly structured and organized place. The head chef is known as the "Vasta Waza," and he is assisted by a team of cooks known as "Wazas." Each Waza has a specific role and responsibility, and the entire team works together to prepare the food.
A male-dominated space?
It is worth noting that the profession of Wazas is highly male-dominated. Women are not traditionally allowed to become Wazas and are not involved in the cooking process. This gender disparity is deeply rooted in the cultural and social norms of Kashmiri society.
But the tides are changing, and the culinary world of Kashmir is witnessing a shift as the first female Wazas have made their mark in this traditionally male-dominated field. These women have shattered stereotypes and are breaking barriers, proving that gender is no barrier to success.
Also Read: What It's Like To Talk About Gender And Feminism In Kashmir
To understand the impact of this change, FII spoke with some of the prominent male Wazas of Kashmir who have been in the industry for decades. They shared their perspectives on this new development and the challenges that the female Wazas face in this industry.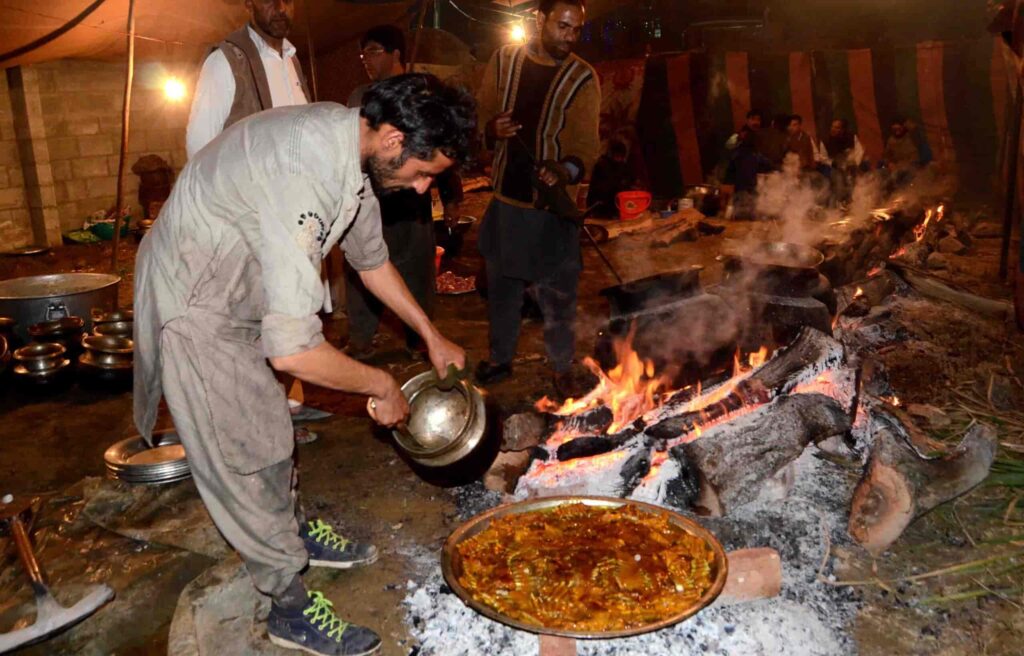 According to Abdul Rashid, a veteran Waza of Srinagar, "The inclusion of women in this field has given a new dimension to the cuisine of Kashmir. They bring a unique perspective and creativity to the dishes they prepare, and it's refreshing to see them excel in this field. However, they face numerous challenges, including societal pressure and lack of resources, which need to be addressed."
Another prominent Waza, Ghulam Nabi, echoed similar sentiments, "It's heartening to see that women are now entering this field and bringing a new perspective. However, the challenges they face are immense. They have to overcome social and cultural barriers, and there are limited opportunities for them to showcase their skills. The community needs to come together to support these women and provide them with the resources they need to succeed."
Despite these challenges, the first female Wazas of Kashmir have persevered and excelled in their craft. They have proven that with passion, dedication, and hard work, anything is possible.
Women breaking barriers: inside the lives of female wazas
The aroma of saffron and spices fills the air as a group of women from the Ganderbal district in central Kashmir are busy cooking. They are Kashmir's first women Wazas, breaking gender stereotypes and making history with their unique and authentic cooking styles.
Humaira, Ishrat Irshad, Zahida Basheer, Akhtar Jan, and Yasmeena Bano are proud members of the Self Help Group namely Khushbu that has successfully set up their own unit.
Humaira, the head girl of the group, who hails from the Lar area of Ganderbal, has a deep passion for preserving the traditional Kashmiri cuisine and promoting it to a wider audience. While speaking with FII, she shared her journey and the challenges she faced while pursuing her dream of becoming a female Waza in a male-dominated industry.
The skill of cooking has always captivated me, said Humaira."From a young age, I would watch my mother and grandmother in the kitchen, and I knew that I wanted to pursue it as a career. I always wanted to maintain our culinary heritage and learn how to cook traditional Kashmiri meals."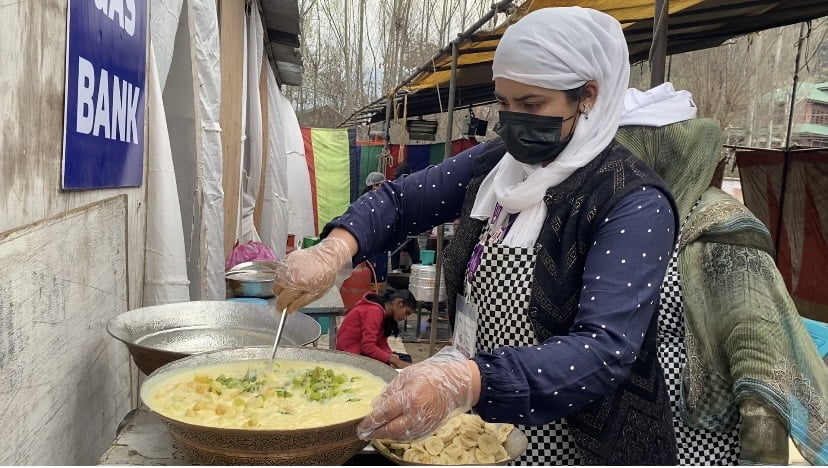 But Humaira's journey was not simple. She had a lot of opposition when she initially began working as a Waza since she was a woman. People weren't accustomed to the thought of a female Waza at first, she said.
Humaira overcame the difficulties on her path by working hard and remaining persistent. "I spent a lot of time working and practising every day," she claimed. "To make new and original recipes, I would experiment with various ingredients and methods."
Under the assistance of the J&K Rural Livelihoods Mission's (JKRLM) UMEED scheme, the self-help group had successfully set up their own unit, offering catering services for various events, including Amarnath Yatra's base camp and engagements. Their journey has not been easy, but with hard work and determination, they have shown that women can achieve anything.
Also Read: Reviving The Dying Papier Mache In Kashmir: Inspiring Story Of Masrat Jan
Another member of the group, expressed her passion for cooking since childhood, stating, "Cooking has been my passion since I was a child, and I always wanted to showcase my skills to the world."
Despite facing many obstacles as a Woman Waza at the beginning of her career, she did not let it discourage her. She said, "Being a woman Waza, I faced many obstacles in the beginning, but I didn't let that deter me."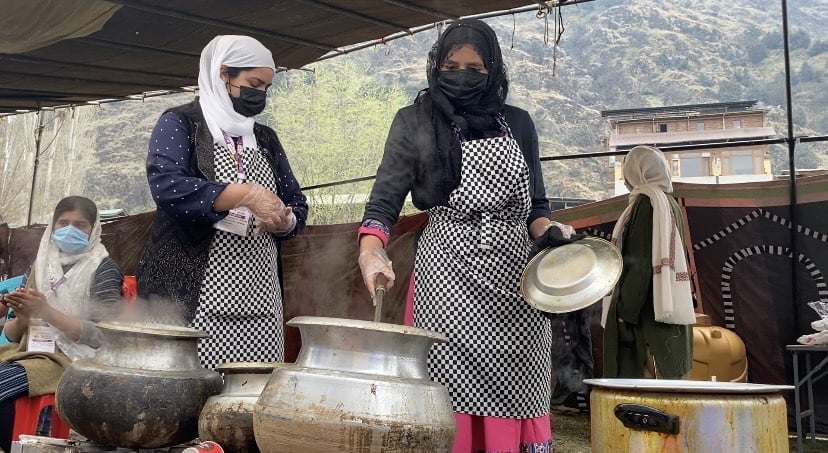 Today, she takes pride in being a member of the first women Waza group of Kashmir and inspiring other women in the valley. In her words, "Today, I am proud to be the member of one of the first female Wazas of Kashmir and to have inspired many other women."
Her determination and perseverance have not only helped her overcome the initial struggles but also inspire other women to pursue their passion for cooking.
The traditional wazwan cooking process is rigorous, requiring long hours of standing and constant attention to detail. It is physically demanding and not always viewed as a suitable profession for women. However, these women wazas have proven themselves capable of performing the same tasks as their male counterparts, with a unique touch of femininity and creativity.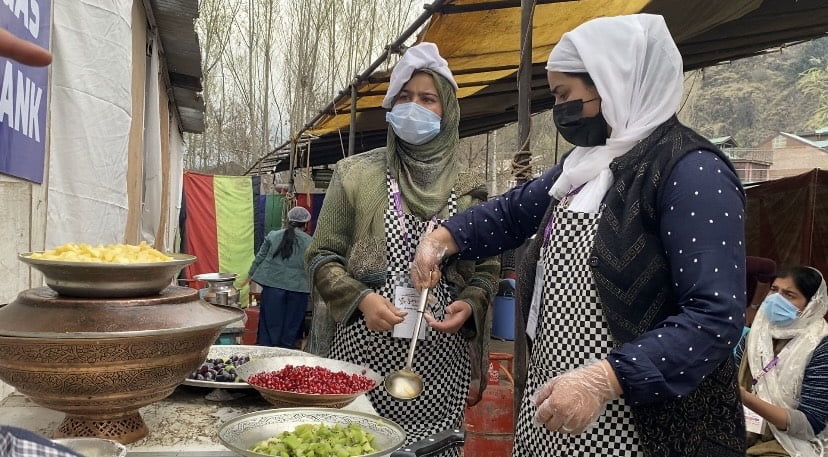 The inclusion of women Wazas in the culinary world of Kashmir is a refreshing and bold statement. These women have broken stereotypes and paved the way for future generations of women chefs. While they face numerous challenges, their passion and dedication to their craft have enabled them to succeed and make a mark in this traditionally male-dominated field.
The community needs to come together to support these women and provide them with the resources they need to succeed and continue to promote the rich culinary heritage of Kashmir.
---