Ridwana Akhtar, a 38-year-old entrepreneur and mother of three, is spearheading a transformative movement to manufacture sanitary napkins and raise awareness about menstrual health and hygiene. Through her Self Help Group (SHG) called Al-Qaria, she has empowered women by providing them with economic opportunities while addressing the taboos and misinformation surrounding menstrual health and hygiene.
According to the recent NFHS (National Family Health Report) only 74.5 per cent of women in Jammu and Kashmir use hygienic techniques for menstrual protection and in J&K, the poll also found that about 50 per cent of women still use dirty rags during their periods.
In a conversation with Feminism In India Ridwana reveals, "I don't understand why there is such hesitation and shame surrounding menstruation, despite the fact that it is a common occurrence. How much longer will we let out-of-date beliefs restrict us and endanger our health? Stop feeling guilty and accept menstruation."
Further adding, she says, "We must challenge the deeply rooted societal norms that equate women's reproductive processes with impurity or weakness. Menstruation is not a flaw or a hindrance; it is a symbol of strength, resilience, and the potential for new beginnings. Embracing our bodies' natural rhythms and functions allows us to reclaim our narratives, asserting that our reproductive health is not something to be hidden away or ashamed of but rather a source of power and pride."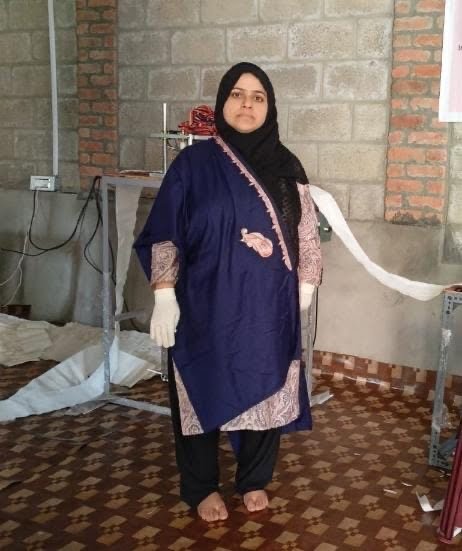 Narupura village, nestled in the Kokernag area of the Anantnag district, was gripped by various misconceptions and stigmas surrounding menstruation. Ridwana Akhtar, a successful boutique owner and an MPhil graduate in Urdu, noticed the lack of awareness and knowledge among women in her community. Determined to challenge the stigma and promote menstrual health, Ridwana embarked on a journey that would transform the lives of countless women.
In 2021, Ridwana Akhtar learned about the 'My Pad My Right,' program initiated by the National Bank for Agriculture and Rural Development (NABARD). It offered free sanitary pad-making assembly machines, raw materials, training, and financial support to SHGs. Recognising the potential to empower women while combating misinformation, Ridwana seized the opportunity and formed the Al-Qaria SHG.
"A woman is bleeding, and nothing more. Yet, society insists on shrouding this natural occurrence in silence and shame, as if the very essence of her reproductive system is something to be hidden, disregarded, or feared. But why should she stay away from everything? Why should she be made to feel ashamed of her body's innate functioning, her fundamental biology that allows life to be nurtured and brought forth into this world? For far too long, we have been bound by age-old systems that perpetuate a culture of ignorance and neglect when it comes to women's health." Ridwana tells FII.
"The taboo surrounding menstruation has been deeply ingrained in our collective consciousness, breeding a sense of shame that lingers on and affects women throughout their lives. It is high time we break free from these oppressive chains and embrace a new paradigm—one that champions open conversations, knowledge, and empowerment," she adds.
Ridwana's dedication and determination paved the way for the establishment of the first-ever Sanitary Pad Manufacturing Unit in Narupura. With the unwavering support of her family, a dedicated shed was constructed to house the machinery and materials. Finally, in March 2023, the machinery arrived, and the production began, marking a significant milestone in the journey towards menstrual hygiene empowerment.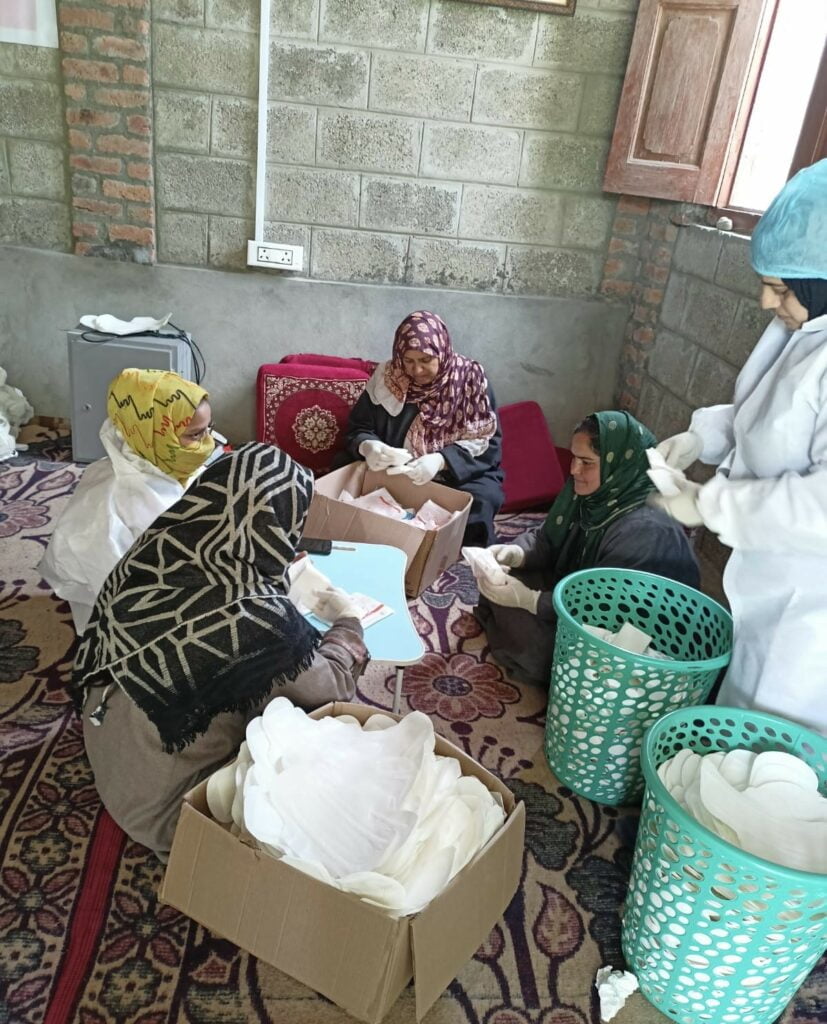 Under Ridwana's leadership, Al-Qaria's sanitary napkins, known as 'NISSA,' boast superior quality and comfort. With the use of premium raw materials such as air-laid paper, wood pulp, and spandex, these pads offer unparalleled absorption and leak protection. Moreover, they serve as special maternity pads, providing comfort and security to new mothers during the postpartum period.
Tahira Jaan, an active college student, is actively involved with the group along with nearly 10 other women. Tahira mentioned that she joined Ridwana's group after completing her 12th grade, and now she comes to work there every day after college.
"I find immense joy in contributing to the manufacturing of sanitary pads alongside the inspiring women in our village. It's a way for us to break free from the stigma associated with menstruation and take control of our own well-being." Tahira tells FII.
Beyond manufacturing pads, Al-Qaria took on the responsibility of educating women and young girls in the village about menstrual health and hygiene. Ridwana conducted numerous awareness sessions, debunking myths, and emphasising the importance of personal hygiene, using sanitary pads, and dispelling associated taboos.
"I implore the mothers to teach their young daughters about menstruation prior to menarche, good personal hygiene, and the use of sanitary pads in place of conventional ways," stated Ridwana Akhtar.
Another member of the group Sumaira told FII, "Joining the manufacturing unit has transformed my perspective on menstrual hygiene. Now, I proudly use the pads we create, knowing that I am part of a movement that empowers women and challenges societal taboos."
Faruka Banoo, a neighbour of Ridwana Akhtar is also involved in the manufacturing of sanitary napkins. This 35-year-old woman became aware of Ms Akhtar's work through the door-to-door awareness campaigns.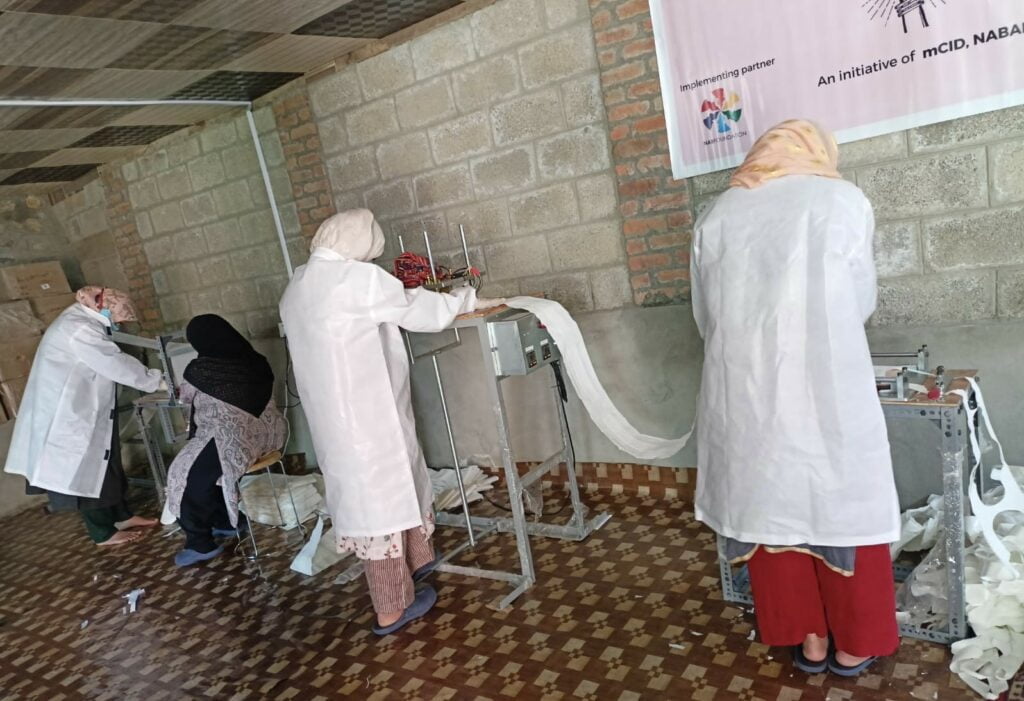 Despite being aware of the existence of sanitary pads, Faruka Banoo had been using the unhygienic cloth since her first menstruation due to the stigma associated with buying pads from a local drugstore in the village.
Since joining the manufacturing unit, Ms Banoo has completely stopped using old dirty rags during her periods and provides the manufactured sanitary napkins to her daughter as well. She actively participates in packaging sanitary napkins at the manufacturing unit.
"I'd never used a sanitary napkin before because I was hesitant to purchase one from a store. However, these days I happily use the sanitary pads I make along with the other villagers' ladies. Although I still don't feel comfortable buying pads from a drugstore, the existence of manufacturing facilities has proven to be a blessing," stated Faruka.
Ridwana further told FII that they have been receiving consistent orders for these pads, particularly from maternity hospitals and clinics demonstrating the importance of giving women in need access to high-quality menstrual hygiene products.
To meet the growing demand, Ridwana and her team operate a semi-automatic manufacturing unit. With a production capacity ranging from 600 to 800 pads per day, they ensure a steady supply of sanitary pads. This efficient production process allows them to maintain an adequate stock of pads, ensuring continuous availability for distribution not only to maternity hospitals and clinics but also to nearby villages.
---