Skater Girl opens with a profound scene: Prerna, the protagonist, elatedly pulls a skateboard-like object through the streets of her village. This might have indicated freedom of movement and independent assertion; however, the irony of the scene is soon revealed. The skateboard is a makeshift wooden vehicle, called the "bearing car," to transport Prerna's younger brother to school, while she trots off to a market to sell peanuts. 
Skater Girl, a venture of the director Manjari Makijany, is a simple coming-of-age narrative, where Prerna, a triply marginalised figure, is given just one means of escape: a skateboard. Prerna and Ankush, the dynamic siblings, are played by new faces, Rachel Sanchita Gupta and Shafin Patel, respectively. And the film's success lies in their effective acting as they completely immerse themselves in the roles they adopt. While mimicking many tropes of inspirational sports films, Skater Girl is much more than that: it is an indictment of various social structures.
Prerna's disruptive education, as indicated in the first scene of Skater Girl, is the product of her oppressed economic position in society. Belonging to a poor family, she has to juggle between going to school and helping her family in maintaining their household. Even her few advents to the school are failed experiences: unable to afford books and uniform, she is ousted from the classroom by insensitive teachers. Despite her father's fragile male ego in not accepting financial help from the women in his family, Prerna is often made to take up the task of peanut-selling to help her family make the ends meet.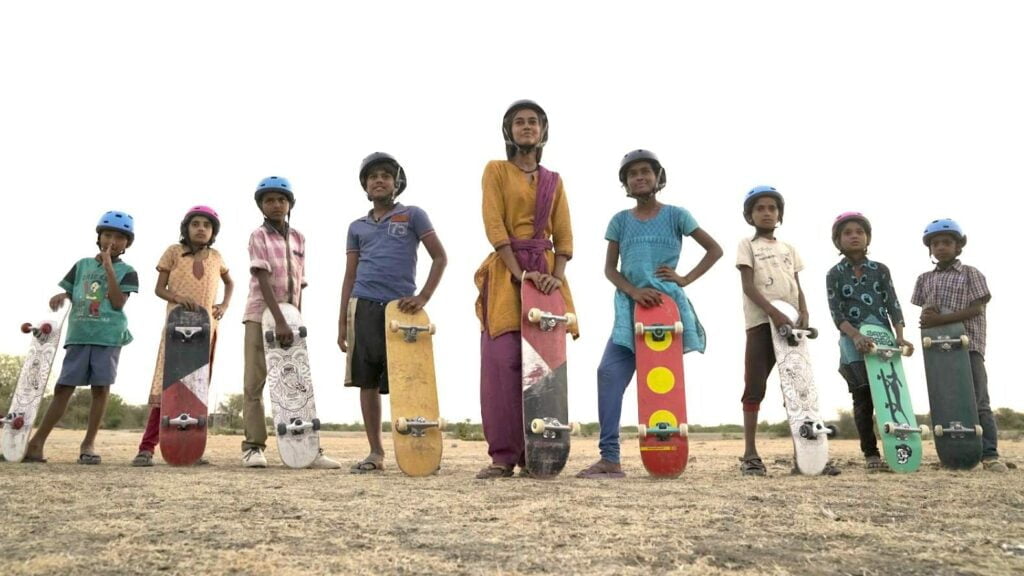 Furthermore, Makijany emphasises that the class barriers to Prerna's education are complemented by the gender roles envisaged for her. In the depressed financial condition of her family, it is only her education that is hampered while her brother regularly goes to school. She is expected to master household duties and domestic chores, where education is superfluous to her future destiny marked out as the wife of someone.
When her potential in-laws ask her about her prized qualities, her mother intervenes to list all domestic virtues — for only that makes her valuable. Even during her skateboarding efforts, her father constantly frets about the prospect of some damage to her marriageability. 
Finally, her marginalisation is further aggravated by her caste status. Even though the film does not explicitly dwell on the caste issues, there is a constant reminder that Prerna's movement is heavily restricted due to her caste identity.
Also Read: Film Review: 'Gaslight', Who Is Gaslighting Who?
Her upper-caste teacher's injunction to Prerna to sweep the floors is reminiscent of those many Dalit autobiographies — such as Om Prakash Valmiki's Jhoothan or Balbir Madhopuri's Changiya Rukh — which document Dalit persons' struggles to access education due to the prejudices of the so-called upper castes.
Caste norms restrict Prerna's access to spaces and relationships impeding her freedom to desire. It is, therefore, these pluralistic pressures of class, caste, and gender which circumvent possibilities of self-assertion for Prerna.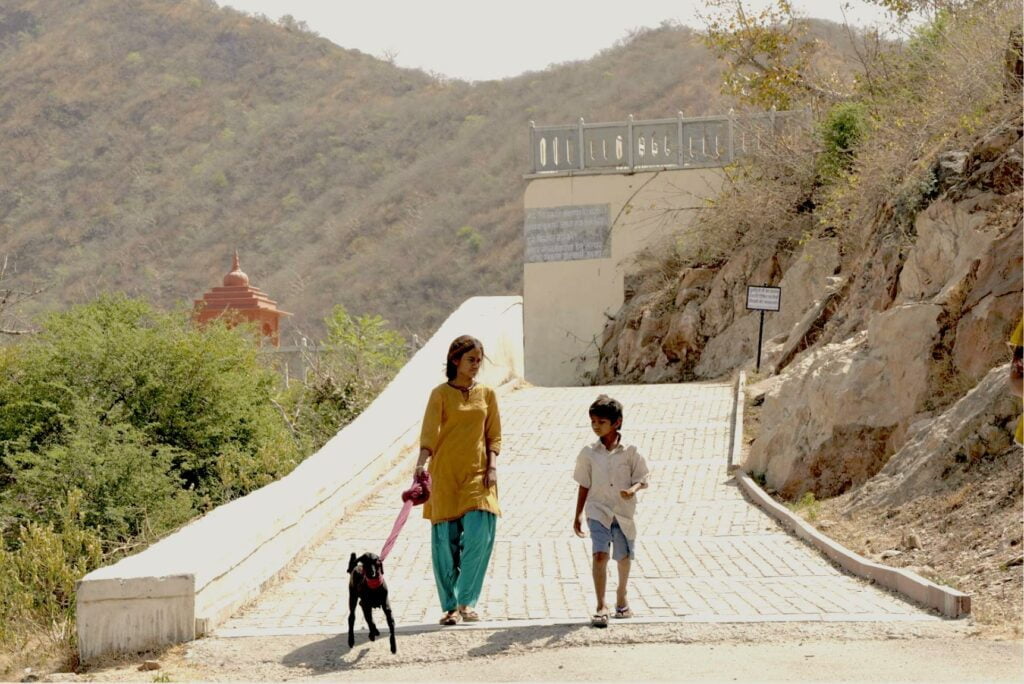 To counter this to some extent, Jessica, an independent, London-based woman, enters the film's domain as an enabler of Prerna's dreams. In fact, she is the one who impels Prerna to dream: questioning what she wants to become in future — something which the heavily confined and controlled life of Prerna had never offered to her. Jessica is the continuation of the progressive foreigner trope: who is liberated and self-sufficient providing a contrast to the local women. She is the outsider who exoticises rural life, rural simplicity, rural peace, and rural activities in her "rustic holiday." 
However, Makijany extends Jessica's role to much more than that. Jessica, who came to this village to find her roots, finds an integral space within the community of the village's children. Cultural divides are surpassed as she connects with these children on a more human level: finding a sense of belonging with them and providing them with a space for free self-expression. She encourages their enthusiasm for skateboarding with her friend Eric, and ultimately creates a skatepark as a space, exclusively for these children, outside the class, caste, and gender divides perpetuated by the village. 
Also Read: Film Review: 'Rekha' Questions Gender-Based Violence And Abuse
Jessica, ultimately, becomes a guardian figure for Prerna. Initially, helping her with monetary support to go to school, she later provides her with a means to carve her own identity through skateboarding. She transforms Prerna into a mobile heroine, who, armed with a sense of purpose, can move forward both literally and figuratively. It is significant that the film portrays other women as the support systems for girls like Prerna.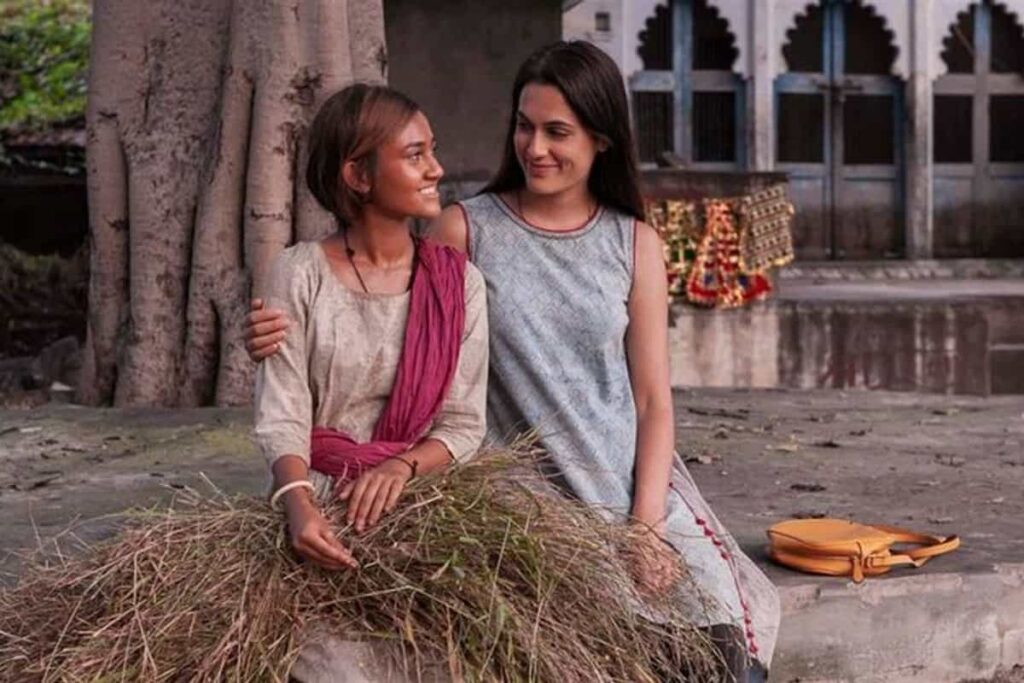 Jessica's efforts are further strengthened by the Maharani of the village — when other patriarchal authorities reject her proposals. In a scene with the notable cameo by Waheeda Rehman, who plays the role of the Maharani, the two women are brought together by their desire to bring change in society: shattering gender roles and empowering women. It is with the combined efforts of Jessica, Maharani, and even her mother, that Prerna gets an opportunity to pursue skateboarding, and by extension, her dreams.
What emerges as the most potent device in the film is the symbol of the skateboard. At a basic level, it represents childlike fun and enjoyment. In a comically charged episode, the children wreak havoc on the village: carelessly skating through the streets, tumbling on top of people and commodities alike, and appropriating ideas from the nationalist movement to protest the ban against skateboarding. Chaos ensues in the village, as children replace classroom study with tricks and stunts on the skateboard.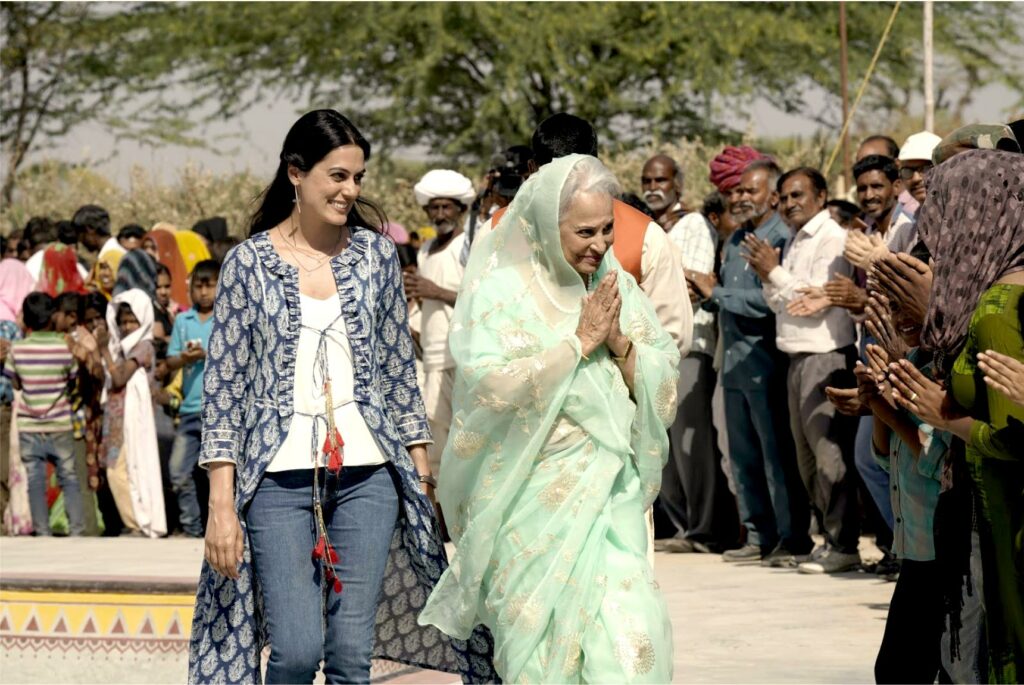 However, the chaos in Skater Girl is not limited to the physical disruption in the village as it also challenges various social norms and divides. United in their zeal for skateboarding, children become unmindful of caste lines as they trespass the otherwise restricted places and become friends despite the injunctions of maintaining caste purity. Jessica and her peers also attempt to fill the financial lack as they equip each one of them with proper skateboards, a democratic skatepark, and equal training. It is eventually only skill which becomes a deciding factor in the skating competition held at the village.
For Prerna, especially, skateboarding becomes a way to escape the limitedness of her existence. Overcoming her fears, she broadens her world through internet videos, computer room accesses, night-time adventures to the skatepark, and a transgressive visit to the fair with an upper-caste boy. She even defies gender expectations as her father chides her for playing with a "boy's toy."
Also Read: Gulmohar: A Beautifully Crafted Tale On Family And Identity 
She refuses to limit her attainments to marriageable qualities; it is her capability as an adept skateboarder that gives meaning to her life. Skater Girl depicts captivating moments in which Prerna climbs over her skateboard and freely zooms through the streets and the skatepark: marking not only her actual mobility but a movement away from the domestic constraint and womanly duties. The skateboard ultimately comes to represent 'free spirit' in the film: a stepping-stone for the bigger chances in future.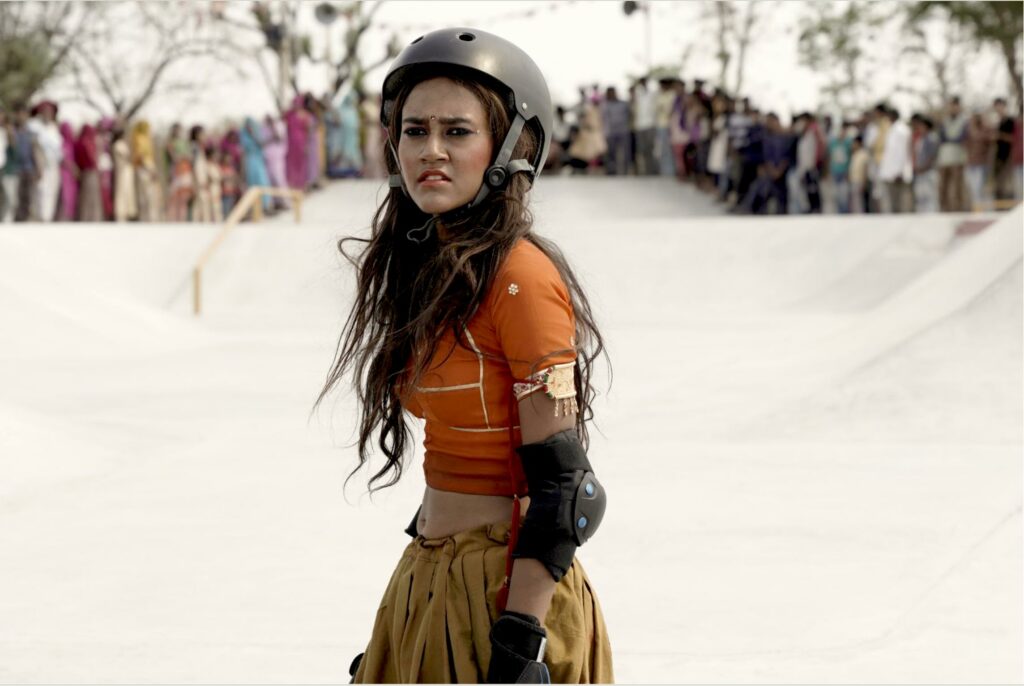 Skater Girl subtly deals with the sensitive issues of caste, class, and gender. The plot is simple, and there are no big action scenes or big speeches. Each character makes their own small contribution in elucidating upon these layers of social structures. Even though the film has been recognised as employing clichés, yet, with such a simple plot, its ultimate goal is to reach the masses: become inspirational (the literal meaning of "Prerna").
Skater Girl has somewhat achieved that as the skatepark constructed in Rajasthan to shoot the film— the first of its kind — has now become a real space for children like Prerna to achieve their dreams or assert their freedom.
---