The report prepared by the United Nations Special Envoy Tomoya Obokata on "Contemporary Forms of Slavery" went public in August 2022, stating that in India, "child labour, caste-based discrimination and poverty are interrelated".
Child labour is often seen as an outcome of poverty, where the child's socio-political-economic position is sidelined, while in India, discrimination based on caste, gender and lack of resources are the foremost reasons why child labour flourishes.
In an interview given to DW, Siddhartha Kara (Director of the Human Trafficking and Modern Slavery Program at Harvard University, Kennedy School of Government) states that "Every single child labourer that I have documented comes from a highly impoverished family unit and belongs to a low-caste or minority community, known as Scheduled Castes, Scheduled Tribes, Other Backward Classes, and Muslims." In this and every context, the term minority community also includes the larger picture of the Denotified Tribes (DNT) like the Nat and Bediya communities. When children from these communities get into the vicious circle of child labour, they are deprived of basic needs like education and also become victims of child abuse.
A community-based learning centre for children named 'Savitri ka Vidyabagh', situated in Sakraya Bangar village in the Vrindavan area of ​​Mathura, works for children who have been deprived of education and were victims of child abuse due to child labour. Sakraya Bangar village is inhabited by denotified communities like Nats, of which some are Hindus and some Muslims, Thakur, and Nishad communities in the surrounding villages. Most of the houses in the village are kutcha, the roads are narrow and there is no proper accessibility for electricity.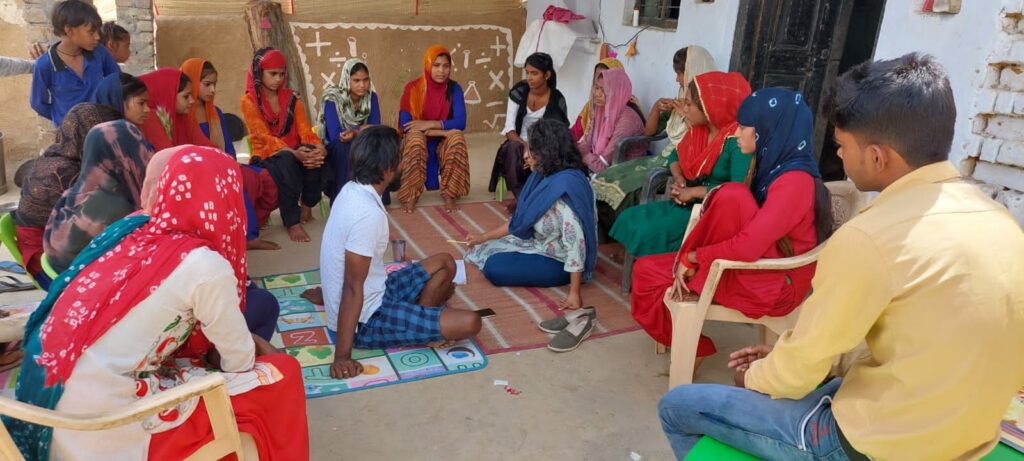 During the Covid-19 lockdown, Nirmal Initiative, an NGO run by the social activist Shweta Goswami in Vrindavan, was distributing food in the same village, when she saw a fourteen-year-old girl, who was pregnant. She thought there is a need to save these girls from sexual violence and the labour that they were forced to do in the fields.
Vidyabagh was started at the time of the Covid-19 lockdown with the idea to educate five to seven girl children and once they receive basic education, support them in ways possible and get them admitted to the nearest private or government school. By that time, the effort and time invested in these girls turned out to be successful, as the number of girls under this initiative reached fifteen-seventeen (who were admitted to a private school in Vrindavan) while being taught under the tree in the open sky. The maximum number of children in this learning centre has now reached thirty in the Vidyabagh's Coordinator's (Rubin) house.
Also Read: Gujjar Women's Ongoing Struggle For Education And Employment
Girls from the age group of 5-6 years to 17-18 years of age and boys from the age group of 5-6 years to 8-10 years of age study in this centre. All these children come from low-income, minority communities (Dalit, Muslim, Tribal) whose parents are mostly working for daily wages. Since the oppressed communities are placed at the lowest position in the hierarchical structure of this society, hence they also struggle with a lack of resources, especially in the absence of social or economic capital. At this juncture, the help of children is taken from time to time to run the house (child labour) for which the children are asked to go to remote areas to do labour.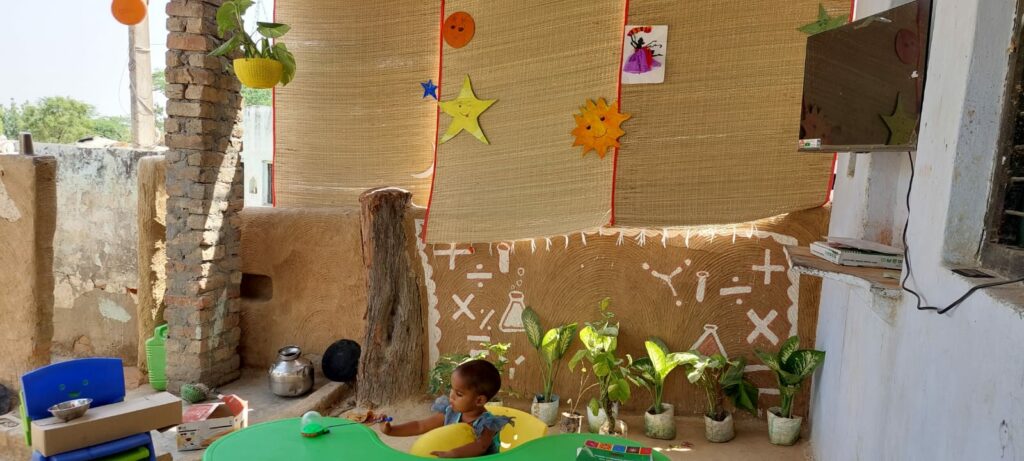 When we had come to know about this revolutionary space, Vidyabagh, a total of eleven girls were present in the learning centre with a strength of 25 to 30, the reason being that they had gone to surrounding areas of Haryana, Punjab with their families to work in cotton farming.
It's a fact that society, very easily, builds a narrative that the parents are guilty of child labour, but it is never brought to the fore that what option has this system left with the communities from which these children are coming? These communities are empty-handed in the name of capital, nothing like opportunity reaches them, and even if they get admitted to a school, Omprakash Valmiki's life and struggles repeat to them in the cruellest form.
Rubin is playing the most important role in this learning centre. Rubin has recently passed his 12th grade and is looking forward to pursuing his higher studies. Rubin wants to become a teacher in the future. He is one of the four fellows of the Mahatma Phule Early Childhood Education Fellowship of the NGO, Nirmal Initiative, and is currently pursuing Diploma in Early Childhood Education from Indira Gandhi National Open University, Delhi. Rubin has also earned from a very young age.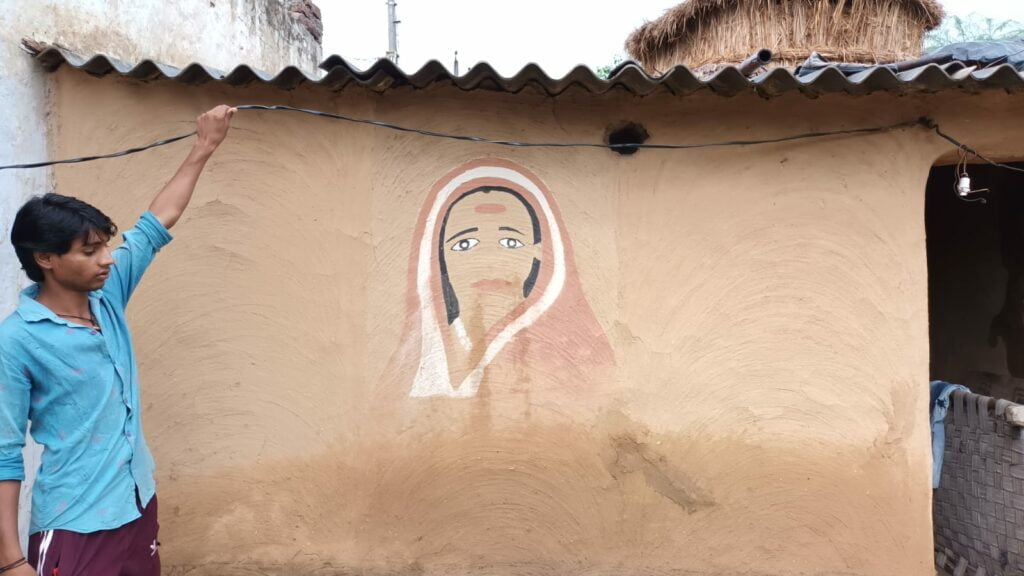 He left his painting job in Rajasthan during the lockdown and came home to join this learning centre and now teaches children in two shifts in which girls study in the morning and boys in the evening. The reason for running two separate shifts is that the people around and the parents of the girls are not in favour of keeping them out of the house in the evening and in the morning they come mostly after doing domestic work, due to which the study time in the centre is also in the morning from ten o'clock to twelve o'clock in the afternoon.
In Savitri's Vidyabagh, children are taught through a proper Early Childhood Education Kit which contains step-by-step guidance and other material for children who are taught from the basics, along with the content for day-to-day studies, which is ensured by making a monthly plan. A base is built in children while studying here and then they are admitted to the nearest affordable private school or primary school. Those who get admission are also properly tracked, and in this way, this Vidyabagh of Savitri is working to make children free from child labour by connecting them with mainstream education.
During the visit to Vidyabagh, we interacted with the girl students there. After getting to know their names, we asked them whether they used to study (formally) anywhere before the learning centre. So it was understood that some of the students like Kiran are having their first experience with education in Vidyabagh, that is, they are starting from the basics. Chhabili, Shahnaz, Raveena, Sapna, Shivani, Madhu, and Nazma were studying in private schools like Kiran Devi School and Primary School before the lockdown but after the lockdown, their studies were in question due to economic conditions and social pressures, and with the social tradition that by the age of thirteen – fourteen, girls must get married.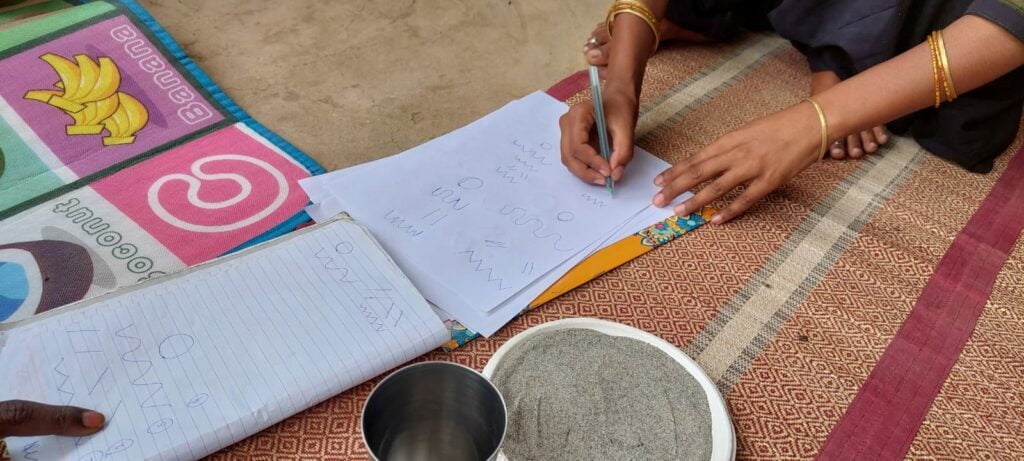 Due to fear and anxiety injected by society, her parents are hesitating to educate Shahnaz further. The entire team, including Shweta Goswami, has worked very hard in convincing the parents and in taking consent for educating them in the learning centre. It would not be appropriate to name the girls but it was heard from them that two girls among them whose age was between fourteen and seventeen were engaged and even married.
Rubin is a great support in this struggle against inequality and child labour. When we asked him about the challenges of teaching, he said that the villagers surround him anytime, threaten him, and fight against him accusing him by saying that he is actually "spoiling" the girls by teaching them. But Rubin responds to all this by remaining silent. This is probably why when we were talking to the girls, a girl pointed towards Rubin and said, "Bhaiya hi hamare Mahatma Phule hain (This brother is our Mahatma Phule)".
Also Read: Ground Report: SC Asks To Provide Records On Steps Taken To Eliminate Manual Scavenging
When we asked Rubin about the fun activities in Vidyabagh, he said that many types of games which can enhance concentration are given to the girls, including toys, books and pictures related to space. It is important for girls to know about space so that they can know that the world is not just what is around them but it is much bigger like the secrets that Rohith Vemula wanted to find out. The electricity system is not functioning great in the village, because, these families with low income are unable to pay the electricity bill, and the authorities in the electricity department have cut off the connection. But yes, there is electricity with the help of solar panels, due to which films on Savitribai Phule, etc. are shown on television. All these arrangements are done in the learning centre for the benefit of the children with the support of crowdfunding, in which the social and political identity of the child studying in the centre is not hidden behind the tag "help for poor children" but is also revealed, of which community the child identifies with, and the funding is done accordingly.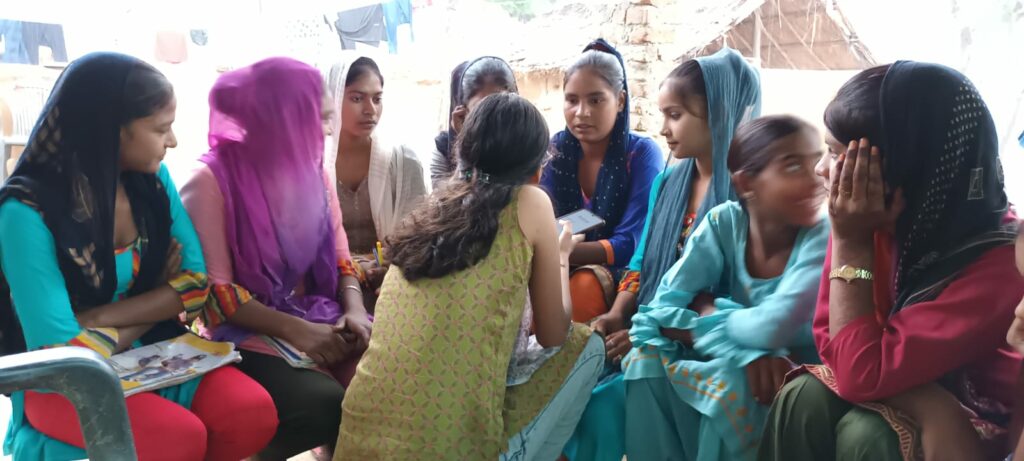 We also spoke to Rubin's mother Pinky Ji, since Vidyabagh is happening in her house, and we enquired about the impact of the same in the neighbourhood especially the women's community. Pinky Ji told that the women around seem happy about Vidyabagh and appreciate it and say, "Of course, they could not study but at least their daughters are studying, maybe their daughters will not suffer the way they have suffered,".
Also Read: What AISHE Report Says About Higher Education In Post-COVID India
Savitri's Vidyabagh is a model that needs to be followed and propagated by helping the children of every underprivileged community and giving thrust to the right to education within the minority community. Children involved in child labour, and child abuse, are often looked at with "pity" but never think concretely about the reasons behind it, and do not work to get them out of it. But Savitri's Vidyabagh is not only identifying such children but also creating opportunities for them to come out of this vicious cycle and secure a future for themselves.
---
The article was originally published in Hindi and later translated into English by the author. You may find the original article here.