By Pooja Yadav
For Lalla Bai of Chhatarpur district, cultivating rabi crop is a game of life and death. She sows wheat on five acres every November and immediately starts worrying about how to irrigate the fields.
She has two wells on her farm in Mathani Khera village of Bada Malhera town, but no power connection to run motor pumps. "We have to apply for a temporary connection and draw power lines to our fields to get electricity for agricultural purposes. It is an extra expense added to the already pricey input costs," Bai's sons Balram and Rakesh tell 101Reporters.
The rabi crop requires about four months of continuous irrigation before it is ready for harvest. Hence, two 2 HP pumps installed at Bai's farm run for seven hours each daily.
For both motor pumps, Bai had to apply for separate temporary connections, which cost her Rs 7,200 each and expired by March end. From a distance, one can only see the precariously standing makeshift electric poles on the way to the fields with a criss-cross mesh of wires.
"To bring electricity to our farm, we had to draw a line from an electricity pole located about 3 km away… A 9 km wire is required to draw a 3 km line (three wires for three phases). The special plastic encased wire costs around Rs 40,000 and has to be replaced every two years," they say.
One acre can produce about 20 to 22 quintals of wheat. On the other hand, one quintal of wheat is sold at Rs 2,100, which translates into a potential earning of Rs 2.10-2.30 lakh from five acres. At the same time, Lalla Bai's family had to spend Rs 54,400 just to irrigate the fields!
A threat to life
Since the connection is temporary, it is not very safe. During storms, there is a fear of wires snapping and falling into the irrigated fields. The live wire lying out in the open is a death trap. Nearly five years ago, villager Ramesh Yadav's three buffaloes were found dead in the field in a suspected case of electrocution from open wires.
"On March 20, there was a hailstorm during which many wires of multiple temporary connections snapped. The community got together and decided to remove them from the farmland immediately. Good sense saved lives this time," Balram continues.
There are over 200 houses in Mathani Khera with a total population of 700. Of these, 148 families are into farming. Wheat is the main rabi crop of this village, where water from electricity-run private tube wells is used for irrigation.
Villagers Ganesha Ahirwar, Raju Adivasi, Prakash Yadav and Chintaman Pal, all have one- to three-km-long temporary connections drawn to their fields. "There is no alternative to this risky mode of operation," they say in unison.
It is relatively easy to get a temporary connection. Farmers have to visit the nearest discom and verbally inform the staff concerned about their water needs. If the case is approved, they will get a receipt. The onus of setting up the line and keeping it secure from thefts lies with the farmer.
Also Read: In Maoist-Hit Bastar, Solar Power Brings Individual Tap Connections To Rural Homes
The power supplied for agricultural purposes is unmetered and is not available on a per unit basis. The rate is decided based on the horsepower of the water pump and the duration of the connection.
As per the data released by the Madhya Pradesh Madhya Kshetra Vidyut Vitaran Company Limited, one of the three discoms in the state, one lakh applications for temporary connections were received this rabi season from Bhopal and eight nearby districts.
High generation, poor supply
Madhya Pradesh declared itself a surplus state in power generation in January. Though the government claims to provide 10 hours of uninterrupted supply to farmers, Mathani Khera and nearby villages of Kandwa, Kabian, Kundaliya, Bann and Madi Khera face the issue of a lack of supply every day.
Villagers say they get about six to eight hours of electricity, that too mostly in two phases, with which they can manage their household chores and run a fan and a couple of bulbs. For operating irrigation pumps, three-phase power is necessary.
However, for the most part of the day, only two phases get supplied. As three-phase power is available late at night, farmers are forced to step out in the dark to switch on the pump, which is too dangerous.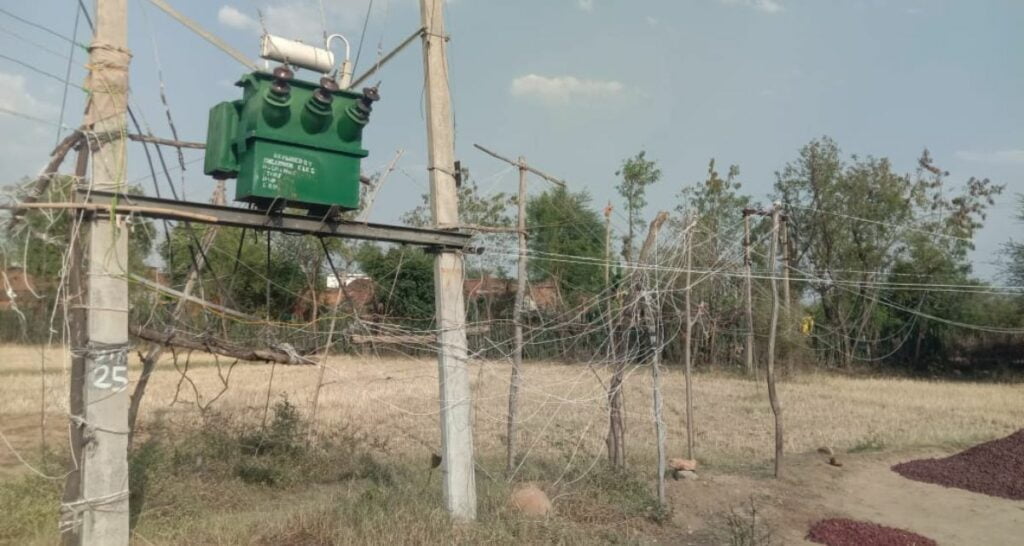 Balram says the state Cabinet approved the Chief Minister's Permanent Pump Connection Scheme in 2016 to provide permanent electric farm pump connections and to convert existing temporary connections into permanent ones. There was a subsidy provision on the total expenditure incurred to bring electricity to the fields, which was later stopped. Though there is no information from the authorities on when it was withdrawn, farmers claim they stopped getting its benefit much before the COVID-19 lockdown.
"We did not have information about the scheme at that time, so we could not get the connection. The discom officials knew that electricity had not reached the farms in Mathani Khera and nearby villages, but they did not bother to inform us," he claims.
In a writing published over three months ago, Madhya Pradesh Energy Minister Pradyuman Singh Tomar says that Madhya Pradesh has a power generation capacity of 22,730 MW. "In the current rabi season, as on December 30, 2022, the maximum power demand of 17,065 MW was successfully met, which is the highest in the history of the state," he writes.  
Also Read: Bal Sansad: Young 'Parliamentarians' Driving Change In Madhya Pradesh
According to Madhya Pradesh Energy Department, the normal power consumption in the state is 12,000 MW. It rises to 15,000-16,000 MW in the rabi season. Though the state has a maximum generation capacity of 25,000 MW, it is possible only when there is adequate storage of coal and water to run coal and hydropower plants, respectively.
Wind and solar power plants are also operational. Overall, Madhya Pradesh has moved ahead in terms of power generation. It is the power supply where the results are not satisfactory.
"In most villages of Hardol Patti panchayat in Bada Malhera tehsil, permanent farm connections are not present. We approached the government on behalf of the panchayat, but our efforts did not succeed," says Hardol Patti deputy sarpanch Bhupendra Singh Bundela.
"We also spoke to the discom officials, who told us that setting up dedicated poles along the farmlands and a transformer will cost lakhs of rupees, which our village will not be able to afford. The financial condition of farmers is also not good enough that they can afford to set up temporary connections all the time. We need a permanent solution," he says.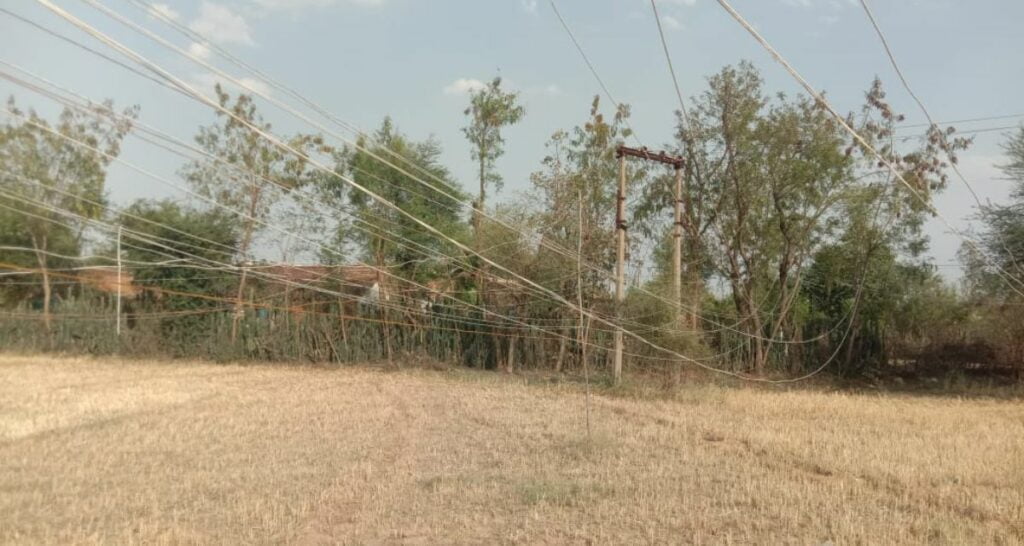 Energy Department Principal Secretary Sanjay Dubey did not respond to the email queries sent in this regard. However, Shriram Pandey, Superintending Engineer, Madhya Pradesh East Zone Electricity Distribution Company, Chhatarpur, told 101Reporters that 66,000 farmers in the district have permanent connections, whereas 14 take temporary connections in the rabi season every year.
"Farmers earlier got financial assistance for permanent connections in the least possible time under the Mukhyamantri Krishi Sthai Sinchai Pump Yojana. As the scheme is not functional now, a farmer has to pay the full cost of the poles, wires, transformer and labour if they want a permanent farm connection. If the farmers of Bada Malhara are ready to bear the expenses, they will also get access to permanent connections," he adds.
---
Pooja Yadav is a Bhopal-based journalist and a member of 101Reporters, a pan-India network of grassroots reporters, where this article was originally published.