By Pooja Yadav
Chanda* of Chimka Tola in Mandla skips school for four days in a month citing one reason or the other. A student of class 11, she is restless when she menstruates. The cloth piece that she uses these days adds to the irritability. When the state government's Project Udita was up and running, things were much easier for adolescents like her.   
"Walking to school is a problem. The constant rubbing of the cloth piece with the skin can cause rashes, followed by itching and a burning sensation. It should be changed frequently but is also difficult to wash and dry. I do not feel like studying. In fact, the first two days are mostly spent sleeping," said Chanda.
Launched by the Women and Child Development Department in 2016, Project Udita offered a pack of six sanitary pads through Anganwadi centres. It also sensitised women on the need to maintain menstrual hygiene, which made Chanda and others switch to sanitary pads.
Some centres sold the pack for Rs 12, while others priced it at Rs 15. As there was no government-fixed price, the vendors took the liberty to tweak prices after considering the cost of travel to a given village from the district headquarters.
Yet, the low rates of sanitary pads were helpful for village women and adolescents who mostly depend on the nominal income of their husbands or fathers. Sanitary pads are priced upward from Rs 35 per pack in shops, whereas good quality products cost anywhere between Rs 60 and 100.
Initially, the department helped coordinate the supply from pad-making agencies to Anganwadi centres at the lowest possible price. Later, the agencies and Anganwadis started dealing directly with each other. Vendors sell pads to distributors, who then get them to the centres through a commission-based channel. Anganwadi workers made the payments before or after the sales, as per the agreement they made with the vendor. However, this system did not work well in all centres.
In a tweet in April 2016, Chief Minister Shivraj Singh Chouhan claimed that special corners were set up in 22,000 Anganwadis under Project Udita. In reality, only banners and posters provided by the government for the scheme's publicity adorn such corners. Forget villages, even Anganwadis in cities do not have fully functional corners. 
There was no government allocation to buy pads or install pad vending machines. The scheme envisaged the installation of vending machines by the Women and Child Development Department, after taking help from private companies, NGOs and donors. But that too did not take off. Only very few centres got the machines under the Corporate Social Responsibility activities of some companies.
As a result, Project Udita came to an abrupt end in the early days of the COVID-19 spread, thereby forcing women and girls to return to cloth use. "There is no risk of leakage or no issue in moving around when using sanitary pads. Moreover, it lasts for more time than the cloth piece, which has to be changed twice or thrice a day. We are not allowed to wash the cloth in the area where men take baths. Washing in the open is another problem. Sun drying of the cloth is also difficult as male members of the family should not see it," said Chanda.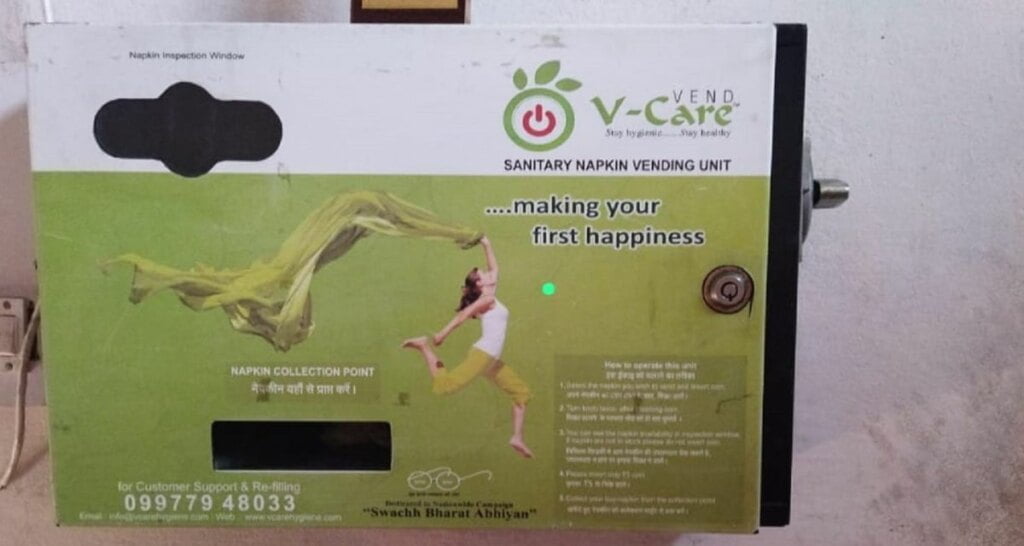 Poor record
According to the National Family Health Survey (NFHS-4), 2015-16, rural Madhya Pradesh ranks worst in the country in menstrual health management, with only 26.4% of women between the ages of 15 and 24 adopting hygienic practices.
A survey conducted in 2018 by the Bhagidari Foundation on the menstrual behaviour of adolescent girls and women found that 88% of women use cloth pieces during menstruation, while the rest use sanitary pads. As much as 42% of the surveyed women use the same cloth many times, while 29% use dirty cloth.
According to Bhopal-based Dr RK Badve, women who do not use sanitary napkins during menstruation are at 70% higher risk of contracting reproductive tract infections. White discharge, itching, burning sensation, swelling in the uterus and frequent urge to urinate can be other fallouts. If not taken care of, the infection can reach the vagina and enter the umbilical cord. The possibility of bacteria reaching the vagina or urinary tract increases through defecation.
Rachna Dhingra, women's rights activist and member of the Bhopal Group for Information and Action, said there was a need to create awareness in rural areas about menstrual hygiene. "Village women and girls use the same cloth for a long time and do not wash and dry it properly, which can lead to many diseases."
Nobody has an answer
If handling sanitary pads was much easier, why was its supply stopped? Ask anyone, and the standard reply is "They stopped coming". An Accredited Social Health Activist (ASHA) supervisor from Betul district told 101Reporters that sometimes the demand was so high that they had to make calls for the distribution of more pads. "Even in rural areas, most adolescent girls and women started using pads after Project Udita was launched. Now, it is back to square one."
An Anganwadi worker from the Narmadapuram district confirmed that the pads costing Rs 12 were much sought-after. Another from Narayanganj in Mandla said she used to order as many pads as she thought would be necessary after gauging the demand. "We were told to buy for Rs 60 the sanitary pads that were earlier available at Rs 12. As women cannot afford it, we stopped giving orders," said another worker.
Along with a lack of demand for sanitary pads, an anganwadi worker in the Kilol Park area of Bhopal had to deal with the problem of rats. "The special corner has proved to be very popular here. In January last year, we had to close it down for two months as rats gnawed the pads stored there. As there was no scope of government help, I had to bear the cost of these unsold pads and pay the price to the vendor," she told 101Reporters on condition of anonymity. 
She usually bought sanitary pads by keeping aside a part of her honorarium of Rs 10,000 and adjusted the amount later when buyers gave her money. That had to be stopped as her honorarium was not paid for a few months. She has again started receiving the monthly pay on time now but has no plans to buy pads as keeping them safe from rats is a big task. The pad-making units do not manufacture dispensing units.
Sukarma Foundation chairperson Maya Vishwakarma, better known as 'Padwoman of India', told 101Reporters that Project Udita has remained only on paper. "In Anganwadi centres, women did not get pads free of cost. Only a few centres, that too mostly in cities, had special corners. The pads can be cheaper, but 18% Goods and Services Tax (GST) is charged on the raw material. In such a situation, how can anyone supply pads at low rates? If anyone still manages to sell cheap, its quality may not be good," she said.
Emphasising the need to provide concession, she added, "No government can distribute sanitary pads free of cost, it should not either. Rather, it should reduce the production cost by giving a GST exemption."
Despite repeated attempts, officials in the Women and Child Development Department were not ready to divulge any information regarding Project Udita. On condition of anonymity, one of them told 101Reporters that not a single rupee was allocated for the scheme.
"The government says sanitary pads should be made available to women. From where and how will Anganwadis get it done? We do not have an answer when Anganwadi workers put forth these questions. Earlier, it could be made available at low rates. Now, the cost of raw materials and production charges have increased. How can any vendor make it available for Rs 12 or 15?"
Meanwhile, Shashi Shyam Uike, Joint Director, Women and Child Development Department, Jabalpur Division, told 101Reporters that pads were being made available in the Anganwadi centres in his division. "We will take necessary steps if they are not available in any anganwadi." The irony is that Mandla falls under Jabalpur division and girls like Chanda are yet to see a renewed supply of sanitary pads.
---
* Name changed to protect privacy
Pooja Yadav is a Bhopal-based freelance journalist and a member of 101Reporters, a pan-India network of grassroots reporters.