Today, women's literature in India commands an increasingly radical space for itself in the literary world; readers with a feminist consciousness and a newfound appreciation for the complex and radical nature of women's works are drawn to them- from Sharmila Rege's incisive critique of Brahminical patriarchy in Against the Madness of  Manu to Ismat Chughtai's portrayal of female sexuality and desire in Lihaaf.
Although women's literature has flourished spectacularly over time, the systematic exclusion women faced from the larger literary canon cannot be overseen. Nor can one forget the casual dismissal of their work by their male counterparts, under the pretext of being too fluffy or domestic. If today, women's literature is finally receiving the respect and appreciation it deserves, one must not forget those pioneers from decades ago who laid the foundations for the same to occur.
Too often forgotten or skimmed over in discussions surrounding the rise in popularity of published material in the country, these authors often had niche profiles, publishing short stories and poems and thereby enriching the literary scene in their own ways. A true understanding of the history of feminist publications in India is incomplete without the knowledge of these authors. We shift the spotlight today on one such author, Homvati Devi, and examine her life and works. 
Homvati Devi's early life
Born in Meerut in 1906, Homvati was an only child. As a young girl, literature and poetry held the most appeal to her, and the more she read, the more she was inspired to write as well. Yet she didn't pursue this seriously until much later, after the demise of her husband, Chiranjilal. During the course of her marriage, Homvati would pen several short stories concerning tensions within the quintessential Indian household,  though none of these would be published.
The frictions in a household and the constrained lives a woman had to lead within them would go on to become recurring themes in Homvati's work. In 1929, following the demise of her husband, she was encouraged by author Krishna Chandra Sharma to publish her own work. Nearly a decade later, she triumphantly read out her first story to a conference of other writers at the Nauchandi Mela. Her work was a hit- it was appreciated by everyone for its lucidity and intimate portrayal of life in an Indian middle-class family. 
In all, Homvati Devi, as she came to be fondly called later, would go on to publish four short story collections independently- Apna Ghar, Swapna Bhang, Dharohar, and Gote ki Topi. The stories have been translated into English by the eminent translator Manisha Chaudhry. With the publication of these works, Homvati would become one of the first women to experiment in the genre of Hindi fiction and would go on to firmly establish herself as a pioneer for women in the literary scene.  
Homvati Devi life as a writer
Perhaps one of her most memorable contributions to the budding crowd yearning for intellectual debates around literature in Meerut was the Meerut Hindi Sahitya Parishad. Following the Nauchand Mela, Homvati would go on to helm the mantle of the literary organisation, holding events regularly wherein lovers of the printed word would assemble and jostle over the different literary strands developing in the Hindi canon at the time. So significant was the Parishad that it is said Homvati's own lawns would soon become a place where the liveliest debates on the fate of Hindi literature would be held.
What more could she, as a pioneer and appreciator of art herself, want? The parishad grew in popularity and membership over time, with select invitations being sent to prominent authors in the region to deliver talks and presentations.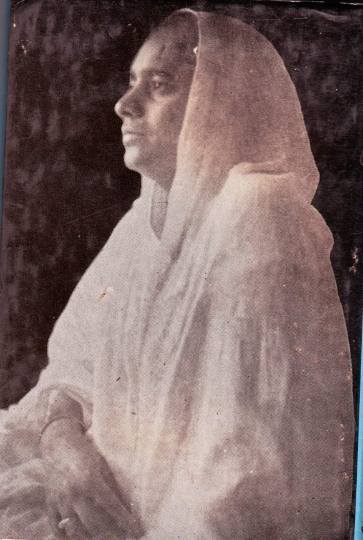 The invitation to the Parishad's annual meeting would become a status symbol in its own right- it would go on to be held in high regard by authors. And who could reject an opportunity to meet like-minded connoisseurs of literature? Agyeya, another esteemed author, would even come to be closely associated with the Parishad, sending out invitations to authors and poets ranging from Hazari Prasad Dwivedi to  Harivansh Rai Bachchan.  
In fostering an intellectually stimulating space for bibliophiles to interact, Homvati secured her reputation not just as an immensely talented writer, but also as a true appreciator of the arts. She was an artist through and through, just as enamoured with and inspired by the works of other artists as any other common person. 
Literary themes in Homvati's work
Simultaneously intimate in their relatable portraits of life in the Indian household, and chilling in the haunting depictions of the constrained lives women led, Homvati's works offered commentary on several issues prevailing during her time. Her characters would find themselves stuck in patriarchal chains, yearning for a way out. 
In her simple way of writing and her eye for detail, Homvati would evoke sympathy and concern in her readers, arousing in them a consciousness regarding the plight of women at the hands of their male relatives, and stirring in their anger at the all-consuming, yawning maw of male supremacy as it casually ruined the lives of women per its whims.  
Ranging from issues surrounding the harrowing lives under judgemental eyes widows in India had to lead, to commentary on social issues across castes, classes and religions, Homvati's works tackled a myriad of issues. These weren't discussed directly; rather, Homvati chose to depict the lives of the people who were affected by such events to evoke sympathy within her readers and condemnation against the status quo.
It is true that her works are a reflection of the brutal times in which they were conceived. Yet decades may have passed since the publication of her works, and male supremacy remains an evil to be dismantled at all costs. As such, her works continue to hold relevance in the modern cultural zeitgeist as well. 
One particular short story- Apna Ghar,-stands out, especially amongst her works. Literally, the title translates to Our Home. A plaintive title at first glance, one realises only upon finishing the story that the title- and the story at large- grapples with an important feminist issue, namely physical space. Following the death of her husband, the story's protagonist, Uma, seeks shelter with her extended family, all of whom mistreat her.
Physical space and the need for privacy is an important aspect of the story- not only does Uma not have any space within the house to truly call her own, but also the need for privacy only comes up in the story when it is brandished as a  weapon by Uma's abusive relatives, as a ploy to separate her son from her. When her son falls prey to typhoid, an extremely tense Uma resorts to begging her relative referred to in the story as the master of the house, to enforce the patriarchal nature of their relationship- for a small space in the house, even a small corner, where she can nurse her feverish son back to recovery.  
The complete lack of physical space women face- and the entitled ways in which males encroach on these spaces- is a central theme present in the story. When her husband passes away, Uma's troubles only exacerbate when her relatives use a long, drawn-out judicial process to reject her claim on her husband's property. The 'master of the house,' demonstrates his uniquely male strand of entitlement and his abusive nature- he attempts to deprive Uma of her own home to vindicate his position as the patriarch.  
Although Uma's story is only one of several written by Homvati, it is a good starting point for beginners who wish to immerse themselves in the author's body of work. It is a moving piece, written lucidly and with such care that one cannot help but feel the claustrophobia and helplessness Uma feels. Such is the power of Homvati Devi's emotive style of writing.  
Legacy of Homvati Devi
Hailed as the Mahadevi Verma of western Uttar Pradesh for her compassionate depictions of the lives of women in India, Homvati Devi remains one of the first women writers to step into the Hindi literary scene, paving the way for the expansive body of Hindi women's literature that we know of today.
In fact, so influential was one of her stories, Gote ki Topi, depicting the life of a widowed girl, that it was even adapted into a film named Sindoor. Along with Agyeya, Krishna Chandra Sharma and other literary heavyweights, her contribution to Hindi literature through the Meerut Sahitya Parishad remains unrivalled. If today women's literature enjoys the appreciation and respect, it rightfully deserves, the influence of authors like Homvati, the torchbearers, cannot be understated.  
Finally, this would be an insincere ode to Homvati Devi without acknowledging those other equally talented artists who were active during her time but still do not receive the praise and respect they deserve for their work.
In celebrating the vast landscape of women's literature, we must take a moment to look back and thank those who took the first strides in publishing their stories. We thank Geeta Sane, Darisi  Annapurnamma, Vibhavari Shirurkar, and of course, Homvati Devi, and the countless other women writers whose stories we must acknowledge and revere.
---
References:
Mukul, Akshaya. Writer, Rebel, Soldier, Lover: The Many Lives of Agyeya, Penguin Books
सामाजिक रूढि़यों का मुखर विरोध करती हैं होमवती की रचनाएं – The compositions of Homvati Devi vehemently oppose the social stereotypes – Uttar Pradesh Meerut City Education News (jagran.com), Jagran 
निराला जी रखते थे होमवती देवी के प्रति आदर भाव – Nirala ji had respect for Homavati Devi – Uttar Pradesh Meerut City Local News (jagran.com), Jagran
Therigatha: The First Writings Of Our Ancestresses | Feminism in India, Feminism in India
Anamika's Reshaping Of The Hindi Canon: The 2020 Winner Of Sahitya Akademi Award For Hindi Poetry | Feminism in India, Feminism in India
Tharu, Susie, Lalitha, K., Women Writing in India: 600 BC to the Present
Datta, Amaresh. Encyclopedia of Indian Literature, Vol 2, Sahitya Akademi.
Ashok, Anukriti. Exploring the 'New Woman' in the Nationalist Movement Era: A Discussion of Two Hindi Short Stories- Homvati Devi's Apna Ghar and Mahadevi Verma's Lachchma, RJOE