The recent verdict on affirmative action in the US brings back historically oppressive methods of denying students from systemically marginalised communities their right to education. The step has been criticised by academicians who see it as a "huge blow," against efforts to maintain diversity in academic spaces (Janet Gyatso, Professor, Harvard School of Divinity). It is important to understand why 'uniform codes,' cannot be seen as measures towards fair admissions in universities.
Justice Ketanji Brown Jackson critiques the ignorant move in the powerful dissent on the Supreme Court's decision to end Affirmative Action: 'With let-them-eat-cake obliviousness, today the majority pulls the ripcord and announces "colourblindness for all," by legal fiat. No one benefits from ignorance (…) It will take longer for racism to leave the US.'
While the dissent by Justice Sonia Sotomayor warns, 'Ignoring race will not equalise a society that is racially unequal. What was true in the 1860s, and again in 1954, is true today: Equality requires acknowledgement of inequality.' With discussions on racial discrimination once again taking centre stage following the Affirmative Action row, the impact of the policy change on South Asian immigrants in the US must be reviewed. 
Marginalisation and discrimination of South Asians in the US
As per records, 5.4 million South Asians live in the United States, with their origin in India, Pakistan, Bangladesh, Nepal, Bhutan, Sri Lanka, and the Maldives. Discrimination based on caste, class, gender, and religion, marks South Asian societies at home, and in most cases, immigration does not absolve the South Asian communities of their existing social hierarchies.
As a result, immigrant South Asians with marginalised caste/ gender/ sexual identities suffer two-fold discrimination – first, as a racial minority in a white-majority country, and second, for their caste/ gender/ sexual/ religious identity among South Asians in the US.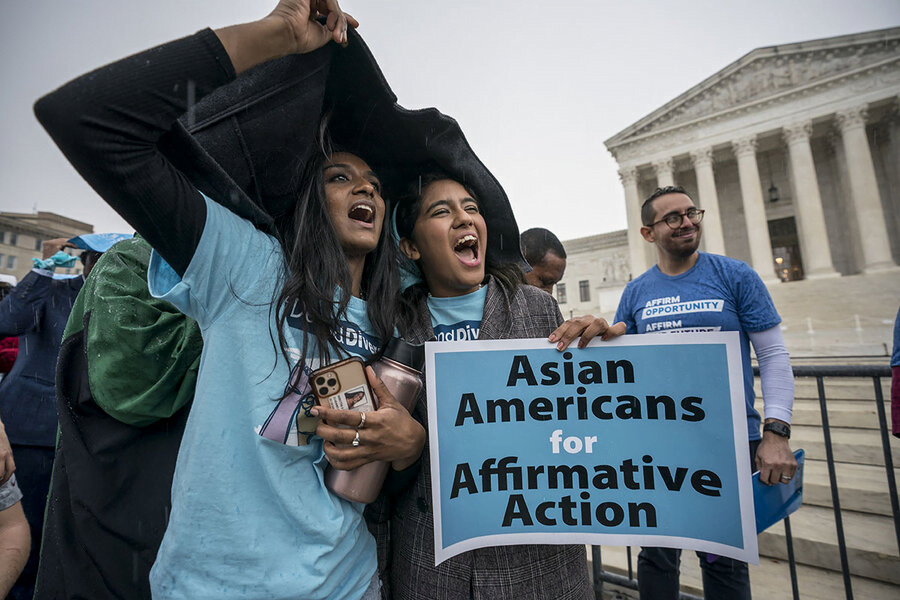 Growing anti-Muslim sentiments in BJP-ruled India further marginalise the Muslim immigrants in the US, who have been victims of xenophobic violence since 9/11, with Muslim women facing severe harassment in schools and colleges for expressing their religious identity. Abusive remarks like "7/11 brown," targeted at Muslim students show the overlap between xenophobia and racism, defining the nature of discrimination against South Asian Muslims.
The report on post-immigration caste-based discrimination in the US is appalling. The study on Caste in the US by Equality Labs finds: 25 per cent of Dalits in the US have faced verbal/ physical abuse, one in three Dalit students has been discriminated against in academic spaces, two out of three immigrant Dalits have been treated unfairly at the workplace, and one in two Dalits in the US live in fear of their caste being "outed." The study shows how caste is among the major bases of social discrimination in the US, and policies on diversity without considering 'caste,' would be incomplete. 
Caste and affirmative action
The relentless efforts of South Asian students and civil rights activists in the US had successfully established the need for academic institutions to "explicitly express a position on caste." Neha Narayan, a former Brown University student who advocated for policy change, mentions, 'caste follows the South Asian community wherever they go.'
Years of student activism led to policy change in US universities, with Brown University being the first Ivy League institution to add official caste protection and anti-caste discrimination measures. Other US institutions including California State University, Brandeis University, and Harvard University have incorporated 'caste' in their non-discrimination policies for students and (/or) student-workers. The development looks promising with the Equality Labs calling it a "historic win," towards a more diverse and inclusive academic space.
With the Supreme Court putting an end to Affirmative Action in the US, the future of anti-caste discrimination policies looks unclear, and so does the future of South Asian students from marginalised caste identities studying in the US. 
South Asian women and affirmative action
Gender disparity in education is remarkably high in South Asian countries, with 5.9 million girls out of school compared to 5.5 million boys at the primary level. Of the region's out-of-school girls, 81 per cent are unlikely to ever start school, compared to 42 per cent of out-of-school boys; and almost half (45 per cent) of girls in South Asia are married off before their 18th birthday. Immigrating from patriarchal societies with massive gender discrimination in education, South Asian women are subjected to sociocultural impositions that make further studies in the US more difficult compared to the cishet male immigrants.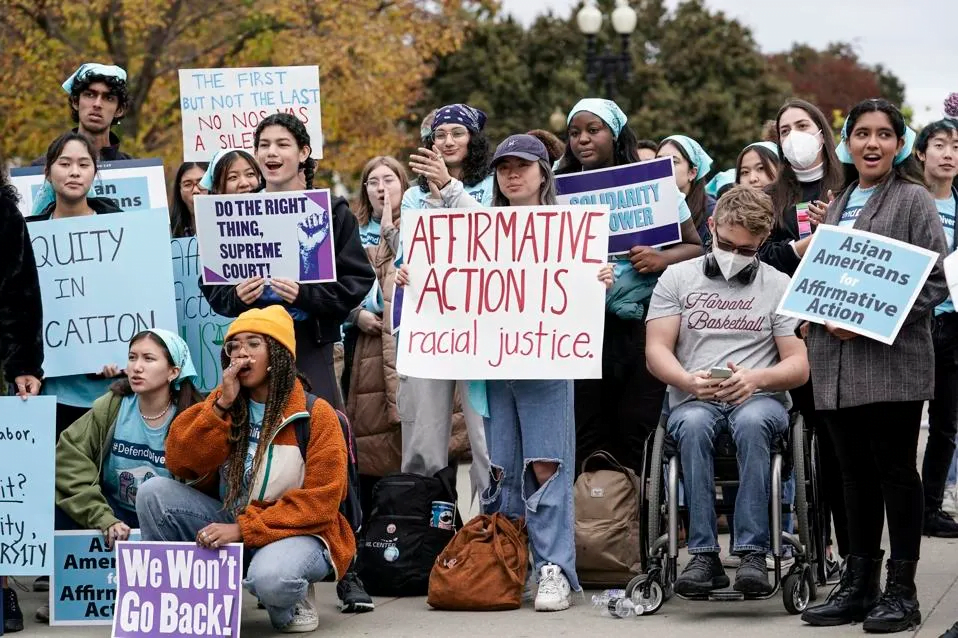 South Asian women bear the brunt of racial and gendered discrimination, both at home and in academic spaces. Affirmative Action that considers racial inequality could have finally meant a discrimination-free inclusive learning experience for South Asian women. Students immigrating from South Asia to study in the US, especially Dalit women and people from gender and sexual minorities (GSM) have already crossed a tumultuous road in the hope of an inclusive academic space.
If the US institutions can retain anti-caste discrimination policies, it could promise the Dalit students who identify as women their right to education and expression – one that has been constantly challenged in their homelands. 
Nothing more to be done about discrimination?
In her 1996 speech at Loyola University, Chicago, Coretta Scott King expressed deep concern regarding the attempts to abolish Affirmative Action, 'To abandon affirmative action is to say there is nothing more to be done about discrimination.' The recent verdict on Affirmative Action is that devastating moment in American academia that has been warned about. Those who fail to recognise the inherent racial, religious, and (/or) caste privileges are seen to push the 'one land one code,' argument, ignoring the fact that equity is not pre-given.
The State-sponsored attempts to promote anti-reservation policies in India contribute to the growing social and religious intolerance at academic institutions at home. At a time when the Universities in the US were beginning to incorporate 'caste,' in their policies for inclusion, the recent verdict does not only end all attempts towards equity on campuses; it also legitimises white supremacy in academia. South Asian students in the US have played a remarkable part in the struggle demanding acknowledgement of the layers of discrimination faced by students of colour at the institutional level.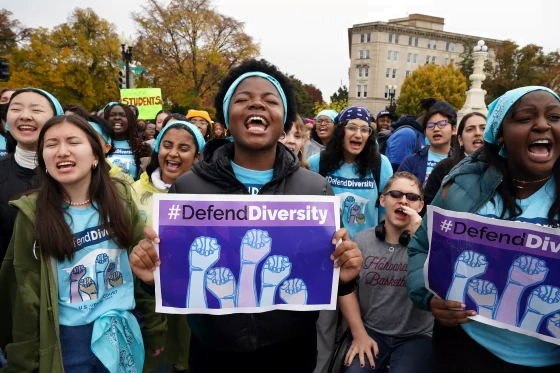 Affirmative Action, along with the acknowledgement of caste-based discrimination, would have meant an inclusive and safe space for South Asian women from marginalised communities. The impact of the verdict against Affirmative Action on South Asian women studying in the US could be terrifying, as they are once again subjected to double marginalisation, as South Asians and as women. Is there nothing to be done about discrimination following the "let-them-eat-cake obliviousness," that just legalised white supremacy in academia? Time will tell, but at what cost? 
---