A cursory scroll through Bangalore-based artist Devi Seetharam's Instagram feed reveals a series of gorgeous paintings presented in a distinctive monochrome palette. The series, titled "Brother, Fathers and Uncles," shows eerily faceless men dressed in traditional white mundus, confidently occupying the entirety of the canvasses on which they've been drawn. These men walk over strewn laburnum and jasmine flowers; they tuck newspapers under their arms and swing their paal pathrams as they walk around their neighbourhoods; they hang out with other men similarly dressed.
This is the series envisioned by Devi, whose experiences from her own hometown, Trivandrum, inspired much of the ideas behind the paintings. By highlighting the complete dominance of men over public spaces, and the brotherhood of patriarchy codified into the ways they interact with each other, Devi aims to bring to question the systematic physical exclusion women face in the country. 
Her artworks are instantly recognisable- her series, replete with visions of brown-skinned men dressed in mundus going about their lives in a world that seems to be scarily devoid of any women, are drawn so distinctively that it is hard to not identify their maker at the first glance. The series has seen a particularly busy year lately- it was recently displayed in the famous Kochi Biennale until April of this year, where it turned heads and became the talk of the festival. 
In a conversation with FII, Devi discusses her paintings, the artistic process involved behind them, and the ways in which culture, art and the patriarchy intersect in the country. 
FII: Can you walk me through what motivated the series titled "Brother, Fathers and Uncles," and how you started working on it?
Devi: I think some of my other long-winded answers covered most of this, but it is a sense of being tired. You might have read in other texts that I have omitted a lush Kerala setting for a weathered/worn surface; the work is porous; it is physically gritty and grainy. It is an absolute physical pain/laborious process to portray the mundu the way I do… but it is a process-based work. The grinding away at layers of paint is part of my practice, negotiation and relationship to the subject. 
FII: When you started work on this series did you already know you would be making references to your own culture? You have previously described your earlier works as being 'culturally devoid,' so it was accessible to everyone- what motivated the change in your approach with this series?
Devi: I began this series when I moved countries in 2016 and felt my previous body of work would not carry well to my new setting. I had prematurely been exploring a series depicting women in abayas. The reading in the geographical setting I was in was fair and multi-dimensional. I feared carrying that work to a Caucasian space would be met by a lack of sensitivity and corner the works. I later realised it was never my place to explore that theme, but that is a different story.
In Australia, I struggled to find a new subject or theme to explore or connect to. This led me to explore my own relationship to my home, social dynamics and history. So, in October 2016, the series was conceived, capturing what I wanted to express; but it was the style, texture and technique that took me over a year to nail down. It has continued to evolve since then.
So, this series was not conceived with the intent to exhibit, it was me hashing out an idea for myself, in a shoebox of a studio I rented. The works were first shown in France, Germany and Australia before they got opportunities in India.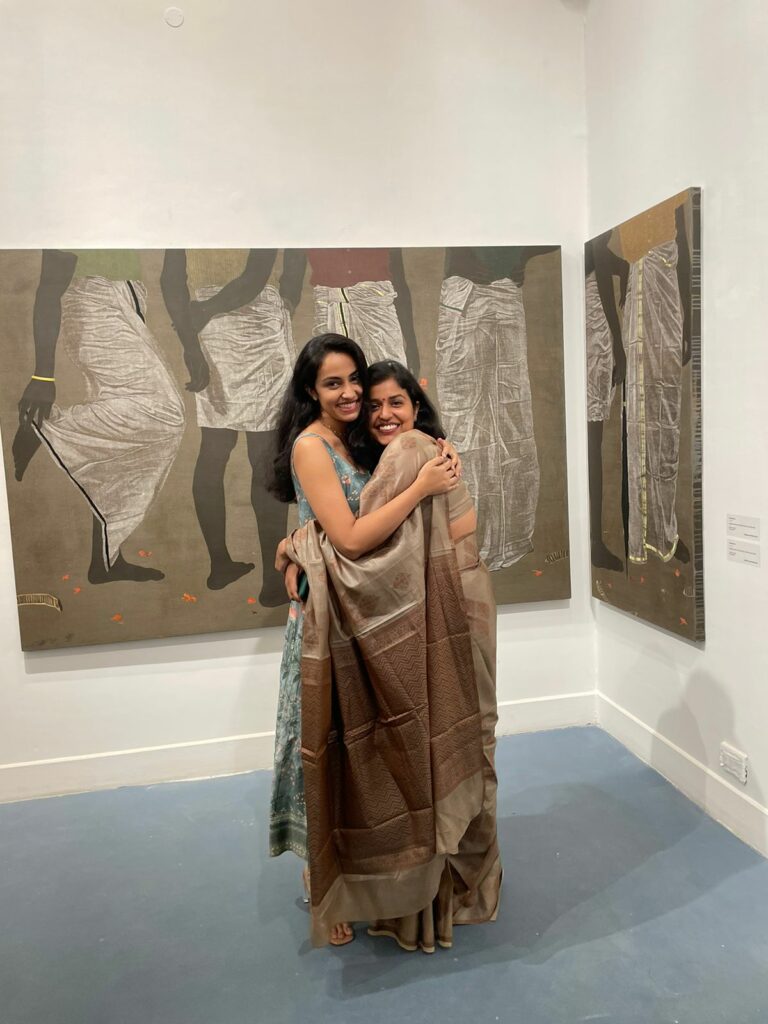 Coming to India, and showing the work here has further grounded, questioned and acknowledged my practice. Kochi Biennale provided a large platform where people locally, nationally, and internationally could connect with the works intuitively with nostalgia or a nuanced understanding.
FII: What do the mundus, the strewn flowers and the coconut fronds signify? Is there significance behind your decision to omit the men's faces from the paintings? 
Devi: When I first visualised the work, the framing or cropping was apparent. I wanted to use the mundu as a vehicle for my critique. But I also wanted to express that this issue or concern is not of the now, neither current nor fleeting, but morphing and shifting and undulating through generations.
I wanted to capture the passing of time- of this state seeming and being continuous. These people have occupied and used a space, and owned it as their own; over time these floral elements have come to rest. The concept is inspired from or borrowed from the Western concept of vanitas, a reminder of an inevitable end, of decay, of age, of impermanence, it is a visual indicator of time. And time that is ticking. I felt the cropping provides all the information one requires to read into the work. It was an intuitive decision or visualisation from the beginning. I don't see value, in this series, to connect with each individual but as a collective that is othered, which is observed and questioned. 
FII: On the one hand, these men are faceless, on the other, the title seems to emphasise on their identities as family members. How was the title for the series chosen?
Devi: The title is inspired by the fact that it is people who hold these relationships who still perpetuate the reality we confront. Despite these relationships, the associations of care, empathy, support and understanding are lacking. It is this psyche, depicted on my painted surfaces that percolates into all contexts regardless of change of settings. 
FII: Do you have some favourite musicians, authors and other artists that you think have informed your own works in any way, or that you generally enjoy consuming the works of whenever you wish to destress?
Devi: Given that the work was conceived and explored in a Caucasian space, I actually admired and recognised artists of colour who had already carved out room for their narratives. Artists like Hayv Kahraman, Toyin Ojih Odutula, Kerry James Marshall and some African painters, such as Cinga Samson who has my heart. He is an artist I discovered on Instagram after I began my series.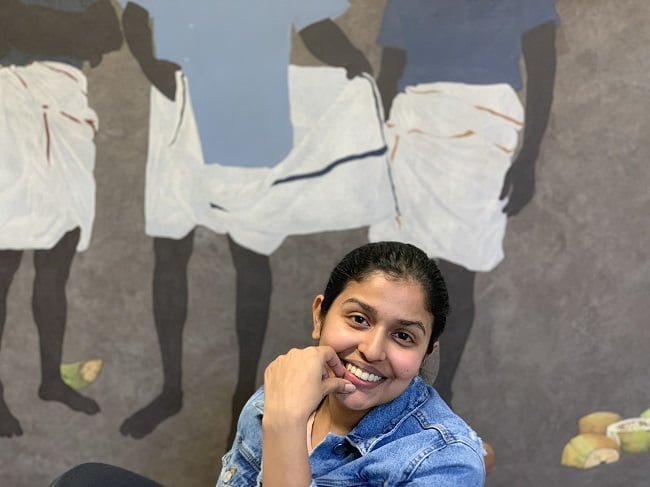 Authors of fiction I gravitate to, explore themes of identity politics, historical fiction and feminism. Music is mostly sappy acoustic tunes, some funk, disco, indie and soul. For the past year or two, I have listened to audiobooks while working. 
FII: Art in recent times has come under intense scrutiny and censorship. Were there hurdles for you, too, while painting your series, and then getting it displayed? Do you have any words to share with other artists who come from marginalised communities? 
Devi: I have been told by a gallerist that concept is not as important as my visual, that galleries often don't want to take up political, or social stances. What do you do if the spaces you speak from want to mute your messaging? Overseas I was considered a minority artist, painting themes of faraway lands.
The art world is constantly gatekeeping at all levels, no one escapes it unscathed and we all perpetuate it in some action or the other. It can be a wild and terrifying experience. I think what will keep us afloat is transparency, integrity, kindness and a sense of community.

Devi Seetharam
In India, I am occasionally questioned how rooted am I to depict my community. How privileged am I to paint brown bodies? This edition of the biennale curated by Shubigi Rao was beautiful in this way. One must read her curatorial statement and interviews. She gave a forum to resist, to seethe, to point out injustices. Her curation demanded an active and sensitive investment from viewers. 
The art world is constantly gatekeeping at all levels, no one escapes it unscathed and we all perpetuate it in some action or the other. It can be a wild and terrifying experience. I think what will keep us afloat is transparency, integrity, kindness and a sense of community.
---