India is a nation born out of a long freedom struggle that promised to function on equal representation of people from diverse genders, religions, ethnicities Etc. As a democratic nation, it promised to uphold the rights of every individual from varied backgrounds. If giving equal rights was a priority, so was the equal representation in the spaces that implement these rights in the first place i.e., Lok Sabha, Rajya Sabha and state legislative assemblies.
However, what soon followed was men taking care of these democratic bodies alone while the decline of women's representation subsequently took place. In such a state of affairs came the need to implement the Women`s Reservation Bill in India. 
A peek into the history of the Women's Reservation Bill 
The seeds of unequal representation were then sown right after India attained independence. The men controlling these agencies felt that any bias towards any group might threaten the very principles on which the nation was founded. Thus, there was no debate about the declining representation of women for the longest time.
It was in 1971 when the first committee for women was formed whose primary task was to look into the matter of women's representation in these democratic bodies. However, this committee did not demand a reservation in legislative assemblies but a reservation in local bodies.
As a result, the 73rd and 74th constitutional amendments were passed and one-third of the total seats were reserved for women in Panchayats and urban local bodies. In addition, one-third of the total seats reserved for women were also reserved for SC/ST women.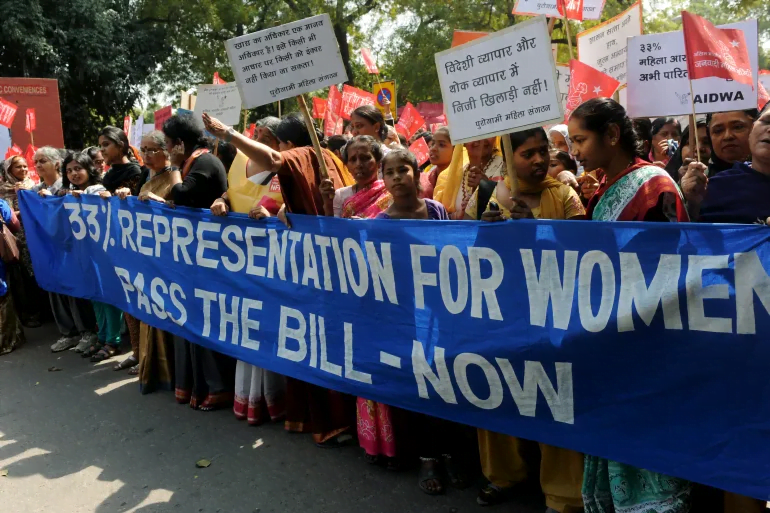 The first time the Women's Reservation Bill was referred to in the parliament was by the United Front Government of HD Deve Gowda in 1996 as the 81st Amendment Bill. Unfortunately, it soon lapsed because Lok Sabha dissolved. The issue was brought up again in 1998, 1999, 2002 and 2003 but in vain.
None of this was followed by any concrete action. The bill was then again brought up in the Rajya Sabha and finally passed. As per the bill, the seats for women will be reserved on a rotational basis and will be determined by a draw system where one seat will be reserved once in every three consecutive general elections.
However, Lok Sabha never passed the bill and ever since then, no action has been followed. Staunch opposers to the bill are parties like the Samajwadi Party and Rashtriya Janata Dal who believe that it would be unfair to have seats reserved for women in Lok Sabha and state legislative assemblies.
Why Women's Reservation Bill is the need of the hour 
According to the Gender Gap Report 2023 of the World Economic Forum, India ranked 127 out of 146 in terms of gender parity. It would take another 162 years to bridge the political empowerment gender gap. Politics and political parties function on masculine machinery where men not only take centre stage but also dominate the functioning internally. Politics has always been a power play of men and thus there are chances of women and their work being trivialised and invisibilised.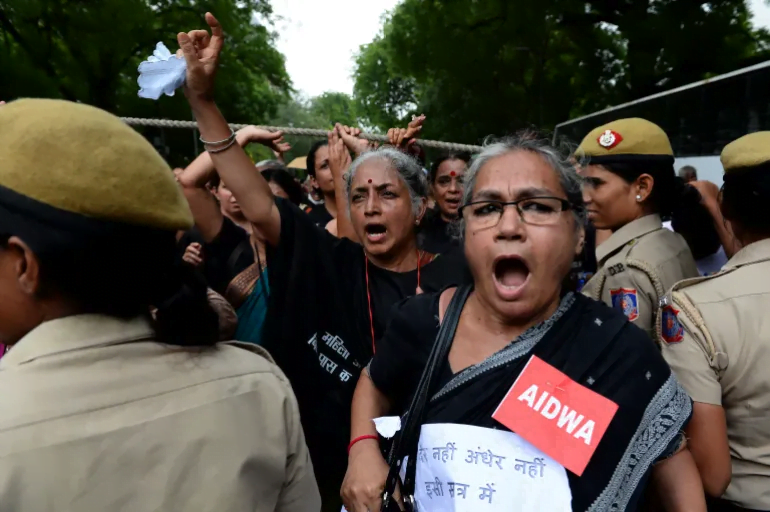 This is precisely something that takes place in the local bodies in India where even when seats are reserved for women and they win elections, the man or the patriarch of the family exercises her power. The victory of any woman is then reduced to just important signatures over official documents and she is completely wiped out of existence.
A report by The Hindu mentioned in 2022 how in Madhya Pradesh, the patriarch (sons, husbands, fathers) of the families take oath in place of the elected women representatives. One can then see the rising need for women to gain centre stage, especially in areas where any woman who wins should exercise political power, without any male interference. 
In a nation like India where crimes against women are rising more than ever before, the practices of female infanticide and foeticide still prevail, the sex ratio is declining and violence against women is prevailing not only in small towns but also in metropolitan cities, we need women who would stand up for all of them and make decisions and policies in their favour. When men speak on women's behalf, the results are not so effective when compared with women speaking on their behalf.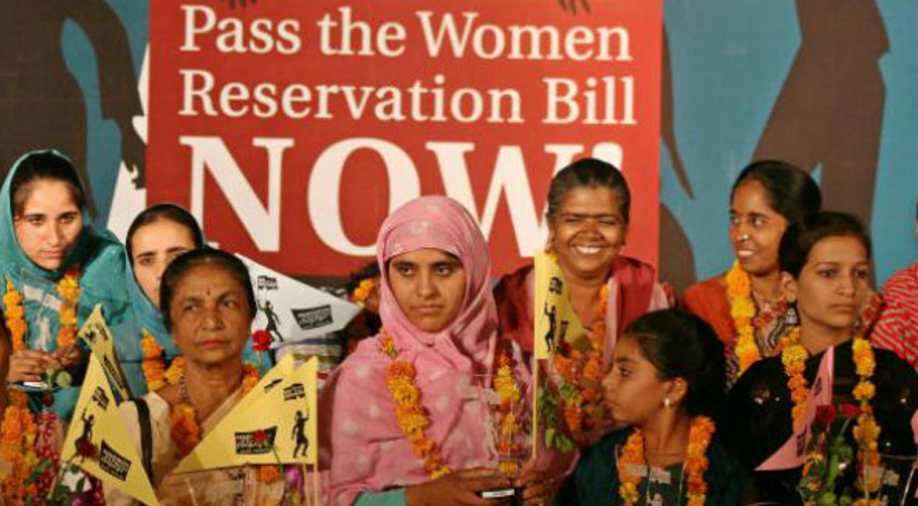 Women are also required to make policies for the nation so that these policies are not framed in favour of just one gender but for all. If these spaces have a balance of both men and women ratio, there are high chance the laws would be more democratic and authentic. Such a bill is also needed to bridge the gender gap in India, provide women with equal rights and opportunities as men and give them a space to voice out their opinions.
Women in Lok Sabha and state legislative assemblies 
Senior leader of Bharat Rashtriya Samithi (BRS) K Kavitha staged a protest in Delhi's Jantar Mantar and a day-long hunger strike to introduce a women's representation bill in Parliament earlier this year. Her and many women's demands still revolve around granting equal opportunities to women by implementing the bill in the Lok Sabha. 
A report by the Ministry of Parliamentary Affairs mentions that out of 542 members in Lok Sabha, only 78 are women, not even half of the total population. Most state legislatures have women's representation as below just 15 per cent and the rate is alarming. The national average of women in all state assemblies remains around 8 per cent and this is the need of the hour to have the bill approved by Lok Sabha as soon as possible. The percentage of women MPs in Lok Sabha is just 14.94 while in Rajya Sabha it is 14.05 percent.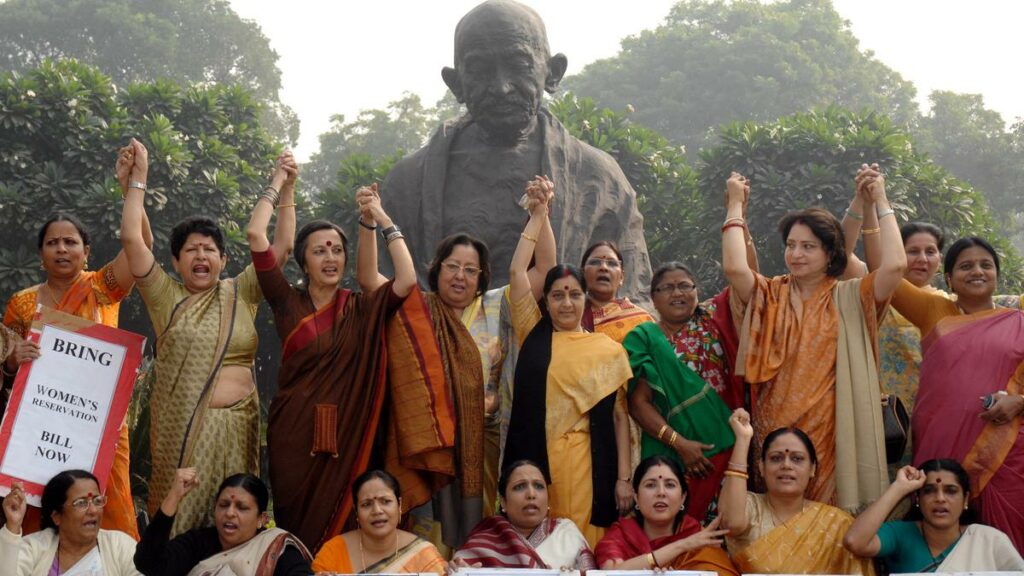 Women continue to face discrimination and voters still believe that politics is a men's arena. Thus, votes are either divided or just not in favour of the women candidates. Even if they are voted into power, their voice is either oppressed or not given equal weightage as that of their male counterparts.
Historically women have not been educated as much as men and thus their rise to the political sphere is limited. They are also subjected to misogynistic taunts and harassment both in person and online and thus, many women consider politics as a dangerous space and like to remain out of it. 
Why are reforms needed?
Both houses of the parliament, state legislative assemblies and local bodies are pillars of independent and free India. If these bodies cease to be inclusive and democratic, the very idea of India collapse. Women's Reservation Bill is the first step to include a wider say of women in policies and decisions for the nation.
The bill is needed not only to have equal representation but also to empower thousands of women who have the potential to play an important role in the mainstream political structure but just cannot because of men's dominance in the space. These women often feel that there is a man to take up their position in the parliament and suppress their voices, which unfortunately is the case in contemporary India. 
The bill should be implemented as soon as possible to provide a bare minimum to women whose voices and ideas have been erased from a democratic India since the time India got independence and to also bring a positive light for women who aspire to be in politics and change the dominant masculine status quo. 
---