Ever since I discovered the word 'feminism' in high school, I've strongly identified with it. I've derived great satisfaction in arguing with teenage boys about how feminism is not about women being better than men but, 'actually being about equal rights.' However, I've come a long way from my "holier than thou" attitude in high school now in my journey as a feminist. Sometimes I wish feminism was as simple as I thought it was when I first discovered it because identifying as a feminist can sometimes get very exhausting. If I were to explain further, it's exhausting, because I've always had to twist and warp my idea of feminism to make it palatable for the people around me.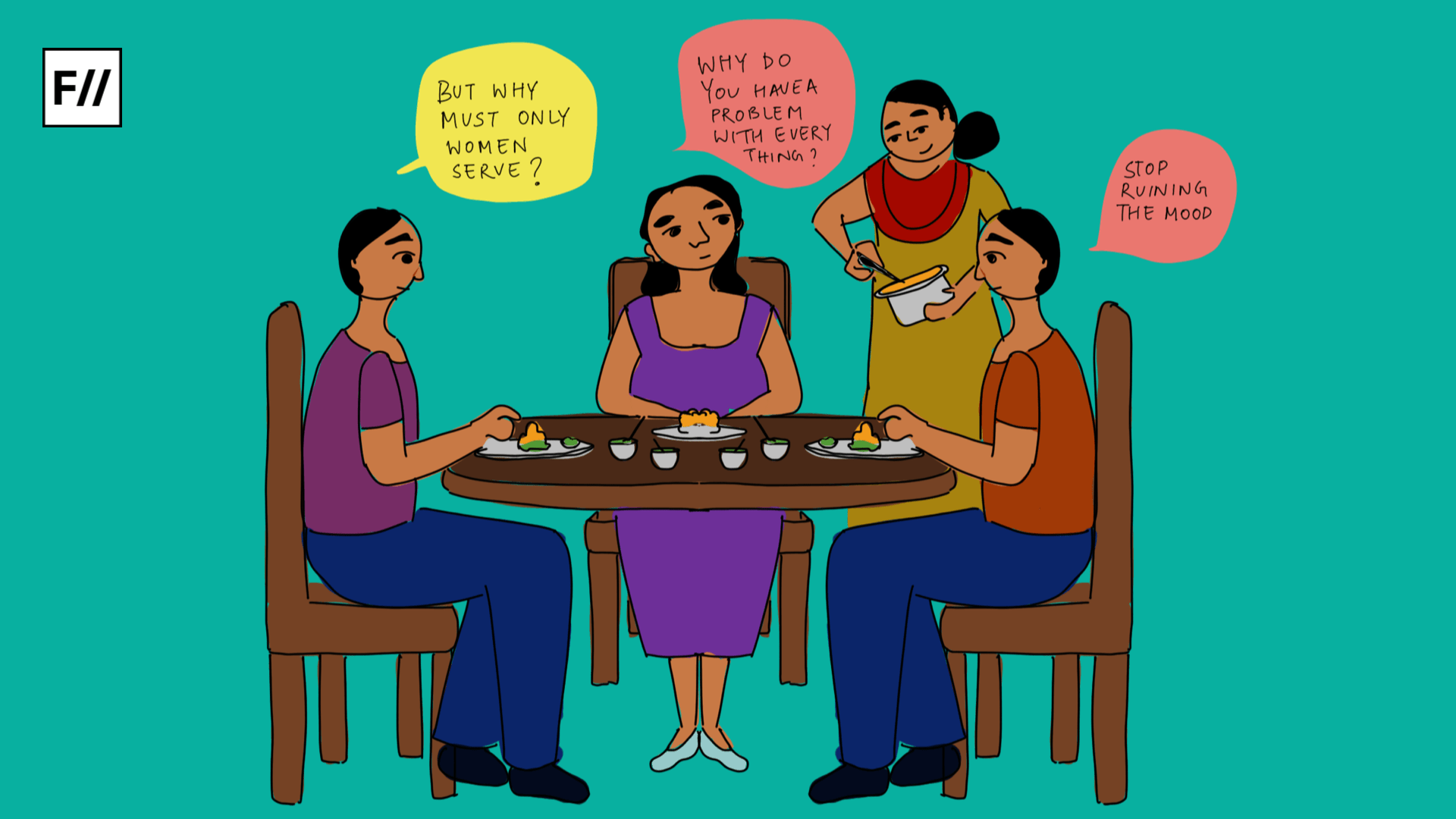 For instance, this one time, I said, 'Men are trash' jokingly to a male peer. It's a phrase I use on the regular to cope with living as a woman in a patriarchal society. It's either making jokes about the patriarchy and calling men trash or crying all the time in helplessness. My male peer instantly started an argument with me about how 'not all men' are out to make my life miserable. He raised his voice aggressively at me and asked, 'Oh really? What oppression are you facing then? Do tell.'
It was such a pompous and sweeping question that I was left speechless. The self-confidence with which he asked me that genuinely made me question myself and my lived experiences for a second. I was asked to prove that the patriarchy is a real thing to a guy to whom feminism is just something that gives women a free pass in society. When our friends finally managed to deescalate the argument, he apologised saying it was a very sensitive topic for him since he's lost friendships over it. I responded kindly by apologising to him saying that I understand that it's sensitive to him and that we should have a level-headed conservation about the issue sometime later.
I am to this day very ashamed of my response because it was a situation where a man got offended and aggressive all on his own through no fault of mine. I shouldn't have apologised but it was almost second nature to me because of course, I should be the one being understanding of his so-called sensitivity and suffering. It was also easier to apologise because antagonising him meant there's a threat to my safety and also, my desirability as a woman. I didn't want to be written off from being a prospect because I'm a so-called "angry feminist". This kind of thought process came very easily to me, and only after substantial introspection did I realise that this is problematic and I should consciously try to change it.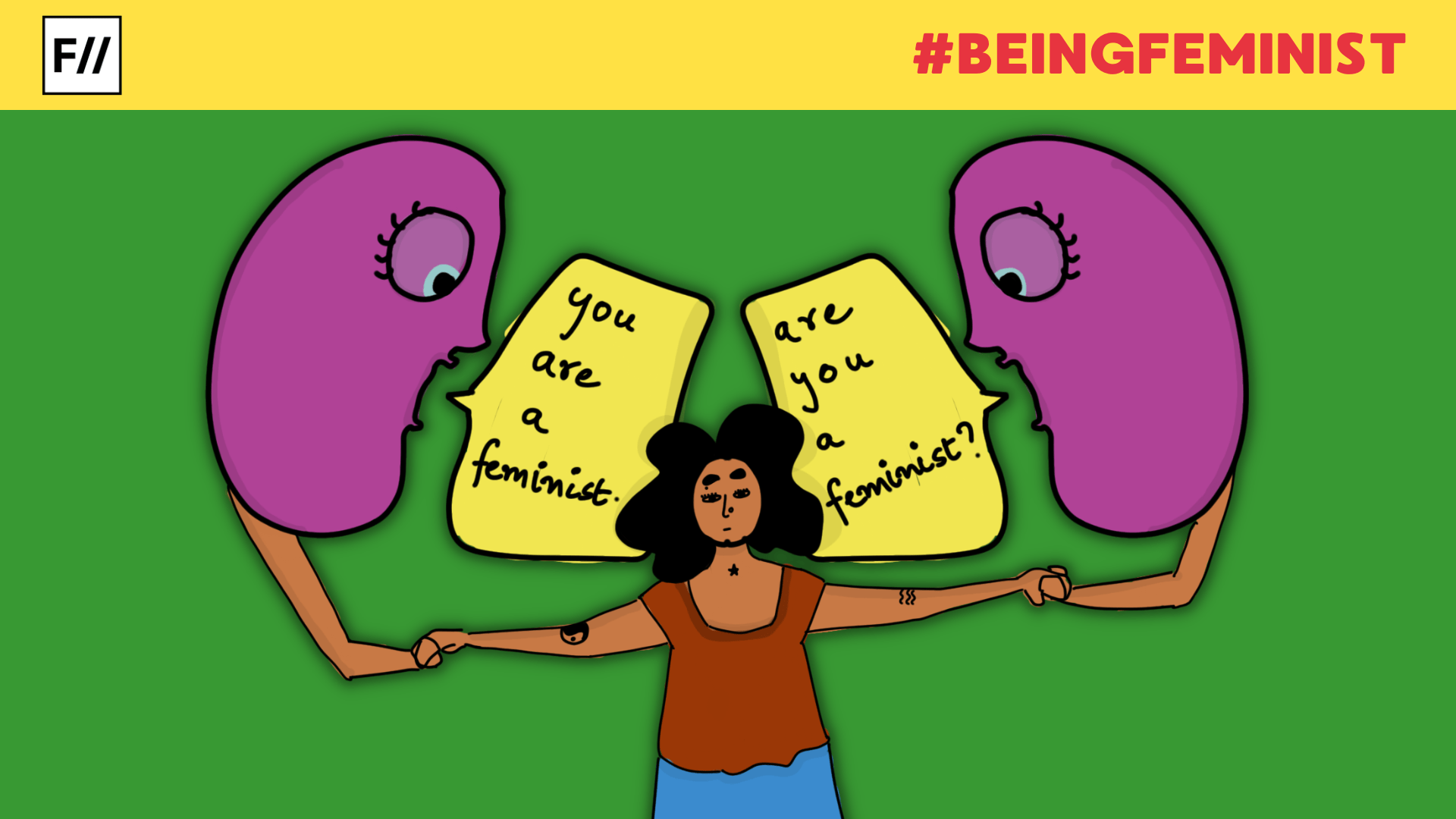 I feel a need to make myself desirable to a man above all else and to watch every move of mine so people around me don't perceive me a certain way. Sometimes, it's not just about how I behave but also how I think about how other people behave (in relation to a man or otherwise). While I've realised that 'you're not like other girls' is not a compliment, I always try my hardest to set myself apart and show people how I'm the best girl they'll ever come across. It's bending myself to fit everyone's expectations all day, every day and also, putting other women down in the process.
It's easier to see this sort of competition and striving towards an impossible ideal in older women of our generation. My mother, for instance, insists that good married women wear sarees all the time and never do anything to draw attention to themselves. In that mindset, it was very easy for her to judge a fellow married woman who danced in front of a crowd on a stage wearing tight leggings. While I might see this performance as an act of joy and empowerment, my mother sees it as shameful and inappropriate.
Similarly, in my generation, it's easy for me to outwardly encourage my girl friends to have a "hoe phase" and then, internally judge them for not settling down with one romantic partner. This actually took place in my friend group where we ended up distancing ourselves from one of our friends because she was hooking up with guys one after the other. Our automatic thoughts were- why is she not getting into a relationship with one of these guys if they all had some redeeming quality or the other. It was unfathomable to us that she would not want to be in a relationship and be fulfilled without tying herself to one man.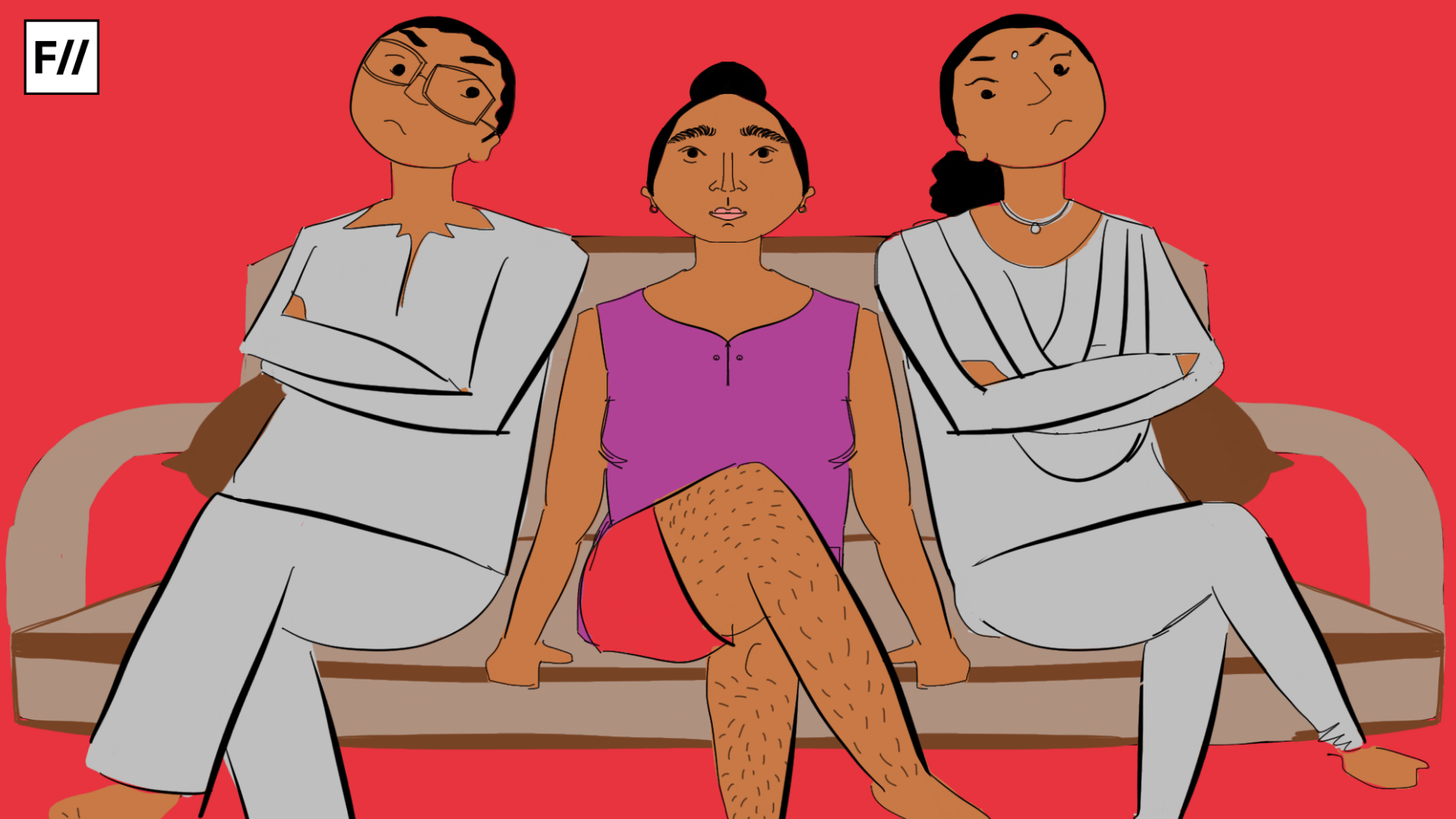 Now that time has passed, I'm able to reflect upon why this happened but at that time, all we felt was a vague sense of discomfort. Perhaps we didn't want to be associated with her in case someone misunderstands that we're the same way. To put it bluntly, for all our talk of being independent and reclaiming our sexuality, we still fit neatly into the boxes patriarchy wanted us to be in. Our feminism wasn't revolutionary by any means and even when one of us tried to break out of the box, all we did was turn our backs on her.
One of my teachers also pointed out how this is an instance where we as individuals of a caste society aid in upholding it. From a lens of both gender and caste, my friend group's response makes complete sense since the upper caste woman is in many ways an entry point through which the caste order can be broken. So, of course, the notion of one of our friends picking her own partners without any regard for caste lines made us uncomfortable.
It's not just the authorities and parents who crack down on the younger generation to maintain the social order that's always been in place. The younger generation also ends up practicing their predecessor's mindset unless they put in conscious effort not to. Thus, putting in that conscious effort, is a step I take on my personal journey to becoming a better feminist. The sooner I stop trying to please everyone around me and start recognising the contradictory nature of everything around me, the better for me.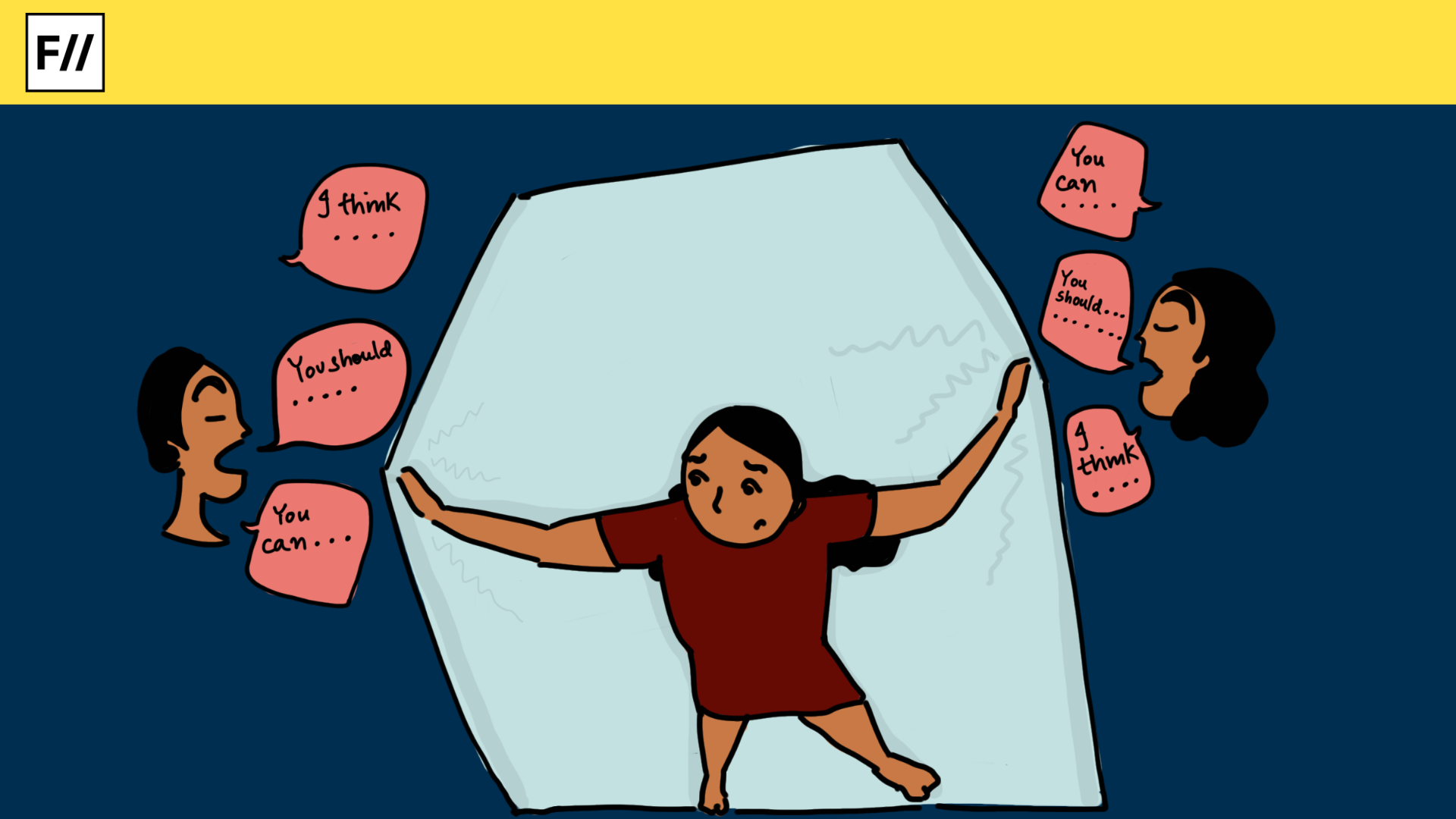 It's a constant learning process on how to just exist instead of trying to find that impossible balance between I'm 'not like other girls' but at the same time I'm not "weird" or "abnormal". It is like walking on a tightrope saying, 'I'm so different because I color my hair and maybe smoke cigarettes but at the end of the day, I have no problem with getting married and having kids.' I refuse to feed into such narratives anymore.
Therefore, I've come to the conclusion that as much as feminism is about not apologising to a man where it's not warranted, it's also about recognising the times I've been a bad feminist. It's introspecting on my own actions, acknowledging my mistakes and giving myself space to grow. Achieving this kind of growth doesn't just take place through subscribing to popular feminist discourse, but through genuine interaction with different people and education. I am learning as I go but as Roxanne Gay says in her famous essay, 'I would rather be a bad feminist than no feminist at all.'
---