With the end of Pitru Paksha, West Bengal is once again immersed in the festive spirit of Durga Puja. During Durga Puja, the goddess is worshipped in the form of a mother and in the form of a daughter. But, in reality, a menstruator is restricted in her menstruating days in this society. Menstruation is considered as an "Impure" thing in the society. Among the numerous pandals adorning the city this year, one of Kolkata's puja committees stands out, breaking the taboo and uses this issue of menstruation in their Durga Puja theme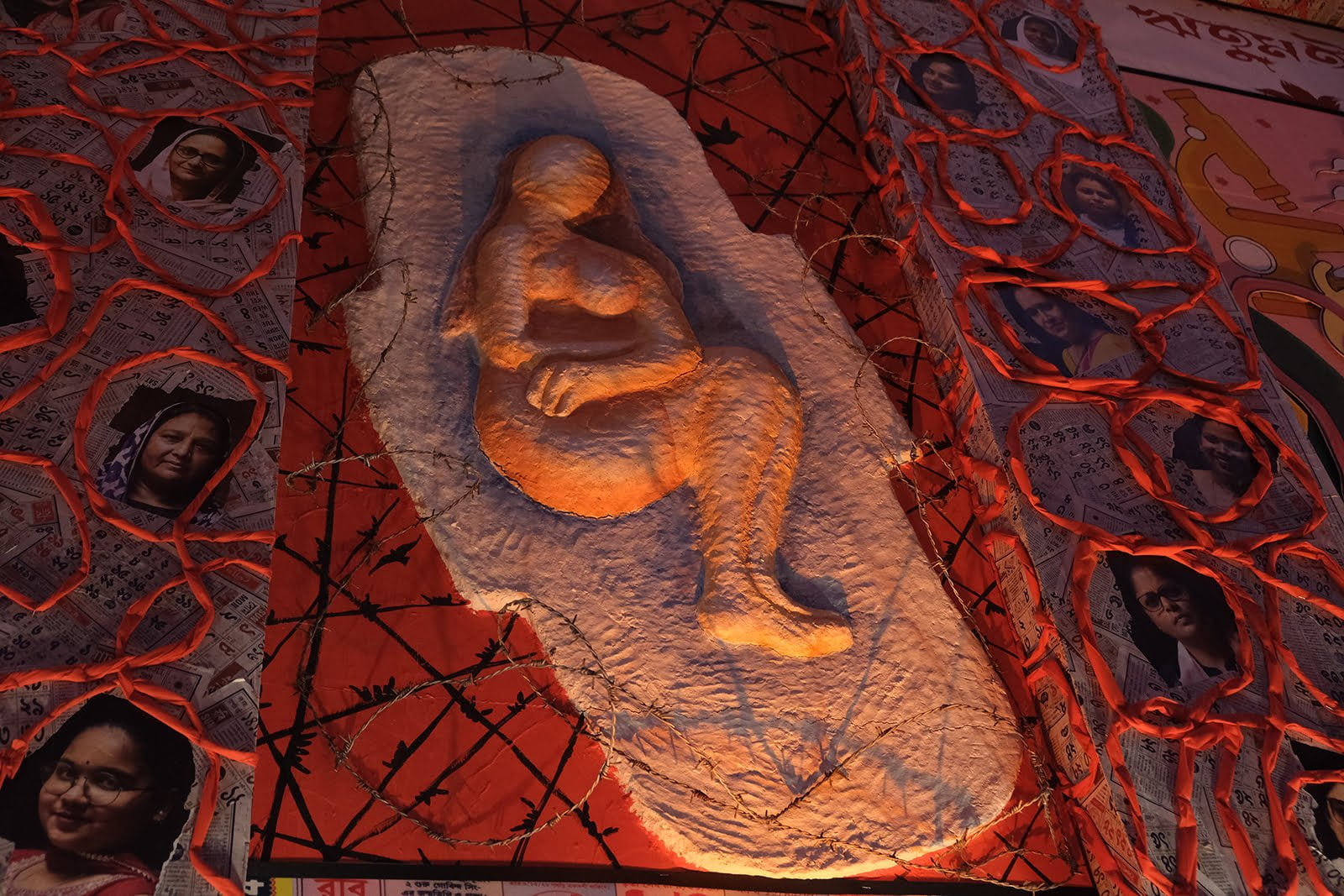 For the last couple of years Kolkata, the cultural capital of India, has been transforming into a vibrant canvas of creativity as communities compete to create the most innovative and thought-provoking themes for their Durga Puja pandals. From Mahalaya to Dashami, Kolkata becomes a platform for several forms of art exhibition. The theme-based Durga Pujas have added a new dimension to this celebration, turning it into a vibrant showcase of creativity and innovation. This innovation often provides a few thought-provoking ideas in the contemporary period. This year, the Pathuria Ghata Pancher Palli Durga Puja Committee took this initiative to spread awareness against restriction during menstrual days.
Throughout history and across cultures, menstruators have often been barred from participating in religious rituals and entering places of worship. Contextually, the Sabarimala temple in Kerala had a longstanding tradition of prohibiting women aged between 10 and 50 from entering its premises. This ban was based on the belief that it's impossible to determine whether a woman is menstruating, and that menstruating women are considered as "Impure". Similarly, Muslim menstruators across the world are restricted from entering mosques or taking part in prayers during their periods. Jewish menstruators, too, face prohibitions during their periods.
Besides the prohibition in the temple, menstruators are also restricted in their homes and kitchens. They also face discrimination in workplaces. A report says that in the western state of Maharashtra, a large number of young menstruators have undergone surgical procedures to remove their wombs to keep their jobs. In Nepal, a regressive practice is observed – "Chhaupadi". Menstruators get exiled from houses and take shelter in cow sheds. In a few places in India, a similar practice is observed in the name of Gaokor, where menstruators are isolated outside the home. A report says that while observing Gaokor, menstruators have died by snakebites.

In this context, Pathuria Ghata Pancher Palli Durga Puja Committee wanted to become a catalyst for change. They wanted to exhibit the subject in a place where it was already forbidden – the religious sphere. This is the most unique thing about this pavilion. They named their theme – Ritumati, which signifies directly a 'menstruating person'. The theme aims to break the taboo surrounding menstrual hygiene and promote awareness about it.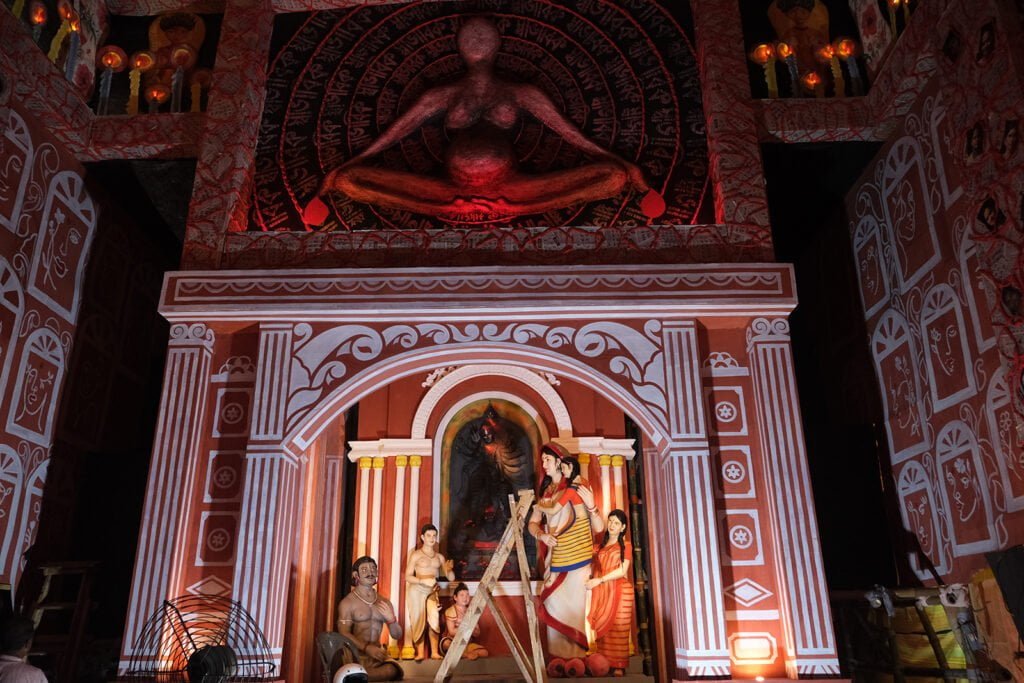 The pandal is a visual representation of the menstrual cycle, showcasing various stages of womanhood. The decorations are creatively done, with an emphasis on red (the color of blood), symbolising the menstrual cycle. The theme is a brainchild of Artist Manash Roy who shared his personal feelings regarding this issue. He said that in his childhood, he with his siblings used to play together but sometimes he used to notice that his sisters were lying down because of stomach aches & didn't come to play. Roy said that he didn't understand the reason as the matter was hidden from him. This memory inspired him to choose the theme.
Roy quoted 'Menstruation is seen as a taboo in our society and not going through it can also create complications as the woman will be termed as barren'. Menstruation is a natural biological phenomenon that needs to be accepted normally. So Roy approached his theme ideas to the Puja committee and the committee accepted it spontaneously. Manash informed that he had long wished to bring this work to the platform of Durga Puja, as lakhs of people visit Durga Puja pandals every year so he can get a large number of people to spread awareness.
Ellora Saha, the working president of the Pathuriaghata Pancher Palli Sarbojanin Durgotsab committee and councilor of Kolkata Municipal Corporation, highlighted that the issue needs to confront prevailing taboos. She said, 'Menstruation is a natural biological process, and there is no need to hide it. It's high time we challenge these taboos, and the first step is to bring such issues to the forefront.'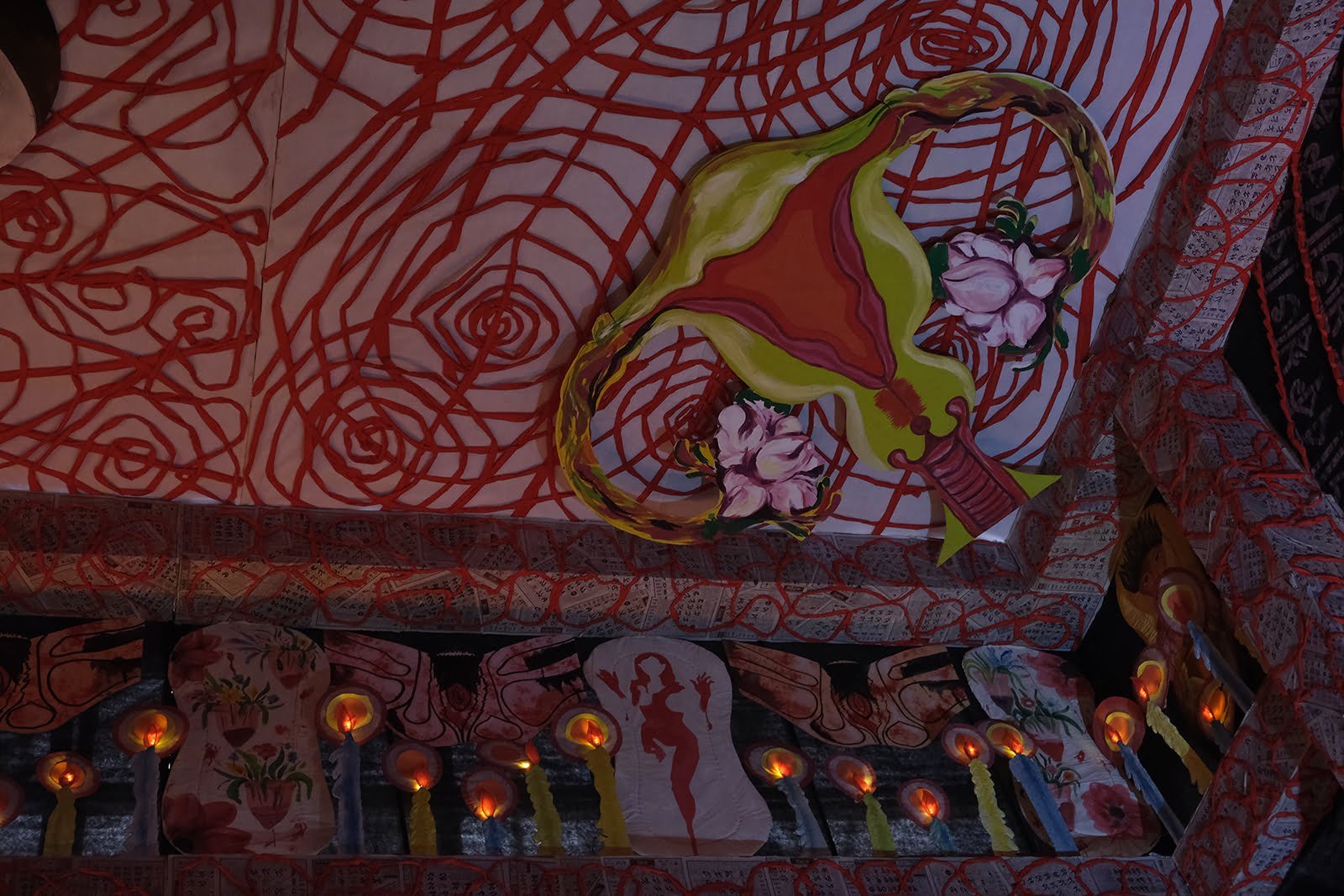 According to Saha, practices like Chhaupadi or Gaokor are nothing but torture. Those need to be stopped. She thinks that education is required, especially from home. So they approved the theme pitched by Manash Roy as they felt that the pandals consisting of the installations and sculptures will beckon visitors to confront societal taboos surrounding menstruation.
During the interview, Saha took the reference of Shri Ramkrishna who never prohibited his wife Sarada Devi from worshipping during her menstruation days. In this context, artist Roy added that, menstruation is not a shameful thing.
He says he is astonished that a person can buy alcohol easily but in the case of sanitary napkins, it is provided after wrapping in black plastic. Contextually, 50% of menstruators between 15 to 24 years of age in our country use scrap clothes during menstruation. Poor menstrual hygiene practices may cause reproductive issues and urinary tract infections. Huge cases of cervical cancer deaths are reported in India every year and out of them, a large number of deaths are caused by poor menstrual hygiene.
Roy informed that he used completely biodegradable items to prepare this Pandal. Also, in Manash Roy's team, a female artist, Laxmi was found working spontaneously for this Pandal. She is a Govt. art college passed-out student. Manash also used several Photographs of menstruators in his creation. He informed me that all of them were local people who wished to break the taboo, supporting this initiative spontaneously.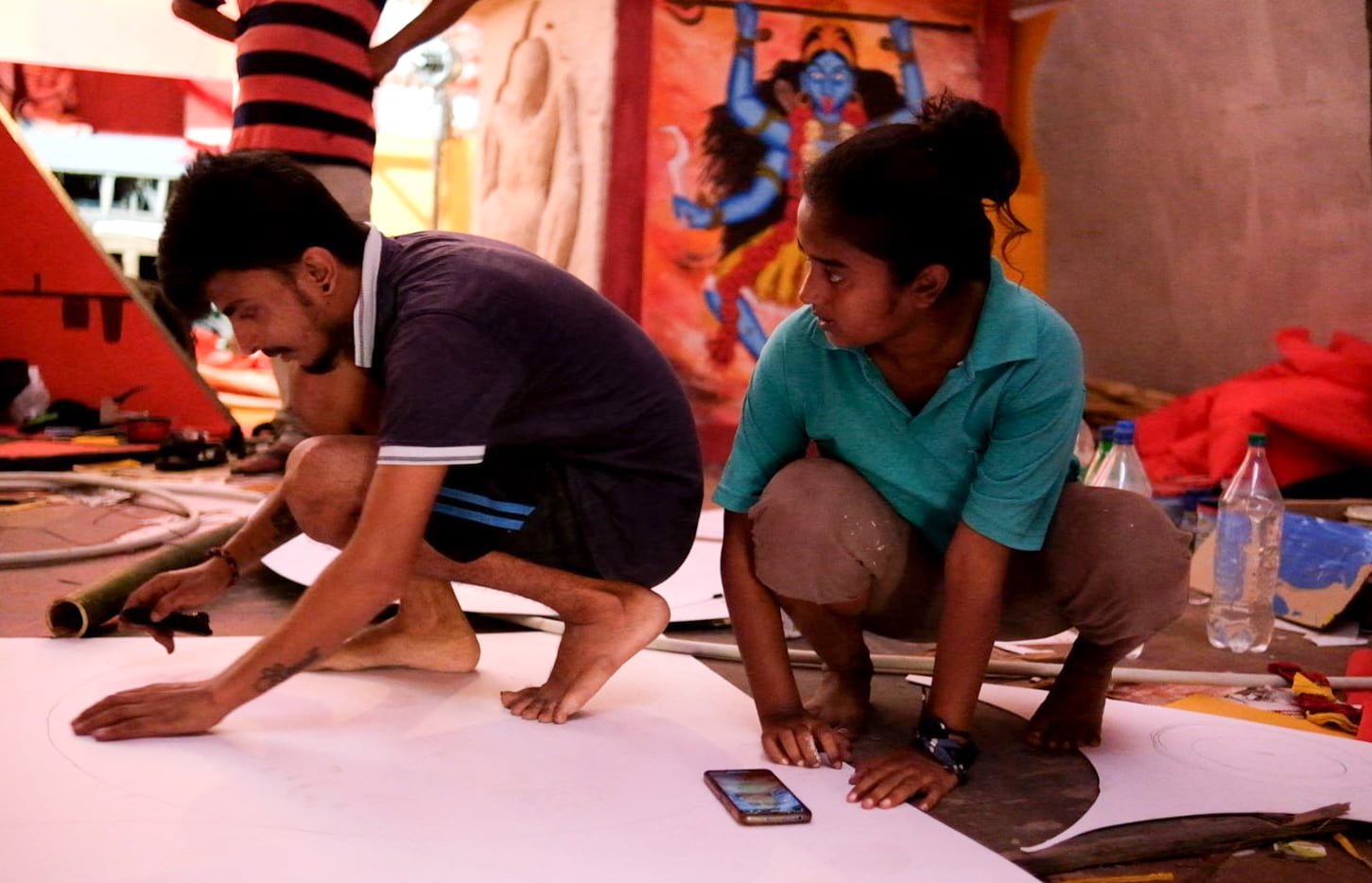 Ellora Saha also added a point that not only a girl, but a boy of the same age should be aware of this menstruation process. He should know that his sister, his mother, his daughter, and his wife had to and will eventually go through this process. She feels that the Puja Pandal will act as an educational platform.
Contextually in 2018, an Artist, Mr Aniket Mitra shared a painting of a sanitary napkin on Social media during Durga puja. He got trolled, criticised, and was forced to delete the post. Manash Roy was also a little scared initially as he also used several dummies of napkins in this Pandal. But he said during the poster launch event of the Puja on World Menstruation Day, the committee got huge appreciation from locals. Roy was overwhelmed.
Another member of the Puja Committee Mr Goutam Dutta, informed that during Puja days, they are going to arrange an awareness camp on menstruation besides the Puja Pandal, and even sanitary napkins will be distributed from that camp.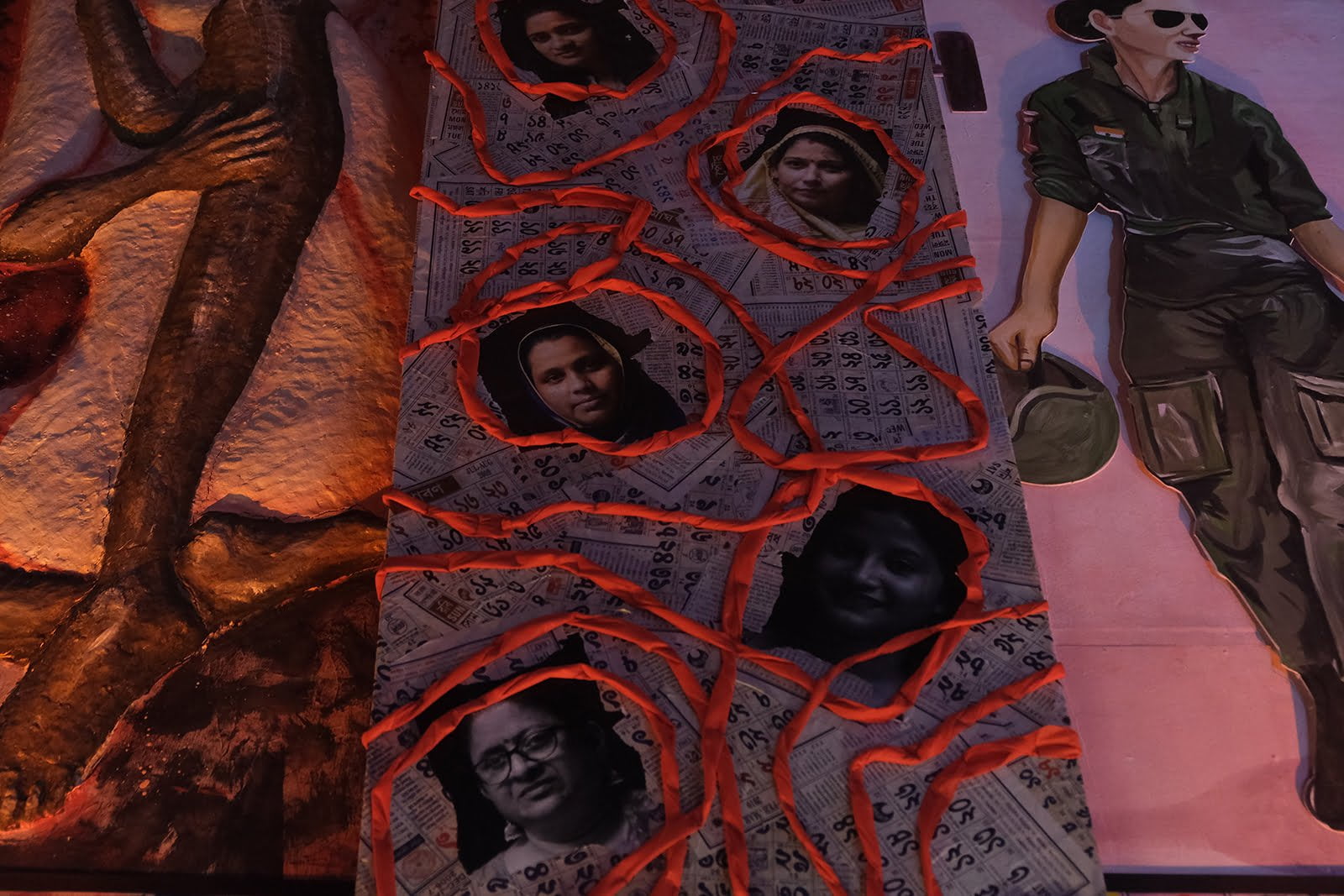 The Puja Committee feels that the essence of 'Ritumati' lies not only in unveiling menstruation's scientific relevance but in harnessing its symbolism. It champions inclusivity, urging everyone to partake in dismantling barriers that hinder progress. They feel if this initiative can change the mindset of five people at least, the initiative is worthwhile. Saha concluded that through 'Ritumati' they want to tell menstruators: 'No more Shame, No more hiding, Let's remove the veil.'
---