Following Emma Watson's #HeForShe campaign, here comes our own list. What might seem like supremely simple things actually is where a LOT of women see severe discrimination. So, give these a shot, maybe?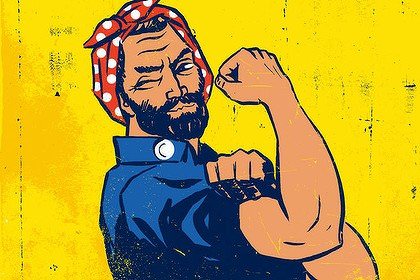 Get into the kitchen. Irrespective of whether you are single, married, or living with friends – get into the kitchen and try to fend for yourself. Cook, clean and take charge. It will go a long way in sharing equal responsibility in the household.
If you have kids do all of this – sterilize stuff, change diapers, feed, bathe, cook and clean. I have never heard of a woman "not being the diaper type." I learned to change one when my sister had a baby, so am quite sure it has nothing related to being a mother!
When you have children/ plan to have children, consider the option of your wife going back to work and you being a stay at-home parent.  Men can also be the primary care giver.
If your wife is the stay-at-home parent, acknowledge that she is running pillar to post to hold the household together. So, come home on time and contribute.
Stop making jokes that stereotype women. Any kind of joke that revolves around women being hormonal, moody, unfunny or strict wives are really not funny. So, here is a little tip – just do NOT make them!
Stop using the word 'rape' in contexts apart from referring to rape. Germany did not 'rape' Brazil in the FIFA match. Your boss did not 'rape' your happiness.
Learn that all swear words are misogynistic – yes, think about each one of them.
Don't behave like the office is where your life is. Yes, we believe in taking work seriously, but we also believe in taking life seriously. A lot of men working in corporations end up hanging around at smoking lounges & canteens and perpetrate the late night work culture. This in turn affects women, most of whom end up going home to also take care of home. So, the people who genuinely want to head home on time (yes, it is on time to leave at 6 PM!), get snide remarks and a raw deal during appraisals.
It is a woman's choice what clothes she wants to wear – however revealing they are. So, whoever the woman be, do NOT restrict her from wearing what she wants to wear.
Stop judging a woman that smokes. Drinks. Lives alone. Is voluntarily single. Is divorced. 
Wear a condom. It is your responsibility!
'Yes' only means consent. If the women seems unsure, take it as a no.
If you are in a relationship that involves sex, read up about how women orgasm. Learn about the clitoris. That's where the magic happens, my friend.
Don't force your wife to change her last name after marrying you. If she wishes to do so, question her about why she wants to and also be open to changing yours.
If the lone woman in your team is left out in team outings, lunches and team activities, go and speak to her. Plan team outings which can accommodate her (be it the place or the time).
Watch these movies – Thelma & Louise, The Accused, The Hours, Bridesmaids, Astitva (Hindi) and the recent Indian movies – Queen & English Vinglish
Don't deny reporting to a woman at work. If you report to a woman, look beyond her sex. Am sure she came to this position because of some credentials.
Make female friends, who are just friends.
Use Ms. in place of Miss or Mrs in communication. Yes, Ms. is the equivalent of Mr. and can be used for married and unmarried women.
Stand up for the women around you. If you think your dad's not sharing household chores, talk to him about it. If your colleague behaves differently with a female colleague, ask him why.
If your parents have unreasonable expectations from your wife, tell them so. If she feels that they are restricting her freedom, intervene and set things right.
Buy your daughter a ball, or a car or a monster truck along with a barbie. And buy your son a doll, a soft toy or a tiara too. And buy ALL colours irrespective of your kid's sex.
If you are with a group of men that crack sexist jokes, tell them it is sexist and in bad taste. It is not brotherhood, it IS sexism!
Know that Barney Stinson is a supremely sexist character created in recent American television. He is a character, not the reality. Imitating him won't do anyone any good.
Stop saying 'not all men'. Yes, we know that not all men rape, we know that not all men assault, and we know that not all men look down upon women. However, all women have been eve-teased, harassed, assaulted or molested at some point in their lives.
Call yourself a feminist.