Posted by Aashi Sadana
Amidst the medley of hotels, embassies, and bungalows that signal progress and power, Sanjay Basti in the heart of Lutyens, Delhi, is a paradox to the modernity and urbanisation in its vicinity. The chaos and clustered streets in the camp cut through a haphazard placement of huts and is a witness to deplorable lack of sanitation. Most families manage meagre living through daily wage labour and selling staples. Lack of financial security and an unstable future make the residents of this area susceptible to drug abuse and alcoholism.
Also read: Where Can We Cry? – Forced Silence And Subversion In Educational Institutions
The wave of dipsomania transmits and creates a generation of school dropouts and hoodlums who became a menace to the community. Women and young children are particularly vulnerable in this felonious and often patriarchal environment. Battling many such existing social evils on a daily basis is Kajal, a 21-year-old resident of Sanjay Basti who is committed, passionate and hopeful of making her home and the community a better place to live. Devoid of all pessimism, she is kind, fierce and determined, and has optimised her potential with hard work and a supportive family and peer circle.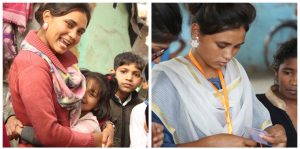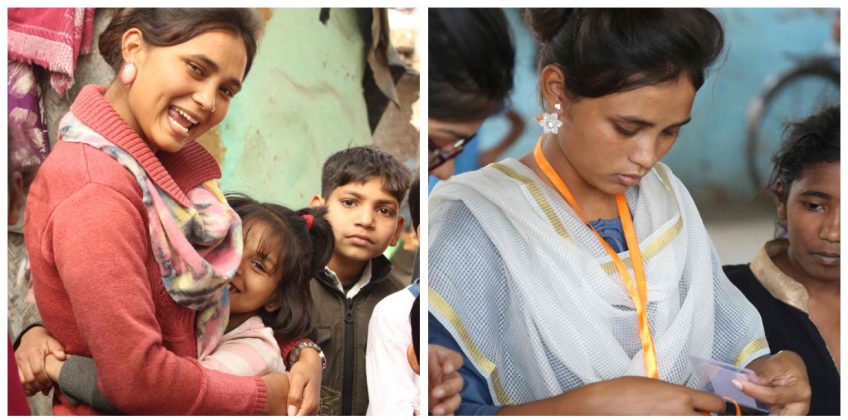 Soon after entering her early 20s, Kajal started providing financial support to her family by giving tuition classes to several children in Sanjay Camp. In her own way, without realising it, she started a journey of fighting against biased norms governing the society.
She became an advocate of menstrual hygiene by selling sanitary napkins from her dwelling. This was her first step towards breaking the vicious cycle of stigma and unawareness that majorly affects the local women's reproductive and mental health. She's been a contact point for all NGOs, social workers, and media professionals who want to write about or work in Sanjay Camp, both small and big initiatives.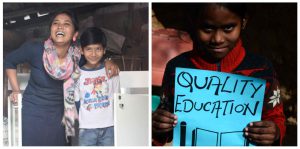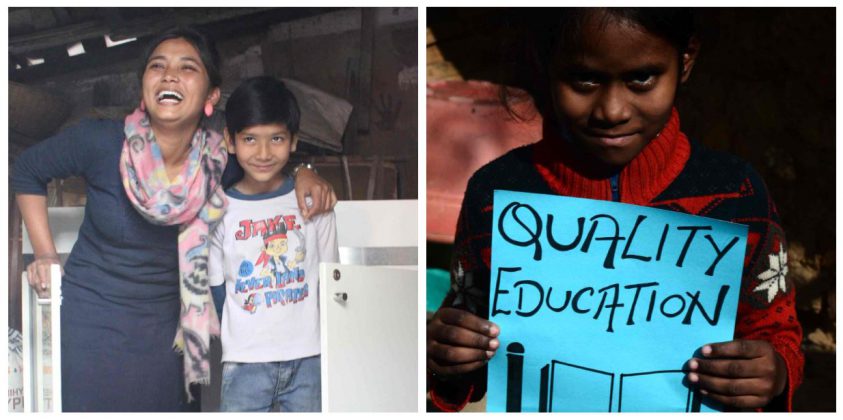 She has equipped herself with management and life skills by managing the admin and operational challenges of various NGOs and others. Kajal chose to break the stereotypes and marched ahead to advocate the need for education, peace, human rights, prevention of domestic violence and now the social-emotional well-being of fellow community members. 
As a social champion of Light Up, she spent several hours every week in managing the organisation's operations.
Somewhere along the way, Kajal got the opportunity to discover her professional ambitions and personal growth through Light Up (Emotions Matter Foundation), an NGO advocating for Social Emotional Learning (SEL) and enhancement of the emotional intelligence of children and communities. The development and establishment of the NGO in her community went hand-in-hand with her evolution as a devoted social worker. As a social champion of Light Up, she spent several hours every week in managing the organisation's operations along while bringing many children under the ambit of the educational space created by the organisation.
Her decision to become a social worker led Kajal to traverse on two journeys of transformation – one was external in which she experienced a much-needed social change in her community, and the other was internal by which her perception of emotional maturity, patience and the role as an educator completely transformed. Pointing towards a small example, Kajal confessed how prior to Light Up, she'd often resort to hitting the children in order to discipline them or improve their work. The idea that even one seemingly harmless instance of violence can scar a child's emotional health was quite alien to her.
By working with Light Up on their SEL programme, she discovered the intensity of this kind of violence and how it was deeply entrenched in the daily lives of the community members. The change in Kajal led to a subsequent change in parts of her community as she transformed it by not only enlightening students about the importance of emotions but also teachers and parents.


Apart from this, she has spearheaded a movement advocating education. Education represented that opulent commodity in Sanjay Camp that was deeply desired but rarely achieved by most. Her efforts have resulted in bringing education at the doorstep of every child residing in Sanjay Basti accomplishing a goal that no one would have thought of. Going beyond academics, the change can be observed in their behaviour as the children became less aggressive, more attentive, and inculcated a relatively humbler way of conducting themselves.
Like Kajal, we have numerous changemakers in the community waiting for their chance to have a fair shot at life.
Kajal does not want materialistic incentive to encourage children to be a part of the Light Up community but wants them to foster a will to learn. She is often found providing counsel to parents and children alike, encouraging them to be strong and empowered. At present, she is teaching under the Each One Teach One initiative to re-enrol drop-outs and this opportunity has provided her means to earn a better livelihood.
Kajal is one of the most resounding examples of how empowering even one woman can completely alter the face of an entire community. Light Up is one of the few social ventures encouraging such individuals and honing their skill sets around women empowerment, life skills, and management skills. We have realised that there is a dire need to shed light upon the most ignored components of a healthy existence – emotions that play a greater role in deciding one's life path and redefining success of an individual.


We truly believe that recognising the problem and working on it can lead to a positive change in the dynamics of the society, and our goals are being realised through social champions like Kajal. We know that a Kajal exists in every space where there is a scope of social change and we are on a journey to discover that – a journey that has only just begun. Many of our kids have also developed a passion in area of music, writing, performance, theatre and dance apart from studies. Two of them, Rahul and Sahiba, performed a spoken word मैं एहसास- eloquently expressing the angst of a child struggling to understand the way we process and handle emotions and mental health as a society. 
Also read: Tackling Gendered Violence: Empowering Girls Through Education
Like Kajal, we have numerous changemakers in the community waiting for their chance to have a fair shot at life – to receive equitable and affirmative action. Light Up is trying to bring about this sense of agency and awareness about management of emotions among low income households.
---
Aashi Sudana is a History Honours graduate from LSR and currently pursuing International Relations from SOAS, University of London. She has been associated with Light Up since 8 months ago and has played a pivotal role in documenting impact stories at the community.
To keep our organisation running and reaching more and more of the under-served population – help us by sponsoring our EQ kits, donate here. You can follow Light Up on Facebook and Instagram.