Velu Nachiyar, the little-known queen from Tamil Nadu, was the first Indian ruler to fight and triumph against the British. She did this in 1780, 77 years before the First War of Independence. Popularly known as 'veeramangai' (brave woman), she also devised the first recorded suicide bombing in history, with her Dalit commander-in-chief Kuyili.
Early Life
Born in 1730 to Raja Chellamuthu Vijayaragunatha Sethupathy and Rani Sakandimuthal, she was an only child. The royal couple thus raised her as they would have raised a male heir. She was trained in horse-riding, archery, and martial arts such as valari (throwing sickle) and silambam (fighting with a stick). She was also well-versed in several languages, including English, French, and Urdu.
she devised the first recorded suicide bombing in history, with her Dalit commander-in-chief Kuyili.
When she was 16, Velu Nachiyar was married to Muthuvadugananthur Udaiyathevar, the prince of Sivagangai. They had a daughter together called Vellachi, and ruled over the kingdom for over two decades – from 1750 to 1772, until the year that Mathuvadugananthur Udaiyathevar was killed by the British.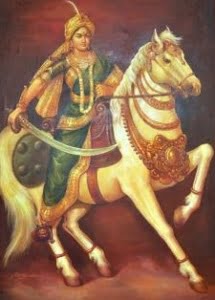 Years Of Stay In Dindigul
After the British invaded Sivagangai with the son of the Nawab of Arcot and killed Velu Nachiyar's husband in what is known as the 'Kalaiyar Koil War', she was forced to flee her kingdom with her daughter. She found safe haven at Virupachi in Dindigul, and lived there for eight years under the sanctuary of Gopala Nayaker.
During her stay in Dindigul, Velu Nachiyar met Haider Ali, the Sultan and the then ruler of Mysore. She conversed with him in Urdu and highly impressed him with her courage and perseverance. This led to her garnering unwavering support not just from Gopala Nayaker, but also from Haider Ali, who pledged to be her ally in her fight against the British. He even built a temple inside his palace as a sign of their friendship.
She was invited by the Sultan to stay at the Dindigul fort where she was respected like the queen that she was. Haider Ali also provided her with a monthly financial support of 400 Pounds and 5000 infantry and cavalry troops each. All of that combined with the weapons provided by the Sultan, helped Velu Nachiyar assemble a powerful army to drive away the British.
The conquest Over The British
1780 was the year Velu Nachiyar bravely defeated the British in a brilliantly formulated coup. Her intelligence gathering agents found out where the British had stored their ammunition. A suicide attack was then devised to destroy all of it.
1780 was the year Velu Nachiyar bravely defeated the British in a brilliantly formulated coup.
Kuyili, the commander-in-chief, gallantly volunteered to carry out the suicide mission. She doused herself in ghee and set herself on fire before jumping into the ammunition store, destroying every last bit of it. Kuyili is considered by many to be Velu Nachiyar's adopted daughter, and is the first recorded suicide bomber in history.
Also read: Uda Devi: Dalit Freedom Fighter In The 1857 Uprising | #IndianWomenInHistory
Udaiyaal was also an adopted daughter of Velu Nachiyar. She too died in the battle against the British while blowing up their arsenal in another suicide attack. In her memory, the queen built an all-women army and named it after Udaiyaal.
Post War
After her victory over the British, Velu Nachiyar reigned over the Sivangangai kingdom for a decade. She made her daughter Vellachi heir to the throne. The Marudhu brothers, her fellow escapees from the Kalaiyar Koil War, were given administrative positions in the kingdom. To express her gratitude to Haider Ali for his immense and timely help, Velu Nachiyar constructed a mosque and church at Saragani. She further maintained friendly relations with Tipu Sultan, Haider Ali's son, and loved him like a brother.
Vellachi, Velu Nachiyar's daughter, succeeded her to the throne and ruled from 1790 to 1793.
The 66-year-old valiant queen passed away in 1796 in Sivagangai, her beloved kingdom. She had been suffering from heart problems and had been treated even in France.
Appreciation And Depictions In Popular Culture
As part of his album 'Tamilmatic', Tamil-American hip-hop artist Professor A.L.I. dedicated to Velu Nachiyar a song titled 'Our Queen'.
On December 31, 2008, a stamp was released in her remembrance.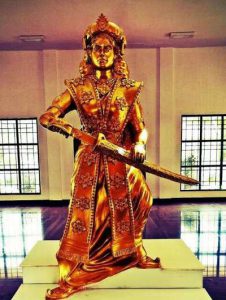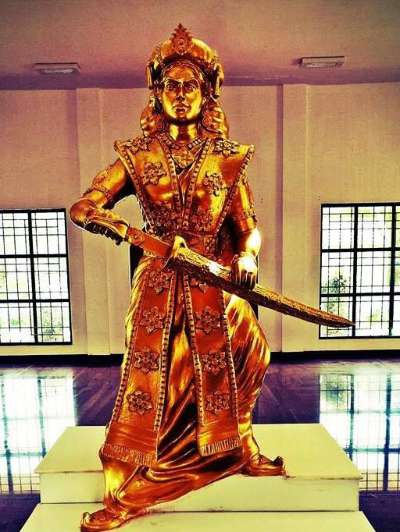 A grand ballet performance was presented by OVM Dance Academy of Chennai. It narrated the life story of the lionhearted queen. Another grand ballet performance was held in Naradha Gana Sabha in Chennai. The director of the performance, Sriram Sharma, researched on her for about a decade.
Also read: Kuyili: The Dalit Commander Whose Sacrifice Remains An Unsung Tale | #IndianWomenInHistory
The late J. Jayalalitha, former Chief Minister of Tamil Nadu, inaugurated the Veeramangai Velu Nachiyar Memorial in Sivagangai on 18th July, 2014. A six-feet bronze statue of the queen was also erected and it was announced that January 3 would be celebrated as the birth anniversary of the undaunted queen who shattered gender roles as early as the 18th century.
References