We're about to bid adieu to 2018 and boy, has it been a rollercoaster! Feminists across the country have had victories great and small over the course of the past year. From breaking glass ceilings to widespread protests against sexual harassment, women were a force to be reckoned with in 2018, and 2019 is going to be all the more empowering and progressive (fingers crossed!).
Here are some of our favourite moments from this past year!
1. India Won The Blind Cricket World Cup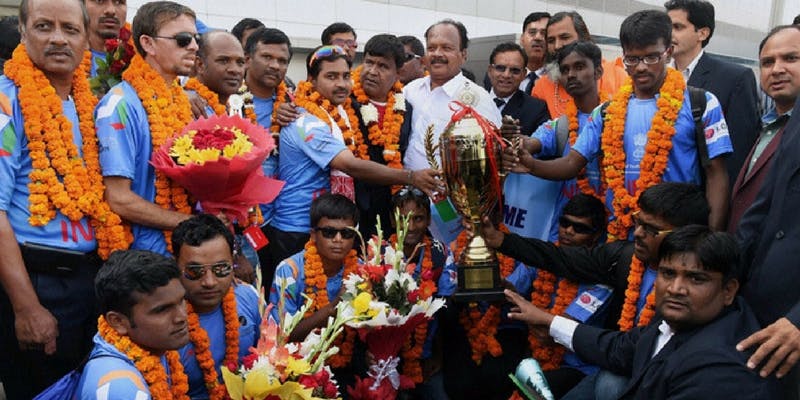 In a thrilling final against arch-rivals Pakistan, India won the Blind World Cup on January 20th this year in UAE. Chasing a huge run target of 308 in 40 overs, India clinched the match in the penultimate over, winning by two wickets over Pakistan. Sunil Ramesh rose to the occasion, playing 93 runs to help India retain the title. This was India's second consecutive victory, having won the previous Blind World Cup in 2014 in Cape Town.
2. TISS Mumbai Created India's First Gender-Neutral Hostel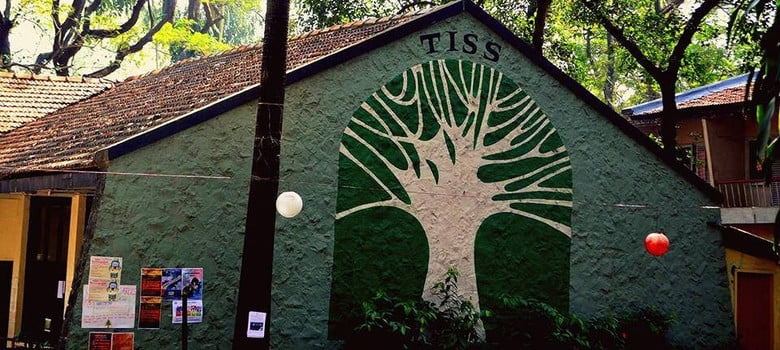 A long-drawn campaign by the TISS Queer Collective led to the institution of the first gender-neutral hostel in India. The hostel was created to be a safe space for gender non-conforming, trans and non-binary students. This April, TISS declared the ground floor of a women's hostel as 'gender-neutral'. 17 students occupied the hostel, with more rooms lying vacant for newcomers.
3. Sri Reddy Stripped In Protest Of Sexual Harassment In Tollywood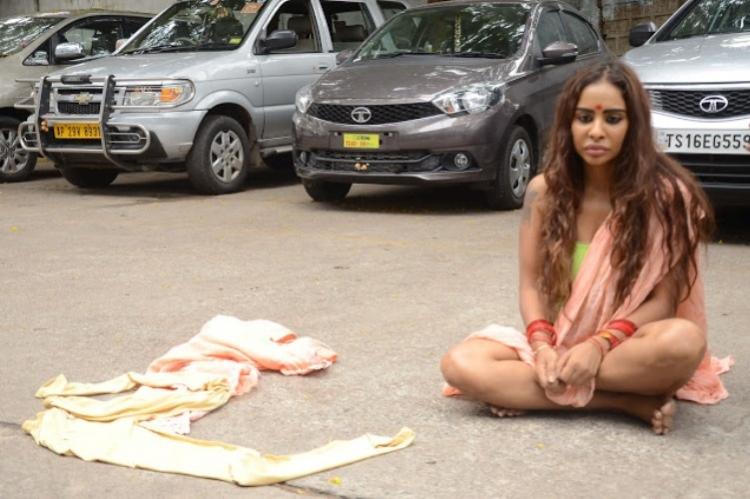 On April 7th, Telugu actress Sri Reddy staged a semi-nude protest in public to draw attention to the rampant sexual exploitation in the Telugu film industry. She spoke out about the constant demands for sexual gratification that she and countless other women have faced in the industry, like sending naked photos, or being forced to have sex with directors and producers in order to land a role.
4. Gayathri Subran Became The First Dalit Woman To Become A Commercial Pilot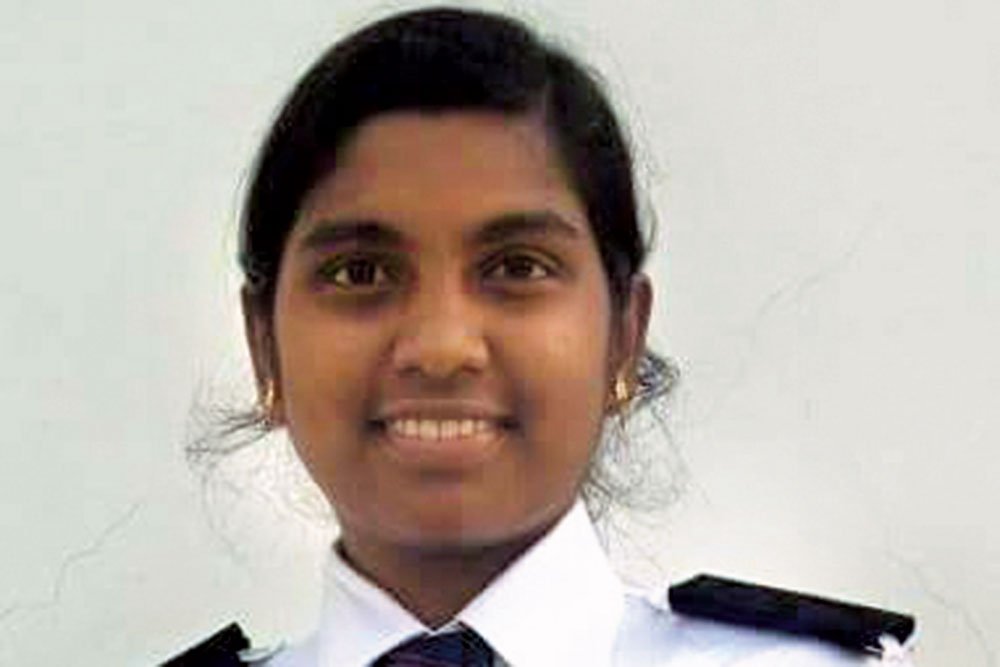 Hailing from Kunjukuzhippadam, Thrissur in Kerala, 20 year old Gayathri Subran became the first Dalit woman to fly an aircraft. "The first time my daughter flew a plane was about a year ago. She'd called and told us that her mind had gone numb. She thought she was like a thumbi (dragonfly). It was only when she landed she realised the magnitude of what she had done,"said her mother Shakuntala Subran to Outlook Magazine.
5. Soni Sori Won The Global Front Line Defenders Award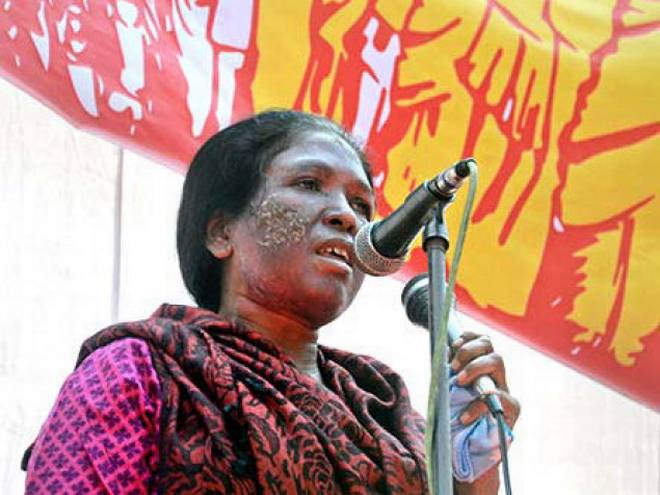 On May 18th, Soni Sori was part of five international activists who won the Front Line Defenders Award. She was recognized for her dangerous struggle for justice against police brutality against the Adivasis in the conflict zone of Bastar in Chattisgarh.
A school teacher by profession, Soni Sori was arrested for allegedly having ties to Maoist insurgents in her state. During her time in prison, she was sexually and physically assaulted in a brutal manner by the police authorities. Soni Sori mobilised women prisoners and demanded prisoner rights, and has been fighting for justice for Adivasis ever since then, despite repeated attacks and threats to her well-being.
6. Kerala Women Workers Won The Right To Sit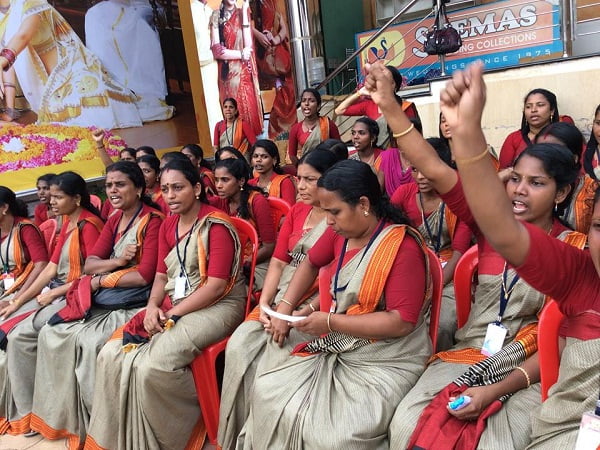 Retail workers in Kerala's lobbied for the right to sit in protest of working conditions that demanded that they stay on their feet and not take any toilet breaks throughout work hours. Women working in textile, jewellery and other retail stores said that they were prohibited from sitting, chatting with colleagues, taking toilet breaks and even leaning against the wall for too long while they worked, even if there were no customers in the stop. On 4th July, the Kerala government said that it would amend labour laws to grant workers the right to sit. The protest was led by a women's trade union called Penkootam, founded by Viji Palithodi.
7. Mithali Raj Hits 2000 Runs In IT20s – First Indian To Do So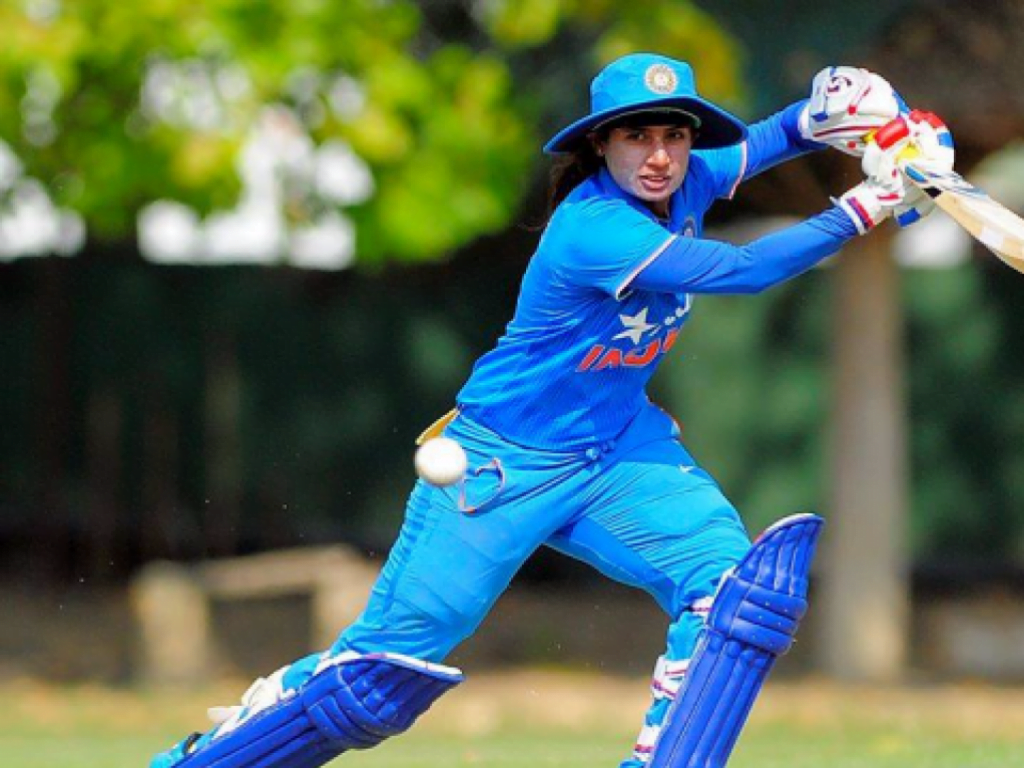 On 7th June, Mithali Raj became the first Indian cricketer, male or female, to amass 2000 runs in Twenty 20 Internationals (T20I). She achieved the feat during India's Women's T20 Asia Cup match against Sri Lanka. Globally, she is the 7th women to have achieved this milestone. In total, Raj had played 74 matches in 71 innings slamming fourteen fifties. Next to Mithali Raj is Indian men's cricket team captain, Virat Kohli, followed by Rohit Sharma and Suresh Raina.
8. Indian Women Fighter Pilots Join The IAF
Creating history, Avni Chaturvedi, Mohana Singh and Bhawna Kanth, became the first ever batch of Indian women fighter pilots who were inducted in Indian Air Force fighter squadron on June 16th on successful completion of their training. These three crushed the long standing combat exclusion policy for women in the Air Force. Next year, on completion of Stage III of their training, they will get to fly fighter jets like Tejas and Sukhoi.
9. 12% GST On Sanitary Napkins Was Dropped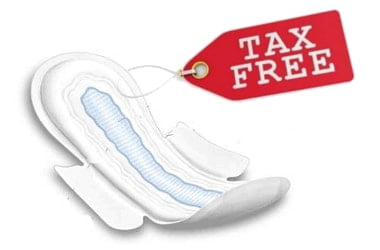 After protests about the 12% tax on sanitary pads ran headlines, the government announced that sanitary pads would be tax-exempt. Protests were hinged around the argument that sanitary napkins should not be considered a 'luxury item', but rather a necessity, and should be made more affordable to the 355 million people who menstruate in India.
10. Namita Bhattacharya Lit Foster Father Vajpayee's Funeral Pyre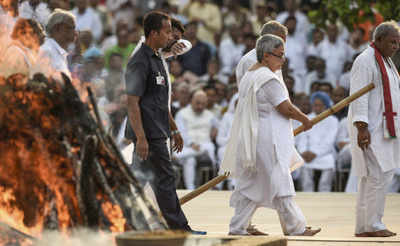 In a subversion of traditional gender roles in funerals, Namita Bhattacharya lit her foster father Atal Bihari Vajpayee's funeral pyre on August 18th. The lighting of funeral pyres is a role traditionally reserved for the eldest male son and heir. With the highly televised coverage of the funeral of India's former Prime Minster, this act sent the message that daughters, especially adoptive and foster daughters, are just as valuable as sons.
11. Section 377 Was Scrapped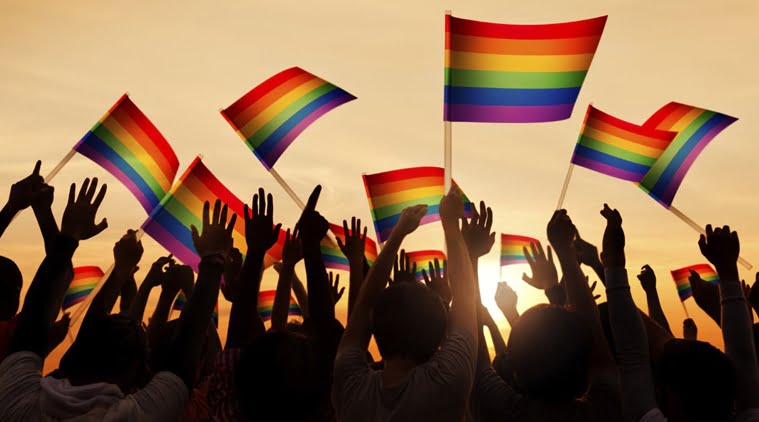 On 6th September, Supreme Court ruled that the application of Section 377 of the Indian Penal Code, which bars 'unnatural' offences criminalising 'carnal intercourse against the order of nature' does not apply to consensual sex between adults of both heterosexual and homosexual orientation and that any such application is thereby unconstitutional, "irrational, indefensible and manifestly arbitrary."
The judgment was a major win for sexual minorities in India, who have been discriminated against and threatened with the spectre of Section 377 for decades.
12. #StopKillingUs: The Nation Protested Manual Scavenging Deaths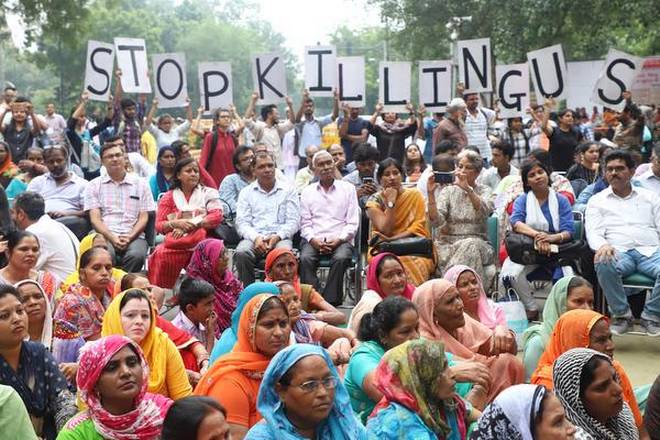 On 25th September, people from across India gathered to protest the deaths of over a 1000 safai karamcharis (sanitation workers) involved in manual scavenging, a practice banned since 2013 but which continues to take place. Sparked by a spate of 11 deaths within a week, the Safai Karamchari Andolan, led by Bezwada Wilson, convened the protest. The protest drew attention to the caste-based discriminatory occupation that still exists due to the apathy by successive governments to take adequate action to stop it.
13. The Second-Wave Of #MeToo Shook India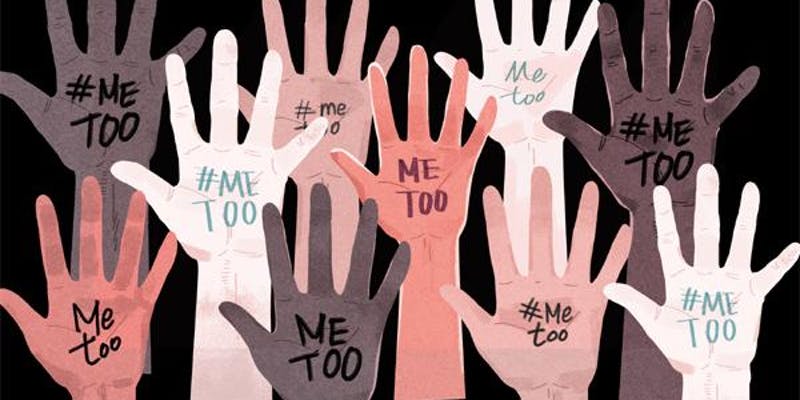 A host of women took to Twitter to call out their abusers and harassers, leading to a domino effect of women across industries speaking out about the sexual harassment they had faced, both in the workplace and elsewhere. From comedy circuits to the advertising industry, from journalists in Bangalore to film stars in Bollywood – men were called out for predatory and sexually inappropriate behaviour. Taking on from Raya Sarkar's List of Sexual Harassers in Academia (LoSHA) and Tanushree Dutta, this wave of #MeToo spurred countless ICCs into action. Women were being listened to, and in many cases, predatory men finally faced consequences for their behaviour.
14. Aditi Ashok Played At The LGPA Tour – Only Indian Golfer To Do So
At just 20 years old, Aditi Ashok was the only Indian golfer to play the prestigious US-based LGPA tour, becoming the biggest name in Indian golf. Although she did not bag a medal at the LGPA tour, she became a trailblazer for Indian women's golf. According to Aditi, who started playing golf with her family "and never stopped", there are still five times more men Indian golfers and they earn more money than the women.
15. Twitter Was Abuzz With The Term Brahminical Patriarchy
When Twitter CEO Jack Dorsey held up a placard saying 'Smash Brahminical Patriarchy', gifted to him by Sanghapali Aruna, a Dalit women's rights activist at a meeting, he probably had no idea of the storm of criticism it would unleash by many upper-caste Hindus who believed it to be a personal attack on Brahmins. The positive flip side of this Twitter outrage however, was that many people started to read up on what Brahminical patriarchy actually was, leading to a far-reaching conversation on the interplay of caste and gender and how patriarchy cannot be dismantled without taking into account the damaging structures of caste hierarchies as well.
16. Women Farmers Present Their Demands At The Kisan Mukti March
The Kisan Mukti March, in which farmers from across India marched to Delhi to demand a loan waiver and fair crop prices towards a resolution of the long-running agrarian crisis in India. Significant in this march was the presence of thousands of women farmers, who marched alongside their male peers to demand that the government recognise their rights over forests and stops the takeover of land for industrial projects.
17. Panjab University Wins Its Fight To Scrap Curfew For Women's Hostels
After a 48-day protest, protesting students at Panjab University finally had their demands met as the sexist imposition of curfews for the women's hostels were lifted. Women had complained that these curfew timings were not imposed on male students, yet strictly enforced on female students. The Dean finally relented, and granted women 24×7 access to their hostels. "This was a fight for gender equality and we have won it. Now, we can step out of the hostel at any point of time without having the fear of having any fine imposed on us," said Kanupriya, the first female President of the Panjab University Campus Students' Council (PUCSC).
18. A Host Of Progressive Judgments By The Supreme Court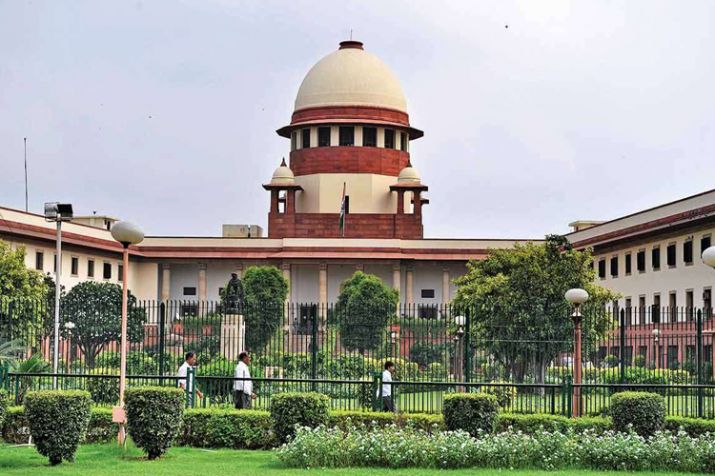 2018 has witnessed a wave of progressive judgements. From Aadhar decision which secured our rights as big and complicated as the right to privacy, to guaranteeing a right as basic as choosing one's life partner through the Hadiya judgement, the Supreme Court of India has delivered a series of landmark judgements that has changed various laws and hence our lives. By allowing women to enter the Sabrimala Temple in Sabrimala verdict the court upheld the Constitution in letter and spirit and held that any exception placed on women because of biological differences violates the Constitution. The court also removed the archaic law on Adultery which treated women as property of their husbands and prevailed that there cannot be a social license to destroy the institution of marriage. These judgements have shaped the country in a new, positive light and have made 2018 historical.
While we have had many ups and downs, there is no denying the fact that this year has been all sorts of empowering. Here's hoping to a more powerful and liberating 2019.
Also read: 12 Times Women In India Stood Up To The Patriarchy In 2017