Women's education has always been a struggle throughout the centuries, Aligarh being no exception faced various hurdles while establishing a space for young Muslim women as opposed to the traditional Muslims who wanted their daughters confined within the purdah. On 1st March, 1914, Begum Sultan Jahan, the ruler of Bhopal inaugurated the school following which girls appeared for the first time in Middle school examination and UP board. Soon, the school led way to a college within the premises and graduation course of B.A was introduced in 1935. Mumtaz Jahan Haider or lovingly called as 'Mumtaz Apa', had returned to Aligarh after completing her education in 1937 and was appointed as the Principal of the college in 1940. She completely dedicated herself to women's education and fought against the patriarchal norms which attempted to limit women within the conservative Islamic traditions
Early Life And Education
Born in 1907 at her maternal grandparent's place in Koocha Chelan in Old Delhi, Mumtaz Jahan Haider was third among the seven siblings. By this time her parents, Sheikh Abdullah, also called 'Papa Mian' and Wahid Jahan Begum, the founders of women's education in Aligarh, had established Madrasa-i-Niwan or the Girls' Primary school in Bala-i-Qila area of old Aligarh, against the stiff opposition of the conservative Muslims and fellow associates. Mumtaz Apa was brought up within the school premises and completed her early education in the school itself. Since Abdullah sisters were not purdah observing, the parents felt prudent to send the girls for education in Simla and Delhi, in order to avoid conflict with the local orthodoxy which allowed the school to function under Purdah.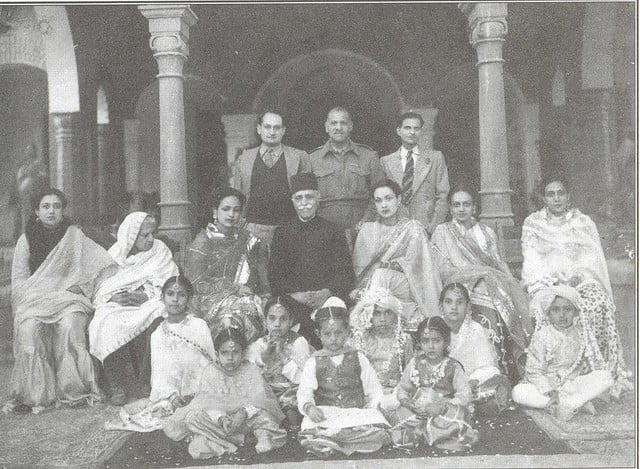 Mumtaz Haider completed her matriculation from Aligarh and attended Isabella Thoburn College for Women in Lucknow. She did her graduation and post-graduation in English from Lucknow University in 1931, being the first female student to do so amidst the conservative Muslim society. After completing a year of teaching at her parental institution, Mumtaz Apa proceeded to Leeds in the UK for Bachelor of Education and came back to Aligarh. In 1935, she married on her own accord Mr. Hayder Khan, head of the department of Chemistry and her senior by couple of decades. She became the Principal of Women's College in in 1940 and served the cause of education for thirty-one years.
Also read: 7 Legendary But Unremembered Muslim Women in Islamic History
Role In Women's Education
Mumtaz Jahan Haider is observed as a pioneer of the Aligarh movement in the latter phases as she built the college from the scratch and took it to its peak. As the sources suggest, she carried a moral authority which allowed her to be more liberal and less sermonizing towards her students. Most of the colleges followed instructions of morality and modesty towards women, Mumtaz Apa on the other hand, quietly appreciated good qualities and knew how to disprove to things without being stringent. She ensured nurturing of the students in a way such that they became independent women with well-rounded personalities so that they can assert themselves when required.
She would actively be accompanying the students in the all female Basant and Sawan and the musical soirees in winter evenings on the plush carpets of her palatial Abdullah Lodge i.e. she retained the reins as a Principal without appearing to do so. Naved Masood, an alumni of Aligarh, mentions in his personal account that "She (Mumtaz Apa) was a lively, though largely illegible letter-writer; my unhealthy habit of not saving correspondence deprives me of the opportunity to share with the readers her conversational style of writing, her sense of humor and her counselling without being sanctimonious." It was under the Principal-ship of Mumtaz Jahan when Maulana Abdul Kalam Azad came to Aligarh in 1949 and paid a visit to the Women's College. He was very much impressed by the progress of the Women's College and announced an annual grant of nine hundred thousand rupees and assured to get a regular due share from all the grants which the government of India will make to Aligarh Muslim University.
It was under the Principal-ship of Mumtaz Jahan when Maulana Abdul Kalam Azad came to Aligarh in 1949 and paid a visit to women's college
Mumtaz Jahan was aware that the struggle for complete liberal outlook towards education of Muslim women was far from over. Although the Muslim 'elites' had accepted the importance of imparting education on women, Mumtaz Jahan had to struggle against the orthodox section of Aligarh which abhorred the education of young Muslim women. She was sensitive towards this section of society which attempted to deprive women from education, therefore, she ensured to retain cultural identity of her community in college in order to avoid any hurdles.
Her aim was to ensure that no section of the society is derived from their basic right to education, therefore, she introduced various extra-curricular activities without alienating anyone. She organized events such as debates, 'Bait-baazi' and colloquia etc. in the Abdullah Hall itself. She also invited various speakers such as her sister, Begum Khurshid Mirza, who was a Pakistani TV actress, to give eloquent discourses in the assembly hall. Her approach towards educating girls was such that they could become self-sufficient and further the cause of educating other Muslim girls. For her the role of a teacher was more than just imparting knowledge, but more of a friend, philosopher and guide.
Unconventional Approach Towards Islam
Mumtaz Jahan was seen as a 'cultural Muslim' i.e. she was religiously unobservant but retained her identity with the community. She was not an exhibitionist when it came to practising Islam but she was observed as a 'serious Muslim' with unconventional views. As the sources suggest, she had also set aside a plot to build a mosque specifically for women, an attempt to ensure that even the girls have the opportunity to offer prayers freely as opposed to them being restricted to praying within four walls of their homes. The foundation laying of this mosque had taken place however, the project was abandoned after her death as it was seen as 'Anti-Islamic' by the conservatives. Even the prayers that took place in Abdullah Hall were not simply the usual readings from conventional books but also consisted of various speeches and discussions. According to her, Islam was a moral code where do's and don'ts were more important than the traditional rituals and observances.
She was not an exhibitionist when it came to practicing Islam but she was observed as a 'serious Muslim' with unconventional views
Later Life
After her husband passed away in 1948, Mumtaz Apa brought up her children Shahla and Salman all by herself. She did an exemplary job as a single mother as the former became a senior official of the Ministry of Information and Broadcasting while the latter became Foreign Secretary in Government of India. Naved Masood, in his account mentioned Mumtaz Apa and her days after retirement that, although she had developed Parkinsonism, she still retained a razor sharp memory of personalities and events in her life. She spent her days sitting in the Abdullah Lodge accompanied by women whose lives she had touched by offering help in the hour of need.
Mrs. Mumtaz Jahan Haider was extremely nurturing towards the girls in her institution who saw her as a mother-figure. As a person who was defiant towards the Purdah system and advocated the importance of women's education, Mumtaz Apa stands out as a personality who was a threat to the stringent male centrist educational system. Serving the college for thirty-one years, she carried out her parents' vision of educating Muslim women in an extraordinary manner, which is why she was awarded Padma Vibhushan in 2006.
Also read: 6 Indian Muslim Feminists In History
References
Khurshid, Begum(2005): A Woman of Substance: The Memoirs of Begum Khurshid Mirza, 1918-1989.