Born with a mobility disability, Fahmeeda Akhtar's journey from a small village in Anantnag to becoming the fearless face of the Anganwadi workers' campaign in Kashmir is a story of resilience.
In November 2022, the administrative council of Jammu and Kashmir approved a new HR policy that sent shockwaves through the Anganwadi workers' community. According to this policy, the services of Anganwadi workers and helpers would end at the age of 60, and even a change of residence outside their designated ward could result in termination. The policy sparked protests across the region, with Fahmeeda Akhtar emerging as their leader.
Fahmeeda Akhtar's childhood in Lok Bawan, Anantnag, was marked by the challenges posed by her disability. She was born with a condition that left her unable to walk without support. Little did her family or the world know that this determined girl would one day rise to become the beacon of hope for thousands of Anganwadi workers.
In 1991, she joined the Anganwadi as a young woman, oblivious to the challenges that lay ahead. At the time, the government paid her a meagre 150 rupees per month, and sometimes, instead of cash, they offered a pack of lentils as compensation. It was her late mother who had applied for the position on her behalf, and after an interview, Fahmeeda was selected for the job.
Fahmeeda becomes a leader
Fahmeeda performed her duties with utmost dedication and professionalism. Over the years, she received numerous awards and certificates from the government for her excellence in her work. However, the introduction of the new HR policy threatened to abruptly end her career.
'I have received so much appreciation for my work, and people in my field recognise me as a hardworking employee,' Fahmeeda tells FII. 'But today, they have introduced a new policy that says if I am 47 years old, I have to leave my job, and nothing will be given to me. It's pure injustice.'
Fahmeeda emphasised that her fight wasn't just about herself. 'It's not only my fight. Approximately 34,000 female Anganwadi workers and helpers are protesting against this new HR policy across Jammu and Kashmir. Now, we have started protesting district-wise. One day, employees of Jammu will protest, and another day, we will protest in our district.'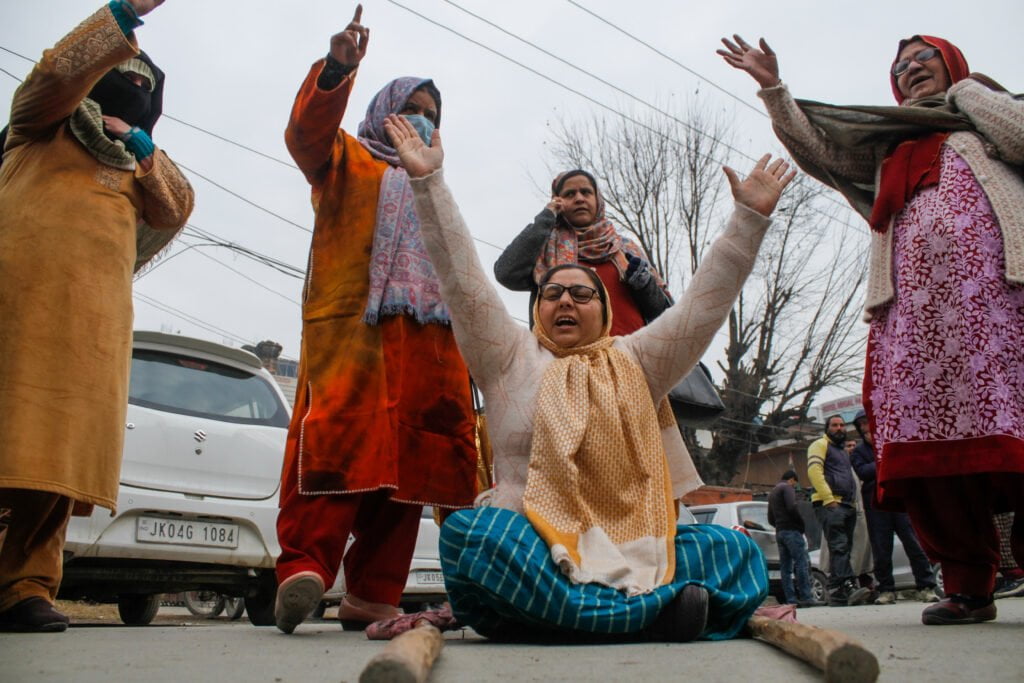 The policy's stipulation that workers or helpers would be disengaged if they married outside their district struck Fahmeeda as particularly unjust. 'They are saying if a worker or helper gets married outside her district, she will be deemed as disengaged. I want to ask them, is it a crime to get married? Why should we lose our jobs because of marriage? When I was appointed as an Anganwadi worker, there was no mention in my order copy that I couldn't get married outside my district, otherwise, I would lose my job. It's pathetic.'
Fahmeeda Akhtar could not stand idly by while her colleagues faced what she saw as a grave injustice. With the determination that had characterised her life, she stepped up to lead the protests against the new HR policy.
Holding her support sticks firmly in her arms, Fahmeeda's confident voice and fearless agitation soon gained momentum, with thousands of women from across Kashmir joining her cause.
Raising her voice for thousands
'I always had a dream to fight for humanity,' Fahmeeda states, her eyes filled with determination. 'I wanted to help people in need, so when I saw injustice happening with my colleagues, I raised my voice, and they supported me.'
The intensity of her commitment is evident in her actions. She travels over 60 kilometres from her remote village to Srinagar to lead protests against the policy. Her journey reflects the physical and emotional distance she is willing to traverse to fight for the rights of others.
Fahmeeda's advocacy for the Anganwadi workers is fueled by her deep sense of empathy. She comes from a financially stable family and lives with her two brothers, one older and one younger.
She has never married, 'I never married because I thought if I did, I would have to devote my life to my husband and children. But I wanted to work for humanity, so today, I am proud of myself for doing just that. These women have faith in me, and that's why they have made me their leader. I will never disappoint them.'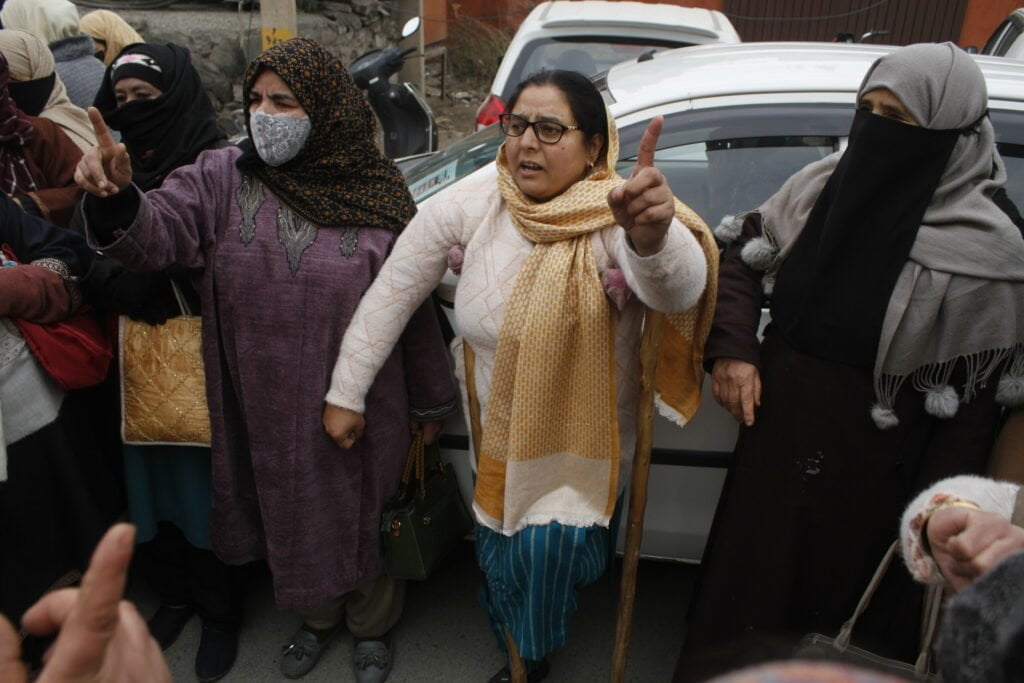 'I don't need this job or this salary,' Fahmeeda states, 'but thousands of women do We have widows, divorcees, and women from impoverished families among us. I can't just ignore them and go on with my life. I will fight for their rights, no matter what,' she declared.
Her unwavering resolve and dedication to the cause even made her family anxious. 'My brothers have always been concerned about my safety. They want me to leave this job and do something better with my life. But I can't leave these women all alone. They have believed in me, so I won't let them down, not until my last breath.'
The Struggles of Anganwadi Workers
The challenges faced by Anganwadi workers and helpers extend beyond the new HR policy. Delayed payments are a common occurrence, making it even more difficult for these dedicated women to make ends meet.
Fahmeeda further states, 'Our pay is not given on time. Lately, I received my pay in March 2022, and it's 2023 now, yet our payments remain pending. The government has always been unjust to Anganwadi workers and helpers. We have tolerated it for years, but now, it's enough. We are not going to tolerate this abuse of power.'
Fahmeeda acknowledges that the struggle is not new. She has been demonstrating against various government policies for a long time. Her dedication and advocacy have earned her recognition among her peers.
'They know what I have done for them over the years. We all receive very low pay for the significant amount of work we do. This money is not even enough to feed our families in these harsh times,' Fehmeeda mentions.
The legal battle and hope for the future
Fahmeeda has taken her fight to the next level. She has applied for a petition in the High Court to challenge the new HR policy. 'I am moving to the high court against it. It's not a fair policy, and it will ruin thousands of lives. If the high court does not repeal this policy, I will move to the Supreme Court. I won't give up this fight.'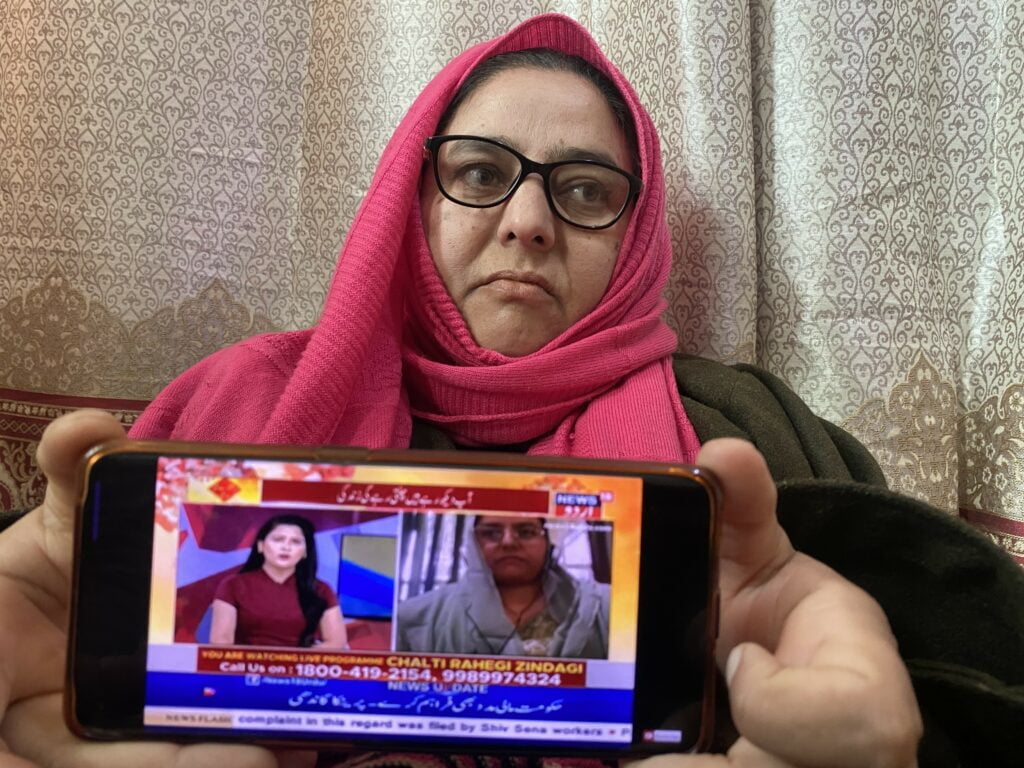 Fahmeeda's story is a testament to the power of one person's determination to make a difference in the lives of many. Her choice to remain unmarried, driven by her desire to serve humanity, is a reflection of her selflessness. She proudly devotes her life to championing the rights of her fellow Anganwadi workers.
In a world where heroes often remain unsung, Fahmeeda Akhtar shines as a beacon of hope and inspiration. Her unwavering commitment to her cause serves as a reminder that one individual can make a significant impact, inspiring change and standing up for justice when it's needed most. Her legacy will undoubtedly endure as a symbol of resilience, courage, and compassion.
---