Vishakha* renders beauty parlour services in people's homes and all the while, she has been tackling a persistent problem of migraines. Availing of medicines has become an arduous task for her as she has to wait in a never-ending queue in government hospitals to get herself checked up and get a prescription. She tells me, "I am the sole breadwinner in my family. When am I supposed to work if I spend half my life waiting for a simple check-up?"
A recent trip to a mohalla clinic in the Trilokpuri area of East Delhi took me to a small residential area where the clinic was located in an inward lane. One of the houses in that lane of the residential area served as the clinic. Within that tiny, cramped establishment, there was a winding line of prospective patients waiting to consult the doctor. The line comprised a few men and many women, some of whom had come with their children. It is in this line at the mohalla clinic that I met Vishakha.
In order to provide affordable and quality healthcare to the residents of Delhi, the Aam Aadmi Party (AAP) Delhi government has set up neighbourhood clinics for residents to avail of quality treatment. The setup of mohalla clinics has been divided into clinics at portacabins and rented premises. The AAP government claims to provide 109 essential medicines and 212 diagnostic tests free of cost through this medium of healthcare. This scheme also entails the setting up of polyclinics in Delhi for specialised diagnosis and treatment. So far, the AAP government has set up approximately 160 mohalla clinics.
A sign by the board at the Trilokpuri mohalla clinic specifically states (in Hindi) that those without Aadhar cards/mobile numbers/valid government ids would not be able to avail consultation and treatment by the doctor. I turned to Seema, one of the people queuing outside the clinic and enquired about those who were not in a position to avail of any form of identification, including cell phones.
The AAP government claims to provide 109 essential medicines and 212 diagnostic tests free of cost through this medium of healthcare.
She assured me that this was not an issue of consequence. Patients borrowed the cell phone numbers of their family members/neighbours/friends in order to avail of treatment. She said, "Don't worry madam. The mohalla clinics are not here to make our lives difficult. No one has yet been turned away for not being able to produce ids".
After interacting with some of the locals in the Trilokpuri area, turns out many women living in Trilokpuri have a similar story: they have children and a husband to look after and at the same time, they do not have the option of staying at home to take care of their families full time. This is a primarily a working-class area where wives and husbands both have to work in order to make ends meet.
The duty of domestic responsibility always falls upon the woman of the family, while her husband has the privilege of coming home and unwinding, content in the knowledge that his wife will take care of domestic duties, even though she has put in the same number of work hours as he has. As previously established, keeping in mind the crowding of government hospitals, it is very hard on women and their families, especially children, to spend hours waiting for a doctor's consultation in a government hospital. With the establishment of various mohalla clinics in residential working-class areas such as Trilokpuri and Khichripur, an immense amount of travel time and the risk of overcrowding has been considerably reduced.
In between predictions about the incoming Delhi summer, Maryam said, "prior to the setting up of the clinics, our lives had been made extremely difficult due to the overcrowding and bad facilities in government hospitals. This is quick and easy treatment, and it is extremely affordable as opposed to the never-ending waiting in government hospitals. While waiting in government hospitals, half the time we did not know if we would even be able to meet the doctor and avail of treatment. I am a very fortunate person, for this clinic was established a 5-minute walk away from my own house".
Also Read: The Govt's Secret War On Women's Bodies In The Name Of Reproductive Healthcare
The commencement of this healthcare initiative has been an uphill battle caught in the claws of political enmity. Frequent clashes between the AAP government and Delhi's Lieutenant Governor (LG) Anil Baijal has slowed down the setting up of more clinics. Matters escalated to a point where 43 AAP Members of Legislative Assembly (MLA) landed up at the LG's office last year to seek clearance for the project and the police had to be deployed in case the situation got out of hand. AAP members resented needing the LG's approval to clear the scheme, with ruling-party BJP backing the need to seek the LG's clearance.
When asked about the kind of treatment that is available in mohalla clinics, Radha stated that "we come here for smaller things like aches, pains and minor to moderate infections. For larger issues such as heart problems and pregnancies, we have to go back to the government hospitals. But I am relieved that my daughter and I have not had to visit a government hospital in quite some time. This doctor is friendly and my little girl likes him. What more do I need?"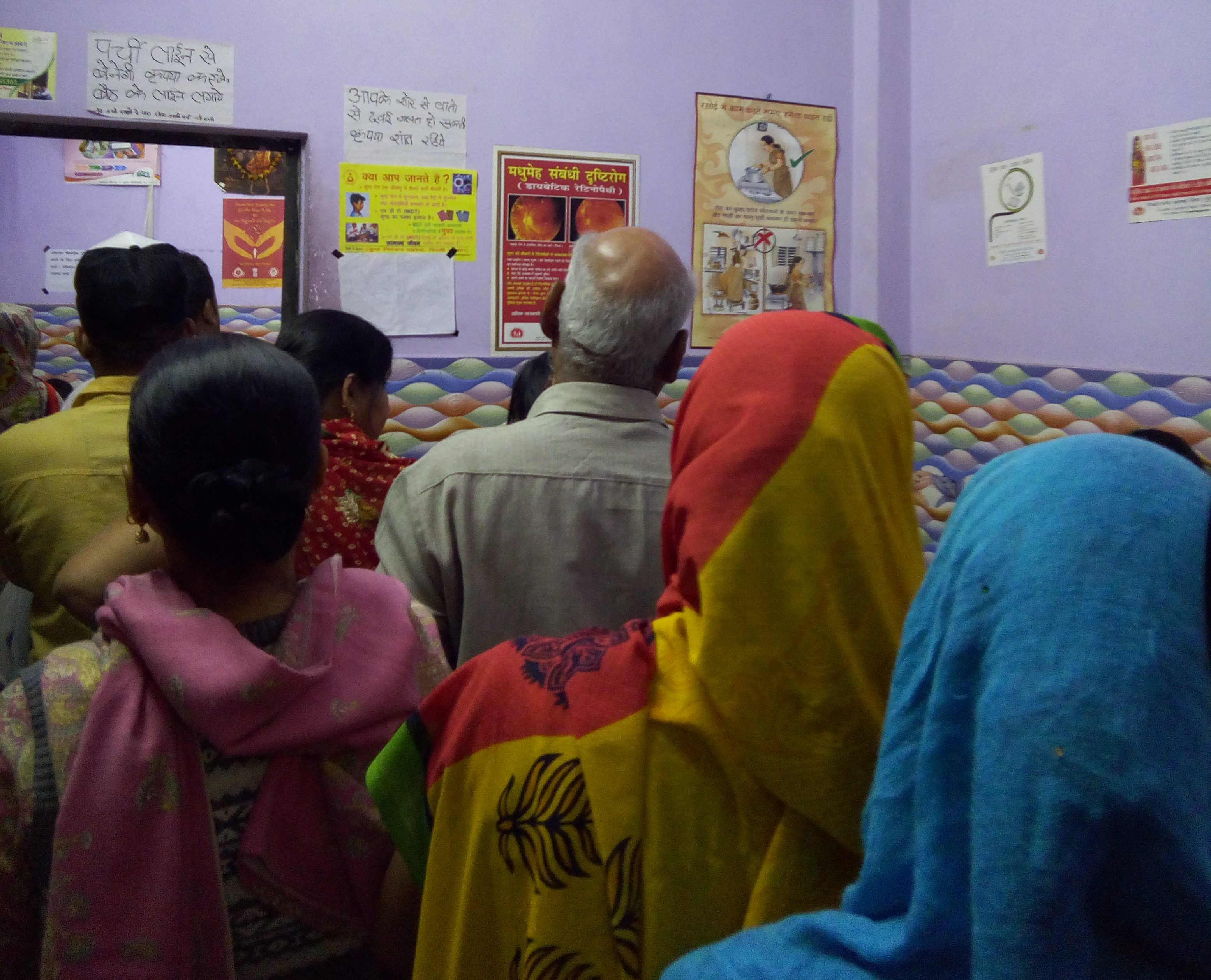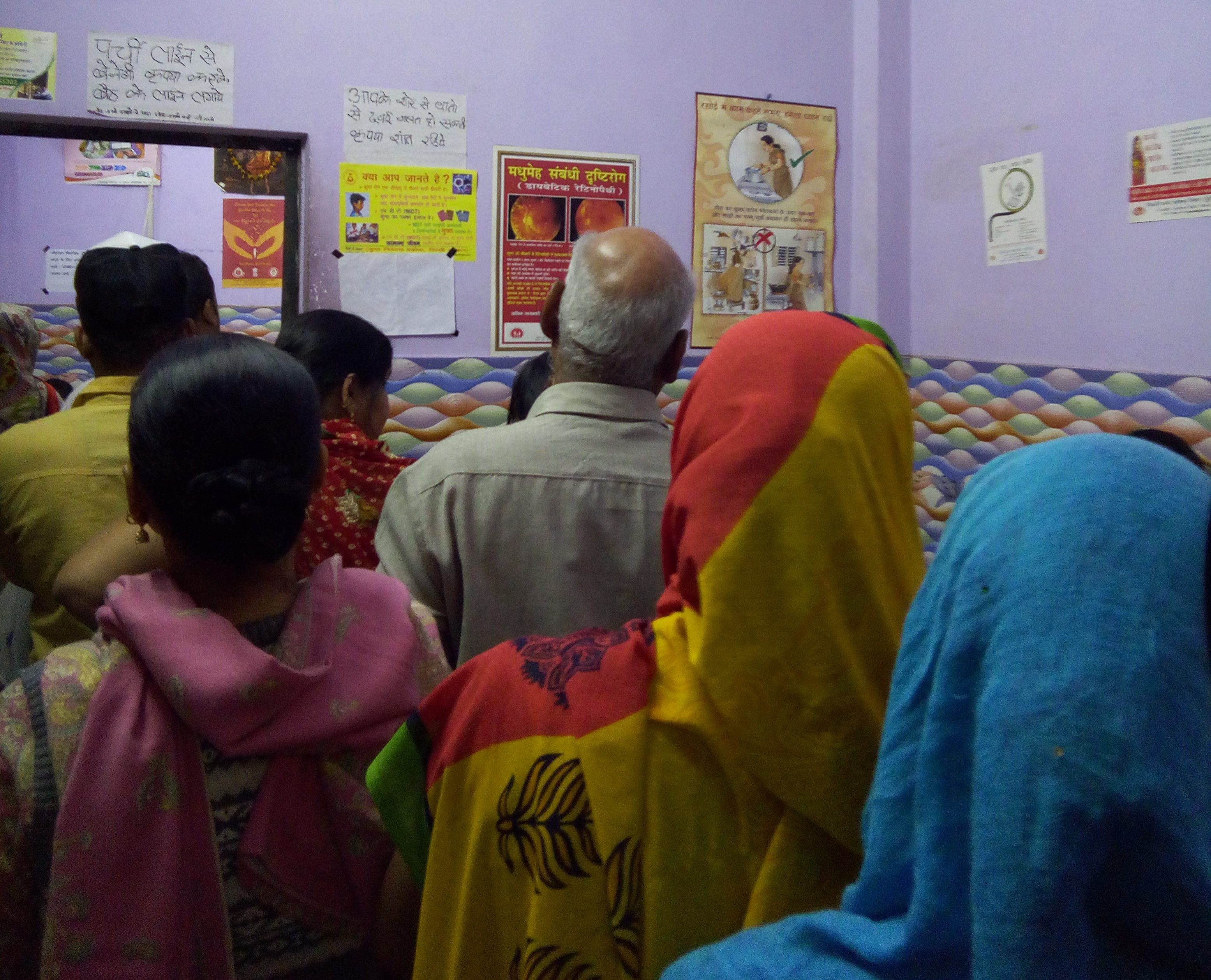 The spacing in the clinic is cramped with barely any space to move even two feet. The timings of mohalla clinics stand resolute. For those who have to work during the day and/or are overwhelmed with domestic duties, availing treatment at mohalla clinics becomes equivalent to a situation of 'survival of the fittest'.
Aarti mentioned that she had been queuing outside the clinic for 5 days in a row. "I am a daily wage worker and my unstable income is based on how much work I put in during the day. The clinic shuts at sharp 2, maximum 3 PM and 8 AM is around the time I have to report to work or there is no income for me that day. I cannot afford to forego even an hour's load of work; else, I risk my two children going hungry. The queues in this clinic are massive and there is just one doctor. I cannot keep coming back here repeatedly and this infection is my stomach will just not go. Think of how much wages I could have earned by now and paid off the electricity bill, but this infection is also affecting my ability to work".
Frequent clashes between the AAP government and Delhi's Lieutenant Governor Anil Baijal has slowed down the setting up of more clinics.
The recent hike in pollution levels in Delhi and contaminated water-supply send people to the mohalla clinics in throngs. It was impossible to get in a word with the doctor in question, but his aide mentioned that the doctor comes in at sharp 8 AM, but nowadays, has been forced to stay back one or two hours extra. Even then, he is unable to attend to all the patients lining up at the clinic. The doctor is paid Rs 30 for every patient. Following which, he has to leave the clinic and attend to his own practice.
One observation that should be mentioned is the lack of awareness within residential areas regarding the mohalla clinics. My urban privilege and I found the Trilokpuri clinics after Googling them and then tracking them down through Google Maps. While checking to see if Google Maps knew what it was talking about, I would consult rickshaw pullers and ask them to direct me towards the nearest mohalla clinic. Even though I was two blocks away, many locals had no idea about where the nearest clinic was. The question then arises, what of those who do not have access to the internet? Will they automatically lose their option to affordable healthcare?
Overcrowding at the mohalla clinics has become an obvious hassle. In the last year, Delhi Health Minister Satyendar Jain had made a public statement about how the AAP government had resolved to set up 150 polyclinics (currently at approximately 23) and a 1000 mohalla clinics. The polyclinics have been intended for gynaecological and paediatric healthcare for women and children, after being recommended by the specialists in the mohalla clinics.
The idea and the commencement of the mohalla clinics was beneficial, but given the political and environmental climate, the question of sustenance arises. As established, lack of facilities and overcrowding has become a burden that unflinchingly glares us in the face. Will the mohalla clinics suffer the same destiny of the government hospitals in the city? Something as vital a human right as healthcare cannot be reduced to yet another trade-off of barbs and insults in the now tiring battle of AAP vs BJP.
Also Read: I Visited 4 One Stop Centres Promised In The Nirbhaya Fund And This Is What I Found
---
*The names of those who agreed to provide their testimonies have been changed.