TARSHI (Talking about Reproductive and Sexual Health Issues) works towards expanding sexual and reproductive choices in people's lives. It is a non-profit organisation based in New Delhi, moving sexuality and reproduction centred conversations beyond being fear-based and instead empowering and educational.
This is an edited and condensed excerpt from a phone interview with Vani Viswanathan. Vani works on TARSHI's communications and capacity building efforts. She has worked on storytelling for non-profits and corporates for many years, and is especially interested in communications around issues of gender, especially women. 
Chandrika Manjunath: What provided the impetus to create TARSHI?
Vani Viswanathan: In the mid-90s, HIV/AIDS was developing into a large issue in India and it was around this time that we created a helpline on sexuality to provide information, counsel, and referrals to sexuality based services (for example, abortion services or doctors). Our objective was to take the conversation on sexuality beyond the then prevalent context of violence, infection, unwanted pregnancy, or minority groups (like the LGBTQIA+ communities). This is because when we restrict conversations to these alone, a holistic picture of sexuality doesn't emerge; central to our work is a pleasure and a positive, affirmative approach to sexuality, rather than simply fear-based dialogues. From 1996 to 2009, we received over 60,000 calls from people of all age groups and genders.
CM: What does TARSHI do?
VV: Based on our experience with the helpline, which operated until 2009, we began the capacity building of service providers, providing training on Sexuality and Sexual and Reproductive Health and Rights (SRHR) related topics. This includes SHRH's basics, gender, gender identity and so forth. Also, on concepts of power and what a rights-based approach to sexuality is while maintaining our 'pleasure affirming' perspective. We focus on working with service providers, that is, people who are either working with an organisation or independently, who then take this messaging to those they work with. This includes teachers, NGO staff, counsellors, doctors-in-training, and many more. We find this to be a more sustainable option. For instance, Assume we go to a school five times a year to conduct sessions on sexuality, leaving after each educational session is conducted. Building rapport requires time, particularly on taboo topics like sexuality, where many conflicting messages exist. On the other hand, when we train the teachers who have the trust of their students, they are available any time a student has a question. This is why TARSHI chooses to train service providers rather than directly with communities.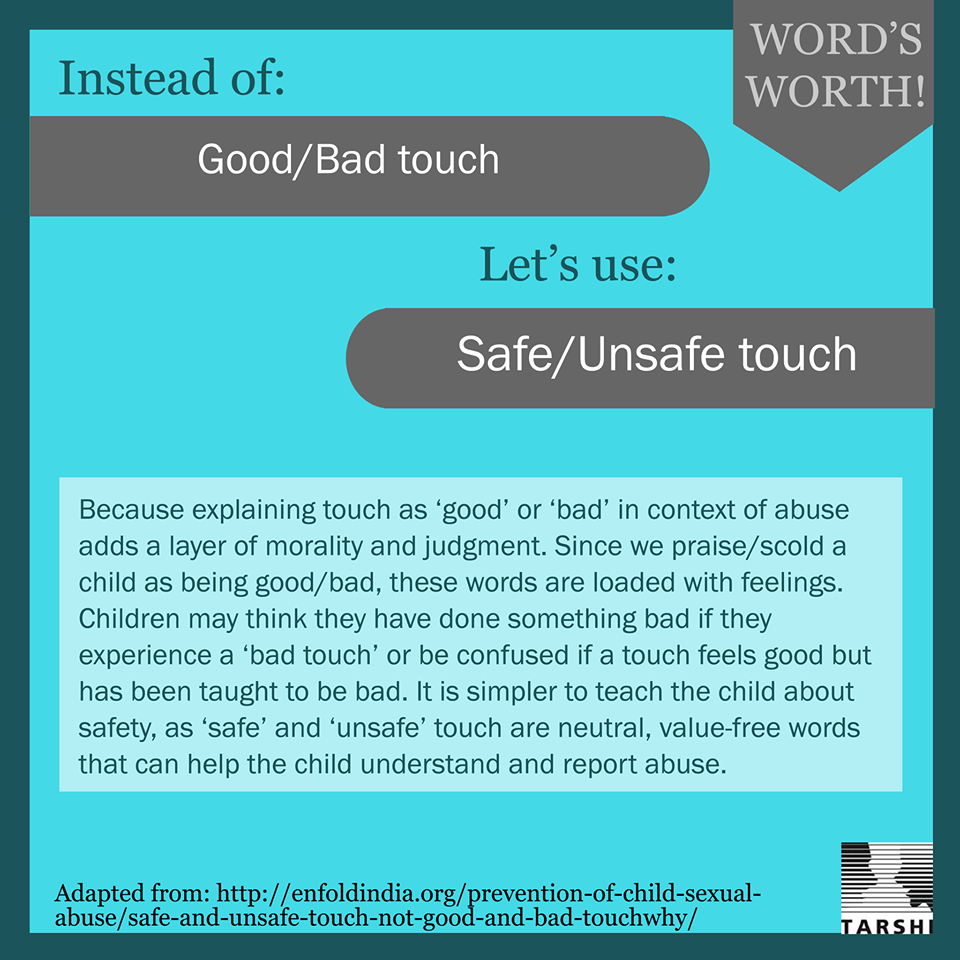 We also offer 3 online courses since 2011. Two on sexuality and SRHR, and the third on sexuality education in a school setting for teachers or school counsellors. Further education is provided through our social media, and through digital magazine In Plainspeak which features discussions, interviews, and content on sexuality and its various intersections—covering different topics each month.
We also have a range of publications for children, young people, parents, and educators. There are 2 books for children and young people: The Red Book (ages 10-14) and The Blue Book (above age 15), with age and stage appropriate information on sexuality. The books were first released in 1999, and we have done iterative revamping and reprints, adding new topics such as technology and how to address sexual images and content online.
The books include reproductive health topics such as puberty or menstruation, but also move the conversation beyond to discussions on concepts like attraction. For example, when you're 10 or 15 what does attraction mean or look like? It also incorporates issues like masturbation, debunking myths such as that it's wrong or that girls don't do it. Many kids in urban Indian schools do get some basic information on puberty, but this tends to be primarily for girls since menstruation is an easy topic to start with. However, the major issue is only girls are given any such information, neglecting that boys also have pubertal issues, like nocturnal emissions, but these are not discussed.
CM: What does an affirmative, rights-based approach entail? Why is it important to work this way? What effect has it had on TARSHI's work versus another approach?
VV: An affirmative approach to sexuality places pleasure as equally important as safety. When speaking about sexuality, today it is socially acceptable to talk about it in the contexts of safety—from abuse, violence, infections, or unwanted pregnancy. In such conversations, it's forgotten that sexuality is also a significant aspect of an individual's wellbeing and happiness. If we don't talk about how sexuality is also pleasurable, we disregard a substantial part of wellbeing. 
Also read: In Conversation With Dr Padma Rammoorthy: The Founder Of MedHealth TV
The affirmative approach places pleasure at the centre, affirming the rights of an individual with regards to SRHR. Sexual health includes things like the right to enjoy sex, safer sex, consensual sex, and to have sexual partners without legal or social penalty. 
Talking about sexuality with a pleasure-affirming perspective has always been challenging, but thankfully today, there are many more people and organisations talking about it.
Reproductive rights include rights to decide if and when you want to have children, to use methods to not have children if you do not want to, and whom to have children with. To put this in context, consider India's 2018 surrogacy law bill, which has since lapsed. It stated that only couples who have been married for a few years and have been unable to conceive may request a surrogacy. The bill sought to regulate India's commercial surrogacy industry, in which many poor women perform reproductive labour to earn. While there are many ethical issues with the current surrogacy industry, the proposed bill aimed to introduce a very distinct approach: it proposed that not only should the commissioning couple be married, ruling out groups like single women and same-sex couples, but the potential surrogate must be related to the couple, have had a child herself, and not accept payment—in other words, the surrogacy should be altruistic, rather than commercial. Although the bill has not passed, it makes many moral assumptions on who may have children and how reproductive labour should not be financially compensated for. This can be viewed as regulating reproductive rights.
Another example is contraception. Many organisations have programmes on "family planning", which is a socially acceptable approach because it conveys that people should have fewer children, which is beneficial in itself, but is problematic because it tends to only target married women over 18 years old, ignoring younger girls and women who are married—a practice technically illegal but nonetheless still occurring. Additionally, phrasing like 'family planning' gives the notion that contraception is necessary only for those who are married looking to manage their family, overlooking many others who don't fall in this category but are having sex. It doesn't give scope to talk about safer sex practices outside the need to 'plan families'. When taking a family planning or public health approach you don't affirm the rights of an individual to have sex and contraception. Also, it doesn't acknowledge that young people are having consensual sex. We won't reach them and instead will leave them with misinformation.
Affirmative approaches are undoubtedly more difficult because of social reasons and since it centres the individual as compared to public health which tends to go for the 'greater good', so to say. But, when not taking an affirmative approach we do ignore a large part of the country and add to the taboo around certain ways of expressing sexuality.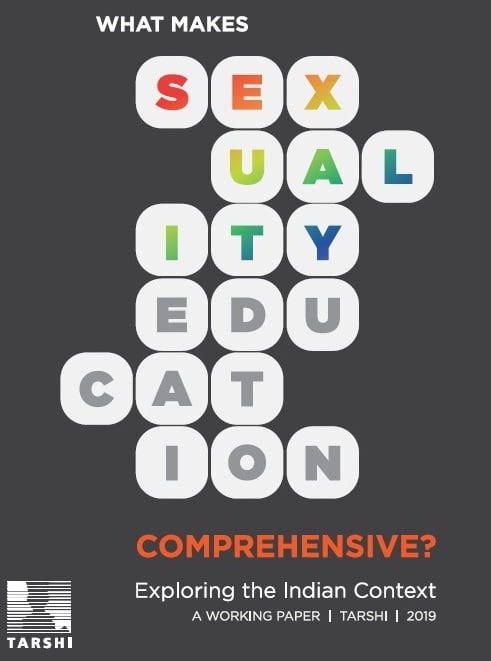 CM: What can we do in our day-to-day lives to reduce the stigma surrounding sexuality and reproductive rights?
VV: The first step is acknowledging that we are all sexual beings. As a society, we aren't willing to accept ourselves in this way despite being confronted with sexuality every day; we disregard its importance and centrality to our lives. When it comes to sexuality education, there is also a tendency to treat children as incapable of understanding, but they are perceptive. For instance, they'll ask where babies come from, but we're uncomfortable with answering this because our conditioning makes us think that the child is asking questions about sex. But they are just being curious! Lack of recognition of people as sexual beings leads to inadequate conversations around sexuality, which results in failure to appreciate diversity and the tendency to form restrictive norms, rules, and practices. The more we reflect on sexuality as integral to ourselves, the lesser the stigma.
CM: What are the greatest challenges TARSHI has faced?
VV: For a long time, and even today, we hear the idea that sexuality and pleasure affirming sexuality are elitist issues, along the lines of 'India has so much poverty, women are dying when giving birth…and you're talking about sexuality?' The only way to counter this is to understand that sexuality is broader than sex and is influenced by, and influences many other factors, be it poverty, sanitation, religion or law. For instance, rape has been used many times as a tool to 'teach a lesson' to a community. Talking about sexuality with a pleasure-affirming perspective has always been challenging, but thankfully today, there are many more people and organisations talking about it.
People are fundamentally okay with the concept of gender equality but will start resisting when we bring up what feminism truly entails – including the right to choice of say, clothing or partners.
Another challenge is convincing adults to talk to young people about sexuality from a rights-based perspective. Many conversations tend to focus on child sexual abuse, puberty, or menstruation but this isn't the whole picture. People are uncomfortable with recognising children as also having sexuality – sexuality is central to all human beings and is much more than sex; it's about values, attitudes, ideas, gender roles, etc., as WHO's definition illustrates. We've gone to schools and done exercises and case studies on instances like two schoolgirls being in love with each other, but teachers couldn't take the case study seriously as they believe 'such things' don't happen with students in school. We don't see what we don't want to see. It will take time to change these mindsets. We do, however, see many signs of change, and many schools are becoming more open to the need to discuss these topics. 
The first step is acknowledging that we are all sexual beings.
CM: Do you think sexual and reproductive health is an inherent part of feminism? Through your work have you seen development/furthering of feminist principles or knowledge those you reach?
VV: A lot of times, feminism has been an entry point into expanding the discourse, especially from a rights-based perspective. In audiences who don't engage with feminism, there tends to be a resistance; this is my personal opinion. People are fundamentally okay with the concept of gender equality but will start resisting when we bring up what feminism truly entails – including the right to choice of say, clothing or partners. Participants in trainings will say that women being 'feminine' have inherent behaviours and characteristics that make them 'gentler' leaders, more empathetic, and 'naturally caring'. Others in the same room will question these ideas. So even if the word 'feminism' isn't explicitly used, ideas about gender help us make participants open up on aspects of sexuality and SRHR. As a culture, and even among those that identify as feminists, we are slowly taking steps to talk about sexuality with pleasure at the core—it will take time, but it's very helpful to have feminism and feminist principles at the core of our work.
CM: How can we approach groups who may be less likely to acknowledge or speak about sexual and reproductive health? And discuss it in a non-alienating way? For instance, in rural communities
VV: Interestingly, it is not that conversations on SRHR aren't happening in rural areas. There is increasing work in these places, and menstruation and 'family planning' are very effective ways to open up conversations.
We are part of a coalition on an info-line called "Kahi Ankahi Baatein" or "Things Said and Left Unsaid", which covers many sexuality-related topics. This is a collaboration led by CREA, where we, along with Gram Vaani and Maraa, are partners. The info-line is targeted at people in rural India, especially those that understand Hindi. Some content for this info-line is developed with the help of community radio stations, which tend to be very localised – so the dialect and languag8e will be local, the issues they pick up will be local, and the songs and discussion will reflect the local culture. Given the diversity of India, this is very important. 
TARSHI facilitated trainings for these radio stations on sexuality from a rights-based perspective, how they can bring out issues from the community, and how to devise ways to talk about these issues. For instance, based on focus group discussions with community members, one radio station did a series on marital rape and another on sexual harassment on streets. Another interesting example is a TV series by the Population Foundation of India (PFI) called Main Kuch Bhi Kar Sakti Hoon which provides information on SRHR and has seen great success. It was also created keeping in mind rural populations and has been translated into many languages.
There are many ways of taking conversations forward. We're happy to see many organisations are pushing boundaries as well, bringing in nuances like pleasure and consent. 
It's happening, slowly, but it is.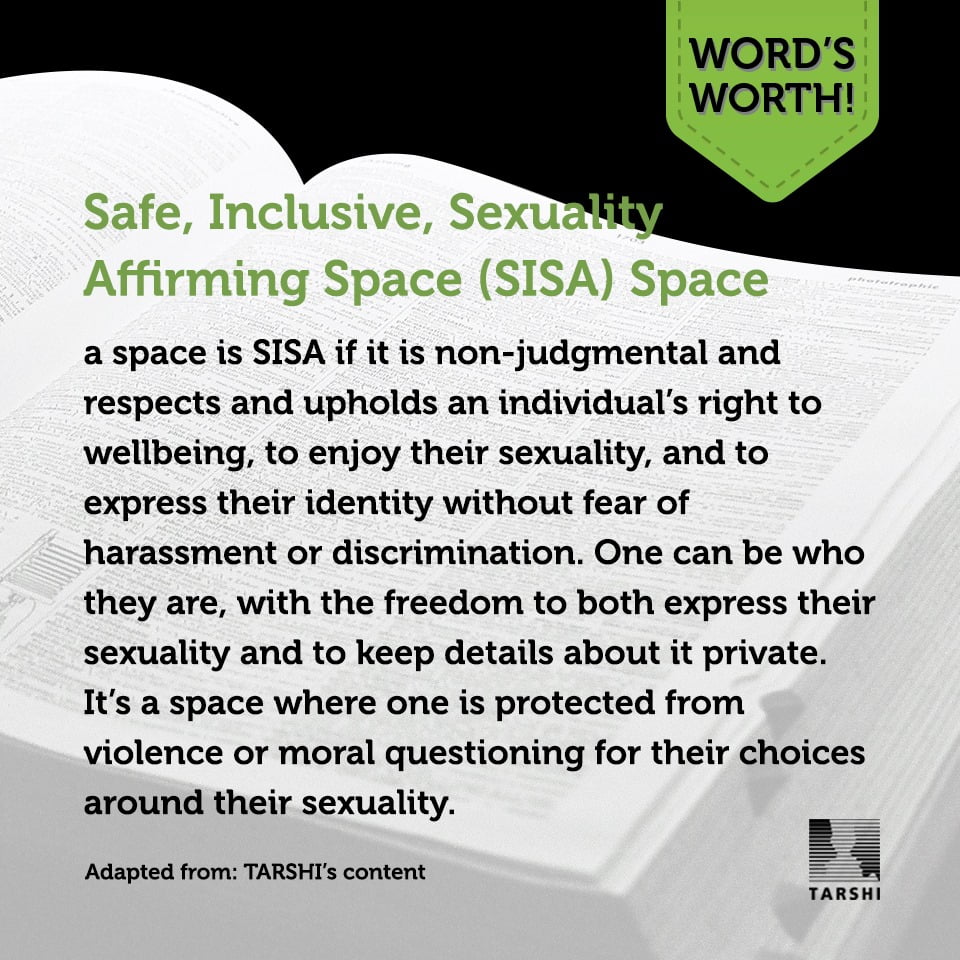 CM: What are the goals for TARSHI moving forward?
VV: We want to continue disseminating information and raising awareness. In the coming years, we want to more closely look at creating Safe, Inclusive, Sexuality Affirming spaces, or what we call SISA spaces. These are spaces that affirm people's sexuality in a non-judgmental and safe manner that are also inclusive (e.g. of disability, sexuality, caste, class locations), and where your sexuality isn't used as a reason to make you feel threatened or treated unfairly. We see an increasing need to have conversations on what is needed to make spaces SISA—so this is a lens through which we will approach our work moving forward.
Also read: In Conversation With Rola Yasmine: Women in Conflict Areas And Their Reproductive Rights
---
FII thanks Vani Viswanathan for taking out time to do the interview.