Namaskar, mai Ravish Kumar: a phrase every NDTV viewer has grown up listening to and will never forget how it was always followed by detailed, logical and factual information. Ravish Kumar, the popular face of NDTV and renowned journalist who now runs his own YouTube channel did brave journalism when the saffronisation of the fourth pillar of democracy took place on a large scale.
Vinay Shukla's documentary "While We Watched," (2022) is the story of a journalist who continued to raise his voice of dissent when not many had the courage to do so.
"While We Watched," is anything but simple
The recently released documentary "While We Watched," is anything but simple. As the director himself puts it, it is a 90-minute long "trauma capsule," and provides a glance into the life of Kumar. Indeed by the end of the film, it becomes difficult not to cry.
While We Watched follows a very chronological timeline in post-2014 India at a time when journalism began to shatter, slowly and gradually. While the majority of journalists gave into the pressure of supporting Hindutva politics, there were a handful like Ravish Kumar who continued to speak the truth and present ground realities about the marginalised communities of the nation.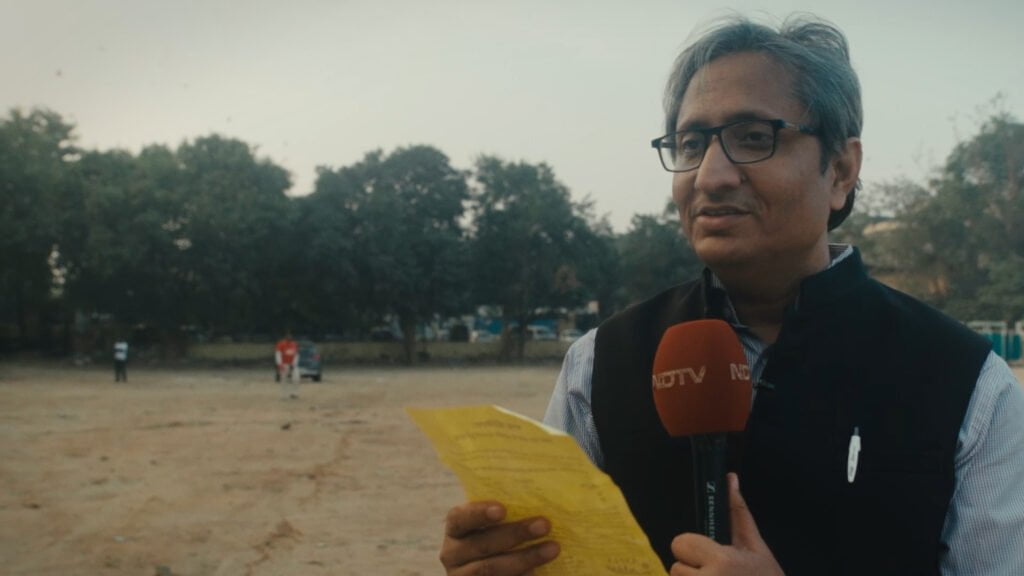 While We Watched takes the viewers to a time when Ravish was full-time working at NDTV as a senior journalist. His life which has never been extraordinary is presented to us from a personal level. An ordinary man who drives his way to work faces himself alone in the fight against injustice and disinformation. He is termed as 'anti-national,' his work receives a backlash from a majority of Indians and he is often seen receiving death threats and abusive calls.
Ravish stood his ground when NDTV started losing producers, reporters etc. one after another. In the atmosphere of the rising polarisation of the nation under the garb of religion, a channel that continued to tell the truth not many wanted to hear did not get a very kind response from the viewers.
From being called 'urban-naxal,' to seeing the rise of right-wing news channels and how Islamophobia was being injected into the viewers to getting no calls, no offers and appreciation for his work – the audience comes to see a face of Ravish where he goes from being positive about news as a medium to questioning his own profession's worth and significance. The entire time, the audience feels his angst on a very individual and personal level.
The audience sees many departments of the newsroom being shut down and even the bravest of the journalists, reporters, producers etc. leaving the organisation. One such pivotal moment and perhaps the saddest in the documentary is when senior producer Swarolipi Sengupta who shared the same passion for telling honest stories eventually leaves and disappointment overtakes Ravish. There are of course many layoffs, hate taking over NDTV's work when networks are disrupted and the show is not aired properly on televisions nationwide followed by low or nil TRPs.
Important to note that certain elements function significantly in the documentary – the cakes that frequently come into the NDTV office represent that there is one farewell after another and Kumar has to see his colleagues leaving one by one.
The way he goes back home driving, often talking to his wife in the heavy jam of the capital city tells the audience that at one point in his journey, there was no difference between his professional and personal life and the former did start affecting the latter.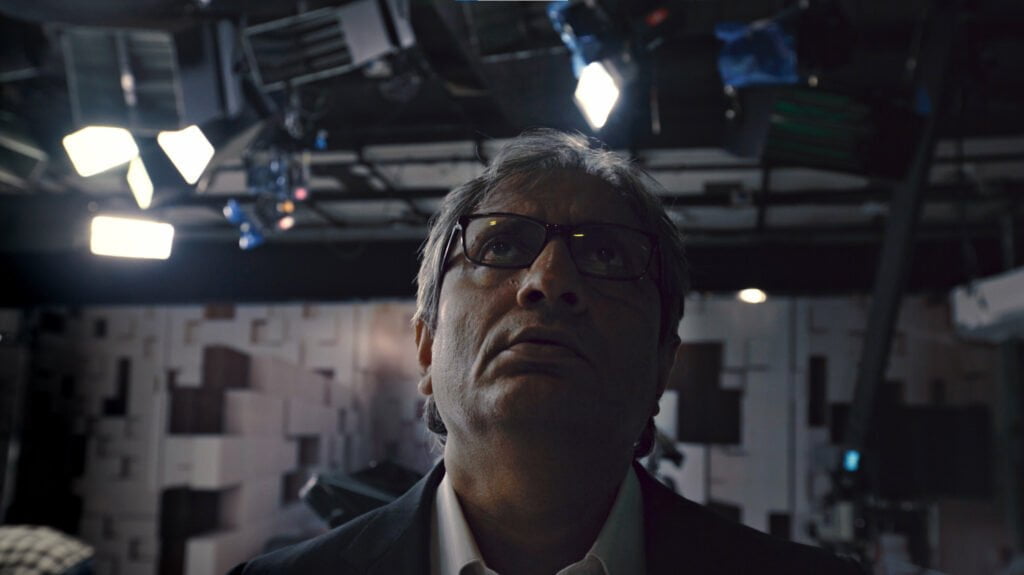 The way he sits down in front of his desktop and just types in Hindi, "Namaskar, mai Ravish Kumar," and then cannot go any further showcases how lonely he found himself at a time when he needed to be told that his profession is not any crime and what he is doing is, in fact, the need of the hour.
His relationship with his daughters is adorable at one level but at another primary level, one is also able to feel the responsibility he has not only as a journalist but also as a father and a husband when women in his family also become targets of the threats he receives.
A silver lining in a dark cloud
There is an important scene in the film when Ravish Kumar was announced as a recipient of the prestigious Ramon Magsaysay Award for the year 2019. His wife, who is seen recording Ravish's reaction on her mobile phone soon breaks down.
As much as Ravish's life was disturbed, so was Nayana's (Ravish's wife). His getting awarded Ramon Magsaysay then is not just a moment of celebration but also the much-needed and much-deserved news he and his family wanted to hear.
The award comes in the documentary, While We Watched at a time when the audience just holds everything in and wants something good out of the long struggle faced by Ravish. It is when one realises that wherever India is headed, as long as people do not divert themselves from the truth, they will conquer, eventually. This is also the scene after which the film comes to an ending and what follows is long long applause and one cannot stop from being a part of it!
A cautionary message in While We Watched
'Mere liye movie bohot traumatising hai. Mujhe jab pehli baar Vinay ne movie dikhaayi, mere liye bohot mushkil ho gaya tha, saare experiences aur burey dino ko phir se jeena, kaafi zyada dardnaak that,' (For me, the movie is traumatising. The first time Vinay made me watch it, it became difficult for me since I had to relive all the experiences and bad days, it was painful for me), mentioned Ravish to FII.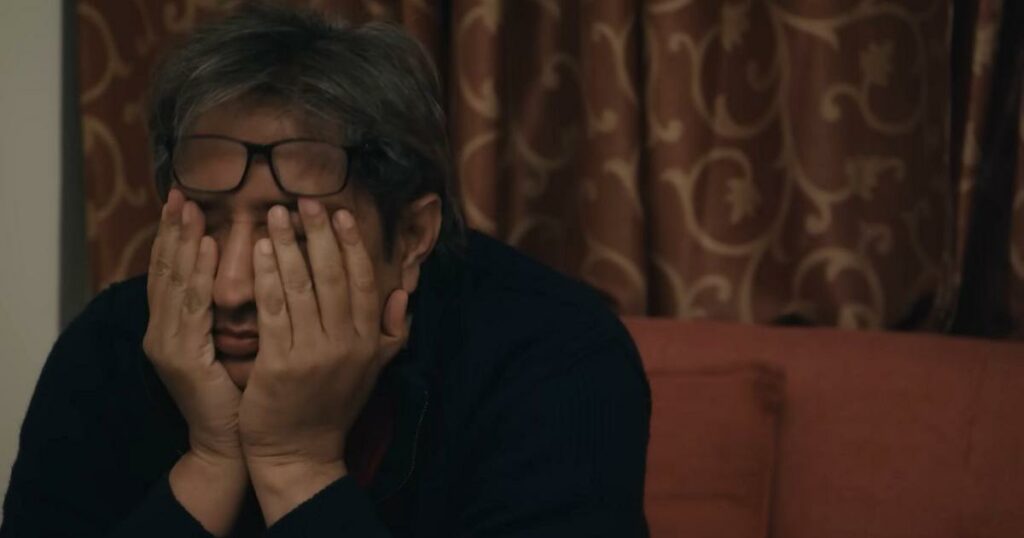 The question remains – were we all watching when the pillar of journalism was collapsing, one step at a time? Are each one of us to be blamed for being an equal participant in fueling hate within so many people against a particular community?
The director Vinay Shukla, much like Ravish Kumar himself asks serious questions to his audience, questions which come as a wake-up call and also compel us to search for answers.
While We Watched is a documentary of our times, while it may not have commercially important elements in it, it is a story within a newsroom. It is a must-watch for the India we are a part of and the one we will be leaving behind.
---