2018 is drawing to a close, and it is time for us to look back on the past year and what we've achieved in it. Our team grew from three full time members to four full time members, while our Hindi editor stayed on as a part time member. Our team now includes Japleen Pasricha – Founder-Director, Asmita Ghosh – Campaign Manager, Swati Singh – Hindi Editor, Amudha MV – Content Editor and Suman Saurav – Digital Editor. We also shifted offices this year to take up a small space in a building in Naraina Vihar, New Delhi.
With our little team growing in size slowly but surely, so is the impact of our work. Our average monthly website hits doubled, and our social media following rose as well! Our writer family grew by over a 100 people, and we also had the distinct pleasure of significantly increasing the number of writers from marginalized positions, making our content more reflective of diverse sociopolitical identities.
We ran several successful campaigns this year, both in-house and in partnership with organizations whose work we admired. In-house campaigns drew on our followers' experiences and amplified them, while partnered campaigns boosted valuable work that social good organizations had been doing. In #ChalkfullBullying, we highlighted stories of gender-based bullying in schools, while in #UnsanskariLove, we spotlighted unconventional love stories and how difficult it is for queer, inter-caste or inter-faith love to survive in India.
Our #DidYouAsk campaign anticipated the second wave of the #MeToo movement, in which we used thought provoking videos created by PLD India to spark a conversation on navigating consent and handling rejection. Our Instagram stories saw many deeply personal incidents being, where followers resonated with the snippets in the video and added their own thoughts to it, leading to a highly enriching conversation. The #UnstereotypeCinema campaign in partnership with Oxfam India was also a major conversation starter, where we unpacked the patriarchal biases in our favourite Indian films and spoke about how cinema systematically objectifies and dehumanizes women.
FII also launched the first resource of what we hope will become a comprehensive one-stop feminist resource centre – the #CampusSJC list, a crowdsourced list of campus social justice collectives that college students can use to find safe spaces on their campuses. We launched this event with an inspiring panel discussion, featuring student activists from queer collectives, anti-caste groups and disability rights advocacy groups from across India, who spoke about the necessity of such spaces on campuses. 
On a lighter note, we also hosted a year-end potluck picnic at Lodhi Gardens recently, taking advantage of the pleasant Delhi weather to meet and share food with other feminists in the city! It was definitely one of the highlights of our year.
Team FII also had the privilege of attending a host of national and international conferences and workshops this year, like re:publica in Berlin, where FII Founder Japleen Pasricha spoke at a panel about how women were reclaiming online spaces. FII Campaign Manager Asmita Ghosh attended the Youth Advocacy Institute in Sri Lanka for young activists working for sexual and reproductive health and rights across Asia to learn about abortion rights in the continent.
We also organised several panels and workshops on online violence against women and media reportage of rape, which we presented at universities and colleges across Delhi, as well as national conferences like the Digital Citizen Summit 2018, New Delhi.
Our biggest accolade this year however, came when we won the UN World Summit Young Innovator Award from a pool of over 420 applicants from across the world! We will be receiving this award in Portugal next year, and we can't wait!
As always, none of this would have been possible without the constant following, support, and constructive criticism of our well-wishers. We can't thank you enough for rooting for us!
Below is a look at how 2018 was for Feminism In India. Here's wishing you a very Happy New Year, and hope 2019 will be a bigger, better and more intersectional movement with YOU. If you want to leave us any feedback, you can do so here.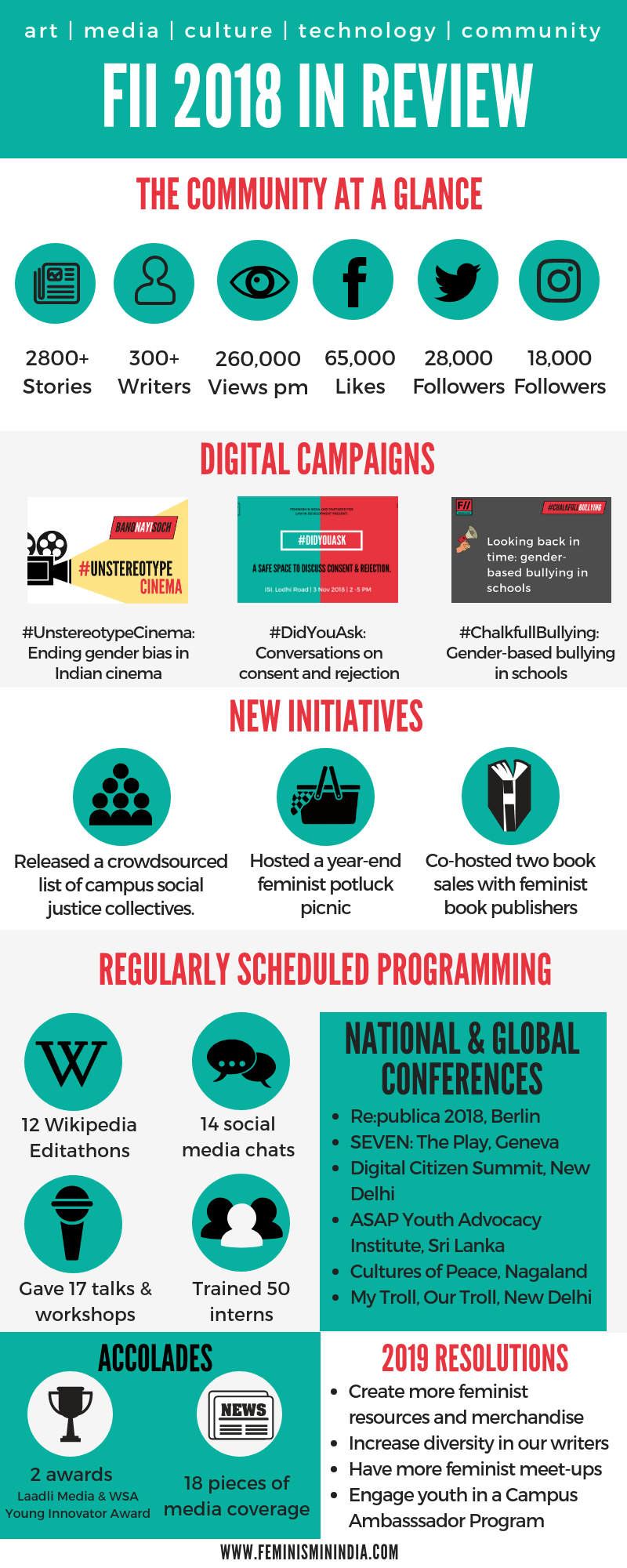 Until next year,
Team FII